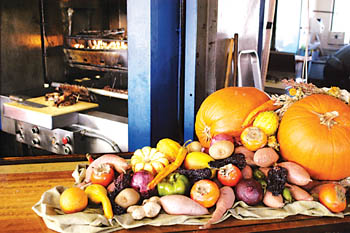 Photograph by Stephen Laufer

Spit Shines: Rosa's is most famous for its fine work on the rotisserie.

Rosa's in Bloom

Despite big changes, the Yacht Harbor favorite keeps its spit-roasted menu tuned to palates fond of salsa and spice

By Christina Waters

Pop music swirls through this sunny upper room that might be a slice of waterfront Baja if it weren't in fact overlooking our very own Yacht Harbor. Rosa's is a fiesta of brightly colored flavor possibilities open daily from 11:30 to 9pm to quench your appetite for intense salsa, two-fisted margaritas and spit-roasted specialties.

While the obvious stars of this Cal-Mex tropical menu are myriad seafood items--roasted, grilled and wrapped up in corn tortillas--I find it hard to resist any dish at Rosa's that puts the spotlight on the succulent spit-roasted chicken. Di and Molly and I felt downright psychedelic as we climbed the bright red and blue stairs bordered by an overhead waterfall. At the top, a serape-draped bar reminded us of Zihua, and the tiled floor was straight from Oaxaca.

Those who recall Rosa's early days might miss the cafeteria-style self-service, the green plastic lawn furniture and wildly scrawled menus. Not us. The sunny pink and yellow walls lined with bold artisanal ceramics look great. Ditto the rattan chairs and tables, plus the ultracrisp, ultrafresh warm chips that arrive the minute you sit down.

Molly grabbed a few salsas from the bar--something sweet and sticky with mango ("weird") and a classic salsa fresca that we all practically inhaled. Later we discovered our favorite from the salsa bar, a zippy red chipotle chile number inflected with cheese.

Nothing at Rosa's is dull, except possibly the overabundance of shredded romaine lettuce on my otherwise satisfying Santini salad ($7). Also keeping us company--in addition to a 16-ounce margarita ($7) with exactly the right proportion of Cointreau to tequila--was a basket of house-made sweet potato chips that we all found both strange and addictive. You will not go hungry waiting for your order at this cozy outpost of designer Mexican cuisine.

Lunch is a great deal here, long on affordable specials as well as a huge array of regular menu items. So we went for some big, hungry-girl entrees. Molly's orca-sized rotisserie chicken burrito contained an acre of tender pinto beans, tons of rice and juicy shredded chicken all studded with chiles, tomatoes and a few odd veggies--green beans, onions, that sort of thing ($7). The burrito was major--two hands required to lift each bulging half.

Di's mega tostada with fresh grilled halibut was equally grande ($11). This eye-popping creation--large enough for a soccer team--involved a crisp tortilla basket loaded with layers of diced cabbage and rich, fragrant black beans. On top of all that were several halibut filets, drizzled with a delicious lemony hollandaise-type sauce.

In between bites, we let ourselves be hypnotized by the sight of all those boats on the shimmering water just outside--Rosa's provides lots of visual stress-reduction. And then there was that very large, very nicely made margarita that we consumed with two straws.

No denying it, the flavors and spices of Mexican cookery form the perfect backdrop for the smoky flavor of the distilled agave cactus. Tequila and salsa, a marriage made in heaven. Or at least in a paradise south-of-the-border. The vast proportions of my lunch entree salad--Rosa's Santini salad topped with rotisserie chicken--made it all the delicious fuel I needed for an entire day. Tender succulent chicken breast draped over a lawn of romaine, tomatoes and avocado slices. Whole anchovies added a welcome hit of heroic flavor, while a subtle and creamy mustard dipping sauce added more flavor accents. Hot from the spit, the chicken was terrific. I rarely order chicken in restaurants, preferring to sample less "ordinary" fare. But Rosa's roast chicken is anything but ordinary. Here it is a destination item, in any of the many dishes in which it stars.
---
Rosa's Rosticeria
Address: 493B Lake Ave., Santa Cruz
Phone: 831.429.1223
Hours: 11:30am-9pm daily
Ambience: **1/2 Playful interior, brightly colored, wrapped around the wood-fired rotisserie
Service: *** Friendly and helpful
Cuisine: **1/2 Hearty portions, nice salsa selection and well-made line of regional seafood specialties
Overall: Rosa's makes an accessible, easy-dining statement overlooking the Santa Cruz Yacht Harbor.
---
[ Santa Cruz | Metroactive Central | Archives ]