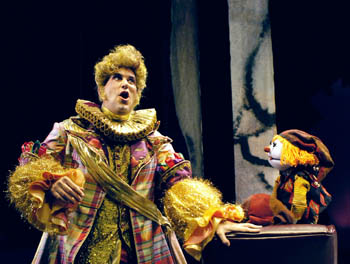 Photograph by Steve DiBartolomeo

A Muppet to His Madness: Irwin Appel as the hopelessly stupid Emperor in Shakespeare Santa Cruz's holiday show.

Hot Funderpants

SSC's holiday show makes sharp and poignant funny business out of new 'Clothes'

By Sarah Phelan

As Homer Simpson once said, "I love legitimate theater." The sitting amid the audience before the show begins, listening to muted gossip, awaiting that delicious moment when the lights go down, the stage lights up and the audience becomes one big black apprehensive beast. Will the actors fumble their lines? Trip over an errant prop? Or will everything flow so seamlessly that even the flubs fit in?

That sense of apprehension is tempered, in the case of Shakespeare Santa Cruz's winter productions, by confidence, based on past experience, that the show will be one outrageously uninhibited parade of brilliant sets, costumes and acting.

Sure, SSC's winter plays are chosen with kids in mind, but thanks to a liberal sprinkling of clever jokes, racy costumes and double entendres, the adult in us all is kept very happy as well. And what man, woman or child could argue with the idea that holiday productions shall only last half as long as your average Shakespearean play?

SSC's The Emperor's New Clothes is no exception to these holiday rules, even though it takes place against a backdrop of budget cuts that has had the whole Cruz community feeling financially exposed. So, it seemed only fitting that returning SSC favorite Irwin Appel, who plays the Emperor, should be the one to make the pitch for money at the end of opening night, dressed only in his underpants, which featured a very, er, swell codpiece.

Equally swell were the "Funderpants"--underpant-shaped donations bags that cast members passed around in place of the proverbial hat. And gave people did, because they'd just been entertained in that merry, frosty, rosy-cheeked way that winter shows are all about.

This year's action revolved around an impressive castle balcony, designed by newcomer Gary Wichansky, from which the fashionista Emperor--variously clad as rooting-tooting cowboy, Ozzie Ozbourne look-alike and hip-hop hipster--spouted rapid-fire Rocky-and-Bullwinkle political malapropisms that perfectly suit these jolly old Bushing times.

At the outset of our tale, the Emperor is aided and abetted by Prime Minister Scowl (Jessica Adcock), clad as a bondage fem-dom. The Emperor insists on calling her Madame PMS, which as it turns out perfectly sums up the way this former court jester feels about giving up her previous position--in which she could speak her mind freely--for a well-paid but completely muzzled position of authority Meanwhile, the current jester (Kate Mine), who used to be the pastry cook, is the only one in the kingdom able to voice the truth--with the aide of a ventriloquist's dummy--following an incident after which everyone gave up the right to disagree with his emperorship.

Into this eerily familiar sounding landscape stumbles the "The Man" (Drummond Doroski), who keeps having mysterious moments during which a part of his past is revealed, and who cooks up a scheme to depose the Emperor, backed by the current court jester and the Haberdasher (Lucas Alifano), who fears that plans for malls and Humvee dealerships will leave his people starving.

The exchanges between the Man, the Haberdasher (who is absolutely darling disguised in a Little-Miss-Muffet-type ensemble) and the Emperor's scaredy cat yes-people, including Lord Tailor (John Paul Holwell) and Connie (Lenne Klingaman), make for some of the funniest moments in an already hilarious play, especially when we hear what they're thinking through the magic of Jeff Mockus' nifty sound design.

You couldn't hope for a more politically apt play. Luckily, it's also well worth stuffing an extra bill into the Emperor's funderpants.
---
The Emperor's New Clothes runs through Dec. 14 at UCSC Theater Arts mainstage. For tickets and showtimes, call 831.459.2159 or check out their website at www.shakespearesantacruz.org.
---
[ Santa Cruz | Metroactive Central | Archives ]