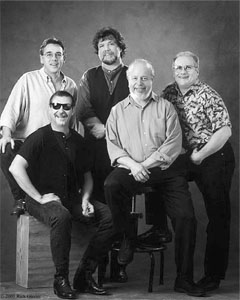 Photograph by Rick Olivier

Jam Science: New Orleans funk kings the Radiators play Moe's Dec. 8.

Radioactive

After nearly 25 years, the half-life of one of New Orleans' favorite bands is simply incalculable

By Meribeth Malone

The Radiators may call Louisiana home, but they have nothing but good memories of Santa Cruz. In fact, a few members of the band once lived here, on a commune up in the hills, back in the late '60s. That was a decade or so before they met for one night to play a few blues songs, and five hours later, they were the Radiators.

Nearly 25 years later, the same five Radiators--Ed Volker (keyboards/vocals), Camile Baudoin (guitar/vocals), Frank Bua (drums), Dave Malone (guitar/vocals) and Reggie Scanlan (bass)--are still playing that hypnotic, Southern soul.

So, the obvious question is: How have they kept from losing members to apathy, revelry, jealousy, rivalry or straight-up band-on-band violence?

"Through all the years and all the shows," says Scanlan, "everyone leaves the personal shit offstage."

It probably also helps that each member adds something unique and complementary to the collective. Every band, for instance, wants a prolific writer/poet like Ed Volker.

"Ed left thousands of songs behind when he moved out after graduating high school," says Scanlan.

In other words, the Radiators' backlog of material makes Woody Guthrie's archives look like a letter home to Mom. With a constantly changing "road map" of more than 300 original songs, it's possible that the Radiators have forgotten more songs than most bands ever learn.

Their extensive repertoire and ability to choose just the right song for any given moment make a Radiators live show intense and rewarding.

The delivery is full of soul, there's tons of funk, the songwriting is impeccable and, well, they've been playing together for 25 years, so yeah, they're confident.

How could they not be after having been steeled by their time in New Orleans, where Mardi Gras blows up into the wildest and craziest party in the entire country. People shed inhibitions and Bourbon Street flows with thousands in search of music and adventure, and there's always someone to offer you Jagermeister, the most popular liqueur in New Orleans.

And when they do, there's no half way. You either like it or you don't--just like the Radiators.

Just how much people like it is clear from the feverishness of the band's fan base.

In 2001, they toured Europe with 100 of their fans. It was a package tour for the fans, and Scanlan says it was a huge success. People who wouldn't otherwise saw Europe and their favorite band nearly every night--and they got breakfast, too.

The band's marathon-length live shows and rabid grassroots fan base (thanks again, college radio) have made them an underground legend, and their newest release carries over some of the feel of those live shows.

It also offers up echoes of Richard Thompson and Los Lobos, along with more of their smart Southern funk, especially on "These Fugitive Dreams" and "Deep in My Voodoo."

What's more, it reminds you how much songwriting matters in a jam band, despite what naysayers who've never really taken the time to listen to the music might think.

Anyone who's experienced Congo Square in New Orleans knows where American jam bands were born--if you grew up listening to the Meters and Professor Longhair live, what other kind of band would you have?

The Radiators may not have been there at the beginning--they were doing their commune time in Santa Cruz, after all--but in 25 years, they've more than made up for lost time.
---
The Radiators perform on Monday, Dec. 8, at 9pm at Moe's Alley, 1535 Commercial Way, Santa Cruz. Tickets are $20; 831.479.1854.
---
[ Santa Cruz | Metroactive Central | Archives ]