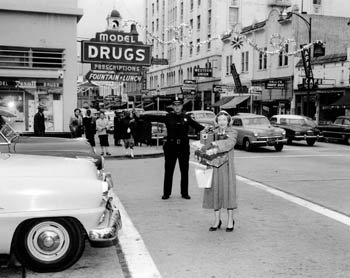 Covello & Covello Historical Photo Collection.
Holidays On Pacific Avenue This is one of about 10 of my favorite holiday photos, and I do run them nearly every year. This unidentified woman was shopping on Pacific Avenue on Dec. 1, 1954. The policeman was part of a "Christmas Courtesy Campaign." Behind her are some mint-condition Studebakers, which would make an excellent present.
Bruce Bratton
BYE-BYE BIOTECH? Tom Abate's Bioscope column in last Monday's San Francisco Chronicle talked about Tuesday's conference on how to keep the biotech industry healthy in Northern California. Housing, traffic and government red tape seem to be the industry's biggest problems. If the problems aren't solved, even more of the biotech biz will be forced to move to places like San Diego, Boston and foreign regions that are begging them to move in. With the rapid drop in high-tech industry finances and employment, and the courting of biotech by institutions like UCSC, our little county will probably feel this pinch worse than ever. The odd thing was that in the Chronicle map of 17 major life sciences institutions, including Novato and Rohnert Park, Santa Cruz was never even mentioned.
SANTA CRUZ COMMUNITY CREDIT UNION. According to Bruce Fox, proud new papa of twins and controller at the Credit Union, the big move down the street to the new offices at Front and Laurel should be finished by May. Should be easy enough parking, and yes, they will be able to move the mural, too.
KUSP PLANS. That meeting of KUSP programmers, staff and interested parties that was held at the Cayuga Vault on Nov. 18 was revealing. It revealed to me that all of the four proposed program scenarios suggested shifting local programming to satellite (NPR) and shifting local music programming to talk. Two proposed shifting as much as 13 hours weekly to NPR. There was lively opposition to going the NPR route at the meeting. There was much talk against competing against KAZU. There was talk about doing some kind of survey in our community. There was talk about going more public with KUSP's marketing. There was talk about the fact that Arbitron's survey showing KUSP as not doing well was made up of only 100 phone calls. The bottom line is that not enough listeners give money to support the station. I'll try to find out more, but there are a lot of secrets at KUSP.
THE GREY BEARS. Times are tough, and the food and money donations are down about 50 percent for the Grey Bears annual holiday dinner at the Civic Auditorium. The annual dinner happens this Sunday from 11:30am to 3pm, so if you have extra food, funds or compassion, call the Grey Bears at 479.1055.
VERY OLD WOMEN IN BRAND-NEW CLOTHES. I've never been a rabid supporter of doing the classic performing arts in contemporary clothes or settings. In the last week, I saw Medea, the Greek tragedy written by Euripides 2,433 years ago, and Alcina, the opera by Handel, which is 274 years old. Not only did the modern settings add to a greater understanding of the original versions, but both plays took on new and believable complexities when viewed from today's point of view. Cal Performances at UC-Berkeley presented Dublin's Abbey Theatre production of Medea starring Fiona Shaw. I happened to sit next to a cast member waiting to go onstage; she told me that Medea bombed in London, playing to half-full houses (and they were mostly Yanks). It went to Brooklyn, and the New York audiences surprised the cast, she said, by laughing at many of the scenes. The Berkeley audiences took the play to heart. Now the company is about ready to open on Broadway, and she was very excited. As with Medea, it was talent that really made the San Francisco Opera's contemporary production of Alcina--which contained costumes inspired by the film Last Year at Marienbad--work so well. Santa Cruz has seen almost enough director's concepts of Shakespeare and God-knows-what in modern dress, but rarely if ever with the talent in the leads to make the part and the interpretation believable. Get advance notice of Cal Performances at www.calperfs.berkeley.edu.
KINGDOM OF SHADOWS. I got to see Real Women Have Curves, and like My Big Fat Greek Wedding, it was just another feel-good-about-cute-ethnic-group flick. Don't go unless you have cellulite issues. The only other film I got to see since grandson George Boulanger III (2 years) was in town was Disney's Treasure Planet. His dad and I slept through many spots, but young George seemed to like it. At least it didn't have the usual teenagers-in-love junk or sappy songs sung by animals--still, don't go to it either. And be sure not to miss Spirited Away and Far From Heaven.
WARNINGS. Saturday night is New Jersey Night at the Poet and Patriot. That means you can sing New Jersey songs or compete in the annual a cappella contest. You won't necessarily believe New Jersey Night even after you see it, but try it for once. Electron Salon also happens this Saturday night at 8pm at the Rio Theatre. They say it's free-form sound and visual experimentation. It might be an offspring from the 1960s light shows, with jazz artists improvising to artists' experiments with paints on a projected screen. I'll let you know. Advanced tickets at the Bookloft or Streetlight Records.
THEATRE NEWS. Shakespeare Santa Cruz's production of Gretel and Hansel has been getting great reviews, and they need ushers, too. If you're over 15 (teenagers must be accompanied by a parent), call Joy Turner at 459.4651 or try [email protected]. El Teatro Campesino has extended its run of Zoot Suit through Jan. 12. It plays in San Juan Bautista. After writing the play in 1977, Luis Valdez, who heads El Teatro, is finally presenting it in the company's own theater for the first time. Call 623.2512 or check www.elteatrocampesino.com. All El Teatro's plays sell out well in advance, so hurry and call.
---
Bruce critiques films every other Thursday on KUSP-FM (88.9). Reach Bruce at [email protected]
---
[ Santa Cruz | Metroactive Central | Archives ]