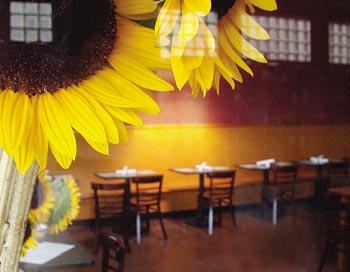 Petal to the Metal A copper-top bar and a warm décor make for an elegant atmosphere at Soif.

Soif's Up

Streamlined for action, downtown Santa Cruz's urbane new wine bar offers comfort and dazzle to grateful bon vivants

By Christina Waters

Wine lovers could barely wait for the recent opening of Soif, the sophisticated boite packed with flavor finesse and extreme oenology. The eagerly awaited establishment filled up fast and stayed that way. We come to sip, sample, compare and find joy in more than three dozen wines by the glass available on any evening.

Wine is the point here--intelligently selected and offered in appealing flights, as well as by the bottle, glass and taste (also sold in the adjoining wine store). But even the beer drinkers who gravitate to the long neo-hofbrau table in the center of this sacramental room are smitten with Soif. Chef Michael Knowles' cunning way with small plates illuminates the altar at which we gather.

Enlightened brasserie foods--charcuterie, cured salmon, crostini and cheese plates--join contemporary tapas and trattoria fare such as pasta, roast pork and truffled risotto; all guarantee that each wine finds its pliant partner. Jack's artistic eye approved the copper-top bar echoed by high burnt-orange walls. He also liked the Spartan decadence of the room, where--other than faux crucifixes of dried grape vines suspended along the walls--wine, food and clientele make up the décor.

Armed with Hugh Weiler, former barkeep of Avanti and now whirlwind sommelier, Soif fulfills a most delicious diplomatic mission--it provides the wines you've never tasted, with the foods you've always loved, and brings them to the people who need them most: us.

Oohs and Ahi

A flight of Spanish riojas--red, ripe and tannic--kept Jack busy until his opening plate of seared ahi arrived ($13). On a steaming island of black forbidden rice and fat asparagus spears sat three thick jewels of crimson ahi, interspersed with fans of salty taro chips. Ponzu-infused black beans amplified the glamour of the dish. Sensational to see, electrifying to eat--this is my kind of destination dish.

But then so was the charcuterie plate--righteously bold with my miniflight of pinot noirs, a Patrice Rion Gevrey-Chambertin ($5.25) and a Thomas Fogarty ($3.75)--both 2-ounce pours, both 1999, both killer. On a pretty platter dotted with a variety of olives, cornichons and one plump caper berry, chef Michael Knowles had arranged tasting islands of understated pâté, bravura boudin noir and a cone of serrano ham stuffed with baby arugula ($8.50). A crunchy baguette frosted with tapenade added to the sensory play. Sexy peasant food, matched with two luxurious burgundies--contrasts like this may be the real point of being alive.

Overwhelming us with quality, not quantity, Soif further dazzled with a bowl of freshly cut squid ink linguini accented with tomatoes, arugula and buttery tender rings of fresh calamari ($9.50). While it's good to know that Soif does offer a trio of de rigueur desserts--a seasonal cheesecake, a crème brûlée and a chocolate mousse--nothing finishes a serious wine bar encounter but a selection of artisanal cheeses ($9.50). The evening's assortment, accompanied by slices of pear and apple and triangles of distinctive nut bread, ranged from buttery Cantalet and nutty Pecorino Toscano to a complex Spanish blue Valdeon and a Brillat Savarin triple crème so runny it had to be mopped up with bread. Those final, fully opened sips of rioja--the Solabal was our favorite--found glory in the final mouthful of that spectacular Valdeon. You'll never need a take-home container here--such spectacular dishes demand to be eaten on the spot.

Living in the now never tasted so good. In my version of heaven, I dine nightly at Soif.
---
Soif Wine Bar & Merchants
Address 105 Walnut Ave., Santa Cruz
Phone 831.423.2020
Hours Wine bar 4-11pm Tue-Sat, 3-9 Sun; retail noon-6pm Tue-Sun; closed Mon
Ambience ***1/2 Even the weekend noise level can't dampen the vivacious vibes.
Service *** Intelligent; can get busy, but that's why you've got that glass of wine in front of you.
Cuisine ***1/2 Flawless plates of great character and flavor; sexy menu listings and wines to match
Overall Soif gives us reason to suspect that the 21st century just might amount to something.
---
[ Santa Cruz | Metroactive Central | Archives ]