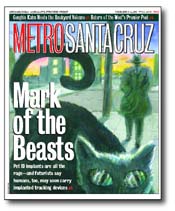 For the Week of
December 5-11
Cover: Mark of the Beasts
Pet ID implants are all the rage -- and futurists say humans, too, may soon carry implanted tracking devices.
Hometown:
Very Close Encounters
In the sleepy hills of Soquel, one couple has dreamed up a real alien landscape of art and fantasy.



Incredible Journey: 'Brilliant Traces' heats the hall with all the right, cool moves.



The New and Historic: Bayview Grill & Bar moves into the Veranda dining room of the old Aptos landmark with a low-cost menu and a few surprises.



Notes From the Underground: Local bands should put the underground music railroad to good use.



Dharma Sums: Poet Gary Snyder's epic is complete, but his journey is far from over.