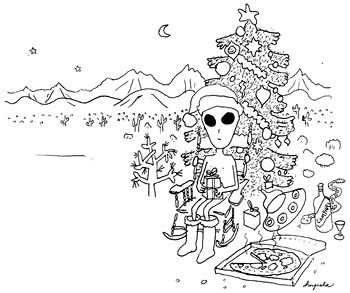 Reinventing Tradition
Holidays, regular as clockwork, sometimes cry out to be overhauled
By Christina Waters
SOMEWHERE BETWEEN the endless checkout lines laced with baby strollers and those mind-numbing TV ads barking the praises of the latest $499.95 techno-toy, we have all considered ditching the holidays.
Maybe just this once, we sigh, we can do without all the glitter, the stress, the social obligations, the sobering morning-after VISA payments. Haven't you ever wanted to crucify Christmas? To heave Hanukkah? To flee the collective celebration that seems to have lost its innocence and waxed rancid?
You bet you have! And so have I, which is why as you read this I'll have one foot inside a Swissair MD-80 en route to Florence, where I intend to lose myself in the Renaissance, complete with cathedrals by candlelight, carols sung in a foreign language and anything but turkey for Christmas dinner.
Lest you think my decision to exit tradition too bizarre, too unthinkable, consider the realities of a non-Walt Disney world. In the movies, Christmas (there was no such thing as Hanukkah in Hollywood, which is totally idiotic considering how many great directors, screenwriters and actors were Jewish) was something starring a sweet fool like Jimmy Stewart tucking himself into the snowy snugness of an extended family somewhere in the American heartland. Mom and Dad, grandparents and little Susie, everybody was home for the holidays, no one was ever sick and the table groaned with a bounty cooked up by Norman Rockwell.
Like many white, North American gentiles, I spent my youth pursuing that same cozy image of the holidays. As I became an adult, each Yuletide was filled with increasing stress levels as I struggled to re-create that fictional sense of security, prosperity and reliability. If Christmas was celebrated the same way each year, somehow it meant that everything was still in place. Nothing would ever change. It is the effort to stave off change, (a.k.a. death) which lies at the secret heart of each and every tradition.
So you may think that my suggestions about reinventing tradition are unclear on the concept. Au contraire. And here's why.
Let's face it: so much of the great excitement of holiday hoopla has to do with watching the faces of kids. Their delight in all those candles and twinkling lights--the cheery Santa Claus myth, all the special foods that seem to spring magically from the kitchen this time of year--these trappings of the season seem heightened by the ability of the young to believe in the transformative power of holidays. And as long as we are all close to that youthful spirit, things tend to go quite well.
Another key to holiday nostalgia lies in the sense of family, of gathering together each and all around the hearth, the tree, hell, even the television to somehow feel more like a cohesive group than we do at any other time of year. Family bonds are reinforced, psychologists remind us, by these seasonal ceremonies, these events in which each family member seems to play a role. Much as we moan about having to eat Aunt Mariana's fruitcake, Christmas just isn't Christmas without it. And that, dear reader, is part of my point.
Without Aunt Mariana's fruitcake, Christmas just isn't the same. When the children grow up and leave home, sometimes they return for the holidays, but sometimes they go to be with new in-laws. Students are halfway across the country and can't always come home for the holidays. Grandpa died last year, and now that role he owned--placing the last ornament high up on the tree--must be taken by someone else. Change is good, according to the oft-repeated popular mantra. But change is painful.

Step Up: A toolkit for reinventing your own holiday traditions.

DIVORCE, DEATH, changing jobs and residences--these are all realities Hollywood seldom dealt with, except in the most cloying scenarios. And yet these huge life changes come to us all--which is why we must reinvent our traditions or risk becoming one of those sad holiday statistics.
Two Christmases ago, we fought off the impending gloom of holidays without our now-broken families by heading for some place utterly remote. Is Death Valley remote enough for you? It was for us. Bringing with us a bottle of Campari--the color makes it an obvious Christmas decoration--and two battered senses of humor, we began our odyssey at a Siddha yoga chant-a-thon in Palm Springs, where I had a serious out-of-body experience brought on by hyperventilation.
Next stop was a small cabin we'd rented in Furnace Creek, roughly 285 feet below sea level. It was a clear, crisp day, roughly 70 degrees out, definitely not your basic Christmas environment. With mountains and desert fanning out toward infinity in every direction, we were held in an undeniably mystical embrace by the ancient lake beds.
On Christmas Eve, we began an hour-long drive up out of the valley depths, through a night of a million stars, to the tiny burg of Pahrump, Nevada. I knew my sweetie needed some familiar touch of childhood tradition to keep from complete psychic upload. The only town within driving distance of Death Valley with a church that offered Midnight Mass on Christmas Eve, was Pahrump. So that's where we went.
Little more than a Quonset hut, the church was already filled with a congregation, even a band playing Mexican carols, when we arrived. As the sermon began, the power suddenly failed, so 250 of us listened by candlelight to the priest weave a spell, comparing Christ's appearance on Earth to sightings of extraterrestrial visitors.
Before the benediction, aisle by aisle, everyone reached for the hand of the person nearest. An 80-year-old man, huge as an oak tree, reached out his great gnarled hand toward mine. I took it and felt a distinct pulse of something like electricity run through me. Here in the middle of complete strangers, we'd been welcomed. And touched. An unforgettable experience, it altered our sense of tradition forever.
Next day, we drove as far as Barstow and a kindly waitress at Coco's served us a Chicken Fiesta plate for Christmas dinner. Not every new tradition needs repeating.
[ Santa Cruz | MetroActive Central | Archives ]