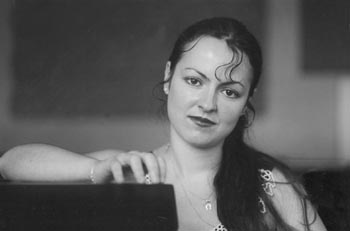 Photograph by Andrea Brizzi

Tune Town: Pianist Lida López performs Friday at a benefit concert for the Senda Piana to Havana Project.

Stay Tuned

The Senda Piana to Havana project is helping to keep Cuba's musical traditions intact

By Jenny Austin

I REMEMBER a still night in Cienfuegos, walking down Paseo del Prado toward the Punta Gorda peninsula.

I turned a corner, drawn to the vintage sounds coming from an old dance hall, and found local couples and families clustered outside a patinaed building with an arched and columned entrance, grand ceilings and a tiled floor beautifully cracked and worn. A record crackled and spat songs from an older Cuba, the son groups Trío Matamoros and Los Compadres from the 1930s and '40s. Aging, tired feet shuffled and young, fiery feet glided sensuously over the tiles.

As resilient and impassioned as the revolution is stubborn and proud, Cuba over the last century has created music that has moved people all over the world, but its musical traditions have also been affected by shortages caused by the U.S. economic blockade.

Some Americans who disagree with U.S. foreign policy with Cuba have, under the leadership of piano tuner Ben Treuhaft, given birth to the Senda Piana to Havana project. In 1993, Treuhaft, a former Berkeley resident, researched the possibility of donating his skills and piano supplies to Cuba. Within months he was helping schools and musicians in the Havana area. His determination to provide resources grew into the present piano project, which donates and ships pianos to Havana via Mexico or Canada. The pianos are then distributed to various music schools throughout the island.

THIS FRIDAY, at Kuumbwa Jazz Center, Cuban pianist Lida López, local band Havana Jazz and percussion group Yeyenya will perform in a concert titled All Kindsa Cuban Music--a benefit for the piano project sponsored by the Cuba Study Group of Santa Cruz. I recently spoke with López (who will be playing some compositions by her father, Jorge López Marín), who says she is happy to be a part of the project, playing for an American audience that appreciates Cuban music.

"I think the project is wonderful, and there is such a need, as Cuba is a culture-rich country," López says, adding that many Cuban tuners are of an older generation that is dying off, but there are now many young people training for the profession.

Takashi Yogi, a piano tuner and Cuba Study Group member, went to Cuba last February with Treuhaft and other technicians, bearing tuning instruments, parts and current tuning knowledge to share in seminars throughout the island.

"There is an excellent music education program in Cuba," Yogi says, "but few good instruments on which to practice."

Many pianos in Cuba are newer Russian pianos, which are often cheaply made, do not hold up well in the humidity of the tropical climate, and are more prone to house termites. According to Yogi, "Most people still play the prerevolutionary American pianos, which are far better although they aren't in tune, the keys don't work, and they have rusted strings." The fundraiser will pay for rail and freight charges and replacement parts.

THE CUBA Study Group of Santa Cruz was started in October 1999 by local writer Ellen Farmer. The group meets once a month to discuss Cuban history, culture and current events, and encourages cultural exchanges and travel between the two countries.

"We really recognize and respect the sovereignty of Cuba," says member Nancy Abbey. The Cuba Study Group also sponsors public events that provide information and celebrate Cuban culture, such as film screenings, community dances and panels of people who are knowledgeable about the island.

Cuba has stood up to the U.S. government for decades, its pride and spirit intact and thriving. I am moved by the thought that music can lift us from the limitations around us, make us smile despite our personal hardships. In Cuba, music is the soul of the island. Pianos are as well-loved as the dance floors, street corners and park plazas that bear the feet that move to the son, salsa and trova coming from the instruments' termite-nestled depths.
---
All Kindsa Cuban Music Friday (Dec. 8) at 7:30pm at the Kuumbwa Jazz Center, 320-2 Cedar St, Santa Cruz. Tickets are $8-$10, available in advance at Logos Books and Records. For more information on the Cuba Study Group of Santa Cruz, email [email protected]. (427.2227)
---
[ Santa Cruz | MetroActive Central | Archives ]