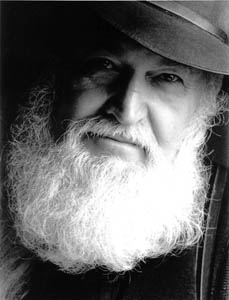 Free Radio Utah: Storytelling legend U. Utah Philips has a particularly strong connection to the pirate radio movement in Santa Cruz. He headlines a Rio benefit Friday.

Spare the Air

Could there be a more fitting headliner for this week's Free Radio Santa Cruz benefit than U. Utah Phillips? No, no, there could not.

By Mike Connor
---
Airwaves stole from you and me
By a bunch of thieves called the FCC
They don't give a damn what we want and need
They've all caved in to corporate greed
And sold us out to the ruling class
Well the whole damn bunch can kiss my ...
--U. Utah Phillips, 'Talkin' NPR Blues'
---
The voice of dissent has long spoken loudest through music, so it doesn't come as much of a surprise that a political dissident and master storyteller like U. Utah Phillips would support pirate radio. But when the FCC raided Free Radio Santa Cruz (FRSC), Phillips took it personally.
See, after he was diagnosed with heart disease, Phillips stopped touring and poured his energy into a hobo radio show, Loafer's Glory, which FRSC broadcast locally. And when Phillips got a sudden urge to ride a freight train after a long hiatus, FRSC DJs Lee and John Malkin helped him get another taste, riding the rails with him and talkin' radio all the while.
"When I heard that the goons showed up and appropriated the station's equipment," Phillips fumes, "it was like somebody hurting my family, you know?"
This Friday, Phillips will headline a benefit show at the Rio Theatre to help his friends in their time of need. And he's not the only one championing the station, which has become kind of a cause célèbre. Amy Goodman covered the FCC raid on Democracy Now, after which support for FRSC has poured in from as far afield as Kentucky, where one coffee shop took to serving "pirate coffee" and is donating the proceeds to the station. But FRSC DJ Skidmark Bob says that most of the support came from the local community.
Specifically, a group calling itself Santa Cruz Radio Access Movement (SCRAM) has stepped up to oppose the FCC by broadcasting the FRSC web stream, which has been back online since the day after the raid.
"They got a transmitter and a computer and started broadcasting our stream," says Bob. "They're working with different technologies to make that a better signal and keep us running, experimenting with the new technology that's out there. There are folks that do it from vans, there are wireless types of situations--it's kind of like we're opening up a whole new way of doing pirate radio."
It's a happy situation for FRSC volunteers like Red Momma and her 10-year-old son, DJ Galaxy, who's now free to tear it up on the turntables without fear of being raided and charged with broadcasting without a license, since all they're doing is streaming content over the web, which is perfectly legal. The new arrangement is safer for the volunteers, and will allow them to accumulate equipment in what might someday grow up to be a comfortable, fully functional studio.
"It's almost like we've forgotten we're pirates," jokes Bob, who's grateful that SCRAM now shoulders the broadcasting burden. To Bob's knowledge, SCRAM has not yet been hassled by the FCC.

The Strength of Strings: Multi-instrumentalist Bob Brozman performs at the Free Radio Santa Cruz benefit Friday.
Meanwhile, John Sandidge and Snazzy Productions put together the benefit show featuring Phillips, along with Bob Brozman, The Devil Makes Three, Keith Greeninger and an 89-year-old folk singer named Faith Petric. Phillips specifically requested that Petric be on the bill so that a younger generation could get a taste of the essence of folk.
"She's going like a steam roller," says Phillips, "and she knows more songs than you'd think was humanly possible. I wanted the young people to greet one of the true activists."
The benefit will help FRSC replace the last of the basic necessities like microphones and tape decks confiscated by the FCC, which won't be returning the equipment.
"We passed the deadline to be able to do anything about it in the courts because we were more interested in continuing with the radio station than getting caught up in a big legal battle," says Bob. "Now we're slowly getting back to normal again."
Rally Round the Freak Radio Flag
Of course "normal" is a relative term, and is probably not the best word to describe the programming at FRSC. Coming up on its 10th year of operation in March, the station that has dubbed itself "Freak Radio" has always spoken its mind, no matter what was on it. Bob says the station grew out of an effort of Food Not Bombs, which had grown tired of being misrepresented by the Santa Cruz Sentinel, and, in 1995, decided to launch Pirate Radio as a counteroffensive.
"We wanted to become our own media," says Bob, who's been involved since the station's inception. "It's like Michael Franti said: 'Don't hate the media, become the media.'"
FRSC was the first station in the Cruz to broadcast Democracy Now, which they would record on cassette from KPFA and then play on the air. Serious political programs like Counterspin, Free Speech Radio and of course two daily airings of Democracy Now are now staples of the station, along with local political programming from George (Peace Talks), Emily Hell (Corporate Swine Radio) and Robert Norse (Bathrobespierre's Broadsides) and music shows with Bob, John Malkin and of course Lee, who hosts the Hobo Music Show.
For his part, Phillips likes what he sees going on in Santa Cruz.
"It's a good idea to visit Santa Cruz," says Phillips. "You got a civilized town there--I love the way the mayor went down there and hung up those FCC people, that the federal marshals didn't have a good time in Santa Cruz. That did tickle me."
He was also tickled by a folk music society in Michigan, whom he helped educate about microradio when their local NPR affiliate abruptly discontinued their folk music programming. And then there were the folks behind Free Vermont Radio who, when their public radio station arbitrarily decided to go all classical, encouraged listeners to send their pledges to an escrow account which would be held onto until the programmers came to their senses, which they eventually did.
"I'm a great believer in people's airwaves belonging to the people," says Phillips, who remains critical not only of the FCC selling out to corporate interests, but of NPR doing the same.
"By and large what I'm concerned about is too many of the NPR stations are taking what they use off of the satellite," says Phillips, and there's less and less and less local programming, less and less local public affairs and less and less local musicians."
Thus, another verse from his song "Talkin' NPR Blues," in which Phillips--true to his craft--uses comical imagery to align himself squarely with the DIY movement: "I said 'I love you'/ But if you blow it/ I'll sure as hell let you know it/ I'll knock the radio off the shelf/ Buy a transmitter and do it myself./ Whitebeard the Pirate."
Much like the old radio dramas for which Phillips remains nostalgic, his images often give a hungry imagination a root to chew on, even as they relay a subversive message of resistance.
"Mainly what I really like is the posture of resistance," says Phillips, "that this raid to these [FRSC] folks is not a disaster, it's a bump in the road. They understand how important what they're doing is, and they keep asserting the right to the people's property. They assess the consequences, then go ahead and do the work. They're completely admirable people."
This, from a 69-year-old legend who is still touring to pay the bills, despite health problems and a deep yearning to settle down and continue "Loafer's Glory." For now, he'll have to content himself with the prospect that his audio songbook, including 61 songs accompanied by stories about where they came from, will be produced and distributed with the help of the Indigo Girls next spring. Phillips will continue to tour once or twice a month, happy to see places he's played for years that he thought--before retiring from retirement--he'd never see again.
"We'll see how long I can go," says Phillips. "Right now I feel pretty good, and God knows it's the right time to be out there."
---
U. Utah Phillips, Bob Brozman, The Devil Makes Three, Keith Greeninger and Faith Petric perform on Friday, Dec. 10, at 7:30pm at the Rio Theatre, 1205 Soquel Ave., Santa Cruz. Tickets are $21-$24; available at Etc. Etc. Etc., online at www.snazzyproductions.com or call 831.479.9421.
---
[ Santa Cruz | Metroactive Central | Archives ]