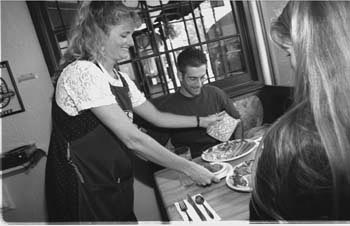 George Sakkestad

Morning Break: Walnut Avenue Cafe manager Sheri Baxter delivers a breakfast of bountiful comfort foods to hungry patrons.

Big, bountiful breakfasts are the hottest way to start the morning, as evidenced by the cult following gathered 'round Walnut Avenue Cafe

By Christina Waters

ONCE UPON A TIME, many North Americans began the day with gigantic meals of bacon, eggs, pancakes, potatoes, toast, oatmeal and juice. Then they all went back to the fields and plowed another 50 acres before lunch. Since many of us have stopped working 12-hour days of heavy labor, the idea of a Big Breakfast has downsized into an occasional, festive event. Sometimes breakfast is even a social outing, where friends meet and greet each other, gossip, flirt, do business, catch up on details of births and deaths, marriages and divorces.

No longer just the first meal of the day, breakfast--especially in our neck of the woods--is an excuse to indulge in the forbidden foods of yesteryear. Thirtysomethings who never inhale more than chai and granola at the break of day love to hold down the sidewalk in front of Walnut Avenue Cafe every weekend morning waiting for that prime booth space.

Last week, I had two breakfasts at Walnut Avenue--both during midweek, and hence both enjoyed without any waiting. Jack and I grabbed a cozy large booth and scanned the high-protein possibilities.

"There's just something deliciously complex about grapefruit juice," Jack murmured, offering me a sip of his Odwalla citrus beverage. What is it with men and grapefruit juice? But he did have a point. It had a sweet nose, a full, complex middle and a satisfyingly bitter finish. Still, I'll take orange juice--and did.

A cappuccino for me and a regular coffee for him arrived swiftly, followed by enormous platters of our chosen indulgence. All the regulars were humming right along--the guy who always sits at the same counter stool, the politicians rehashing yesterday's meeting and lots of families with small children looking for a warm way to carbo-load. Two canned black olives looked mournful sitting directly on top of Jack's poached eggs Florentine ($7.25). It would have looked prettier if he hadn't ordered the sauce on the side. Advertised as containing "grilled tomatoes," the layering of English muffins, fresh spinach and poached eggs contained a mere two slices of barely warm, unripe tomatoes. This, together with room-temperature, flavorless hash browns, did little to start Jack's day.

Over on my plate, an order of poached eggs and Canadian bacon proved a happier encounter ($5.75). Perfect poached eggs and nice, if undistinguished, Canadian bacon, I pointed out to Jack. Still, the toast sported only a microscopic dab of butter. Is butter an endangered species? I wondered, and made plans for a repeat visit.

I've had wonderful breakfasts here in past years, so I joined Bianca two days later for another morning visit to Walnut Avenue. An order of French toast slathered with warm sliced bananas and walnuts (delightful edible pun) proved much better ($5.95). Delicious, actually, though the vanilla yogurt that accompanied added nothing.

My double latté was dreamy, and Bianca loved her Earl Grey tea.

Bianca didn't love her omelet ($3.95, each addition 85 cents), which she likened to an extraterrestrial pod containing a tasteless colony of aliens. It most resembled a neutral yellow something to which a combination of mushrooms, tomatoes and cheese had been added as a separate thought. That it was without flavor didn't surprise me. I never order omelets in restaurants because, like risotto, they require such split-second timing and attention that they almost always disappoint.

We left not a trace of the wonderful French toast.
---
Walnut Avenue Cafe
Address: 106 Walnut Ave., Santa Cruz
Phone: 457-2307
Hours: Breakfast daily from 7am; lunch weekdays until 3pm.
Ambiance: ** Classic American diner/cafe
Service: *** Excellent, with lots of coffee refills and piping hot entrees
Cuisine: * 1/2 Uneven, with some excellent items, some ordinary
Overall: Location, location, location helps pack this cozy kitchen every morning, to the happiness of downtowners
---
[ Santa Cruz | MetroActive Central | Archives ]