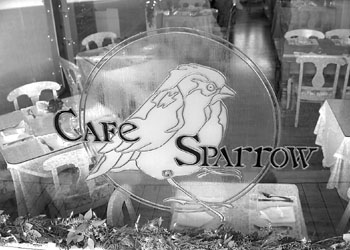 Bird on a Wire: On the outside looking in at Cafe Sparrow

Bird of Paradise

Aptos treasure Cafe Sparrow remains loyal to its reputation while basting its menu with a treasury of comfort

By Christina Waters

In reinventing themselves, many restaurants have unwisely edited out the dishes for which they've become famous, the ones their patrons most love.

But for the current reinvention under way at Cafe Sparrow, Bob and Julie Montague have chosen a wiser strategy--keeping the best of the past, while continuing to rethink. Smaller entrees are appearing. Some retro classics have been added to the high-concept plates, while the restrained Laura Ashley décor has been left to ply its continuing charm.

Last week, white holiday lights gleamed in the soft polished wood floors--another lovingly preserved aspect of the room's 103-year-old history. The wines-by-the-glass list produced a crisp Morgan Sauvignon Blanc ($6.75) and a luscious Cinnabar Mercury Rising red blend ($7.75), and thus armed we sampled francese and some attractive opening plates. Top tunes from the '40s filled the air, while the chef whistled along.

A quartet of seared sea scallops arrived, each perched atop a triangle of grilled polenta ($10.95). Entree-sized, the dish was burnished with an unusual reduction of balsamic infused with vanilla and orange. I loved the moist shellfish, but wished for a less sweet sauce. Another opening dish--a pyramid actually--of slender haricots verts, had been laced with fresh thyme and diced tomatoes and dressed with a sensational warm bacon vinaigrette ($6.75). A generous garnish of crisp, lean shreds of bacon added just enough decadence to thrill our taste buds. The taste of bacon--a rare occurrence in my adult dining life--always makes me smile. A heartland, all-American spin on Proust's madeleine, it prompts memories of Sunday morning breakfasts past.

Meat Resistance Is Futile

While the chalkboard menu offered several pasta dishes, as well as fresh seafood, we had succumbed to entrees showcasing the red meat that chef Bob Montague finesses so well. Jack's rack of young Australian lamb ($21.95) was easily the best version we'd tasted in years. Crusted with herbs and Dijon, the lavish rack of rare, juicy lamb arrived on a bed of unadorned couscous sided by impeccably steamed broccoli rabe. A sauce of red wine and mint worked its sorcery on the lamb. "I love this dish," Jack admitted. No carnivore could have resisted.

My order of grilled filet tips had been briskly cooked to retain rareness, as requested, and arrived on a bed of linguine and red onions, smothered in red wine and mushroom sauce ($18.95). It smelled like your grandma's kitchen in the late '50s--maybe even better. There was nothing tricky or trendy about this glorious dish. Simply beef and onions, wine and mushrooms on a big soft pillow of pasta--delicious comfort. But it was simply way too much to even consider finishing in a single seating. While I would have preferred being served a more realistic portion, Jack had no complaints about taking half the dinner home for the next day.

There was, after all, dessert to consider, and Cafe Sparrow desserts are always well worth considering. Along with espresso and Bonny Doon Vineyards vin de glacier ($5.50) we sampled a chocolate cloud of chocolate mousse served on a chocolate sponge cake with raspberry coulis and beautiful whipped cream ($8). It seemed to hold back, however, on the desired chocolate hit.

The intensely tart lemon pudding cake, however, was the star. Judy Garland's heartstrings were going "zing" (ours too) as we climbed into a splendid square of not-too-sweet citrus perfection ($5.75). Topped with berries and apples simmered in berry sauce, the yellow cake was perfumed by a fluff of fresh mint. Substantial small plates join some of the well-loved dinner ideas at a bistro that delivers deliciousness--Cafe Sparrow.
---
Cafe Sparrow
8042 Soquel Drive, Aptos
831.688.6238
Lunch 11:30am-2pm Mon-Fri, 8:30-2pm Sat; Sun brunch 9am-2pm; dinner nightly from 5:30pm
---
---
Ambience: *** Charm without fuss in a cozy, Aptos village landmark.
Service: ***1/2 Ultimate hospitality-- sensitive, swift and warm.
Cuisine: *** Beautifully prepared American heartland classics mixed with light, inventive California cuisine.
Overall: One of our most--and justly--popular bistros, the Sparrow continues to soar.
---
[ Santa Cruz | Metroactive Central | Archives ]