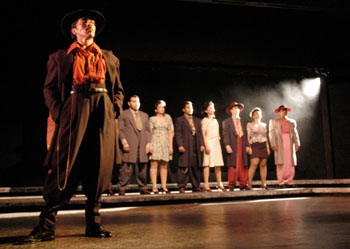 Tower of Chicano Power: Pachucos are known for collecting and trading well-dressed suburbanites.

'Suit' and Timing

After 25 years, Luis Valdez brings his acclaimed 'Zoot Suit' home for a hit run at El Teatro Campesino

By Ann Boutte

When writer-director Luis Valdez was growing up, young, urban Mexican-Americans were shaping a new cultural identity through slang, dress, attitude and music. It was a process of acculturation represented by the pachuco, a way of life that later found voice onstage and in film in Valdez's Zoot Suit.

Acclaimed on the L.A. and New York stages, and filmed with Edward James Olmos, Zoot Suit is, 25 years later, finally in its first Northern California run on the stage that was built largely because of its success--The Playhouse in San Juan Bautista. El Teatro Campesino's production of the play has been so successful here its run has already been extended through Jan. 12.

Valdez says he was inspired to write Zoot Suit while he was a young man exploring his identity and politics. He read the pamphlet "Sleepy Lagoon," which told the story of Latinos railroaded into jail on murder charges after a gang fight, and the historic Zoot Suit Riots that followed. Melded with the pachucos Valdez knew growing up, the resulting play rings with authenticity in its retelling of this story set in Southern California in the early '40s.

Years later, the play continues to inspire a whole new generation, including El Teatro's resident director Kinan Valdez and producer Anahuac Valdez, Luis' sons. This generation has the benefit of the film and stage versions that have come before. The play was sold out before it opened in L.A. in 1978, and when Andy Warhol saw it staged in New York, he told Valdez with typical Warhol brevity, "It's a movie." And so it was.

In San Juan Bautista, the cast rehearses in the sun of the small theater, giving Luis Valdez the feeling, "This is what we do. This is teatro." He is talking about the style of agitprop theater which is minimalist yet accessible, like the plays used to help organize among farmworkers, the roots of El Teatro Campesino. This is the type of theater that can be produced in an open field with few props or elaborate sets. Scenes flow one to another with little more than a newspaper to indicate time.

"It uses poor-people technique to tell this epic story," says Valdez. "It's an entry piece for so many actors. It's close to barrio reality and street language. Young people come to it with that experience, the pachuco experience."

CC Rider

The pachuco experience had a lasting impact on those touched by it. Valdez remembers a young pachuco, CC, who hung around Valdez's house as he was growing up. Like today, your mother didn't want you to be one of those types, but there were plenty around. To make such an impression on Valdez, CC must have been one cool pachuco, in love with the music, snapping his fingers to swing tunes and flaunting fabric-rationing rules of the day with the wide, draped swaths of a classy suit.

Pachucos carried around big doses of swagger, slang and attitude, inspired by elements of African American culture, which inflamed the violence against Mexican-Americans during the Zoot Suit Riots. In the early '40s, sailors and soldiers in port in Los Angeles made several forays into East L.A. to attack zoot suiters.

Valdez remembers how some pachucos broke the law, while others gained a social and political consciousness--like CC, who was radicalized by his experience in the riots. CC was soon fighting for the rights of workers, and by the 1960s ended up organizing in the rich fields of California. He was joined by Valdez, who used theater to raise money and get the message across. While Valdez still refers to him by his nickname, the rest of us know CC today as Cesar Chavez.

If the realization that Chavez was once a pachuco is startling to some, so too does Zoot Suit get under the media myths as well as the surface bluster to find real meaning in the growing Chicano identity moment of the time. It is also a survival story, telling how the main character Henry and his friends were convicted of murder and sent to San Quentin. Only after the tireless efforts of the Sleepy Lagoon Defense Committee were the convictions overturned and the zoot suiters released.

The superego "is the internal authority Henry has to overcome to make his personal journey to manhood. One of things we learn is responsibility by how he protects Rudy," says Valdez of the characters' motivations.

"The importance of the pachuco experience has to do with the process of Americanization," says Valdez. "Picking up an identity in American urban culture ... It was a period of acculturation and adaptation for a lot of Chicanos and is a large foundation for the Chicano movement."

For Valdez, there's something satisfying about finally bringing Zoot Suit home, something that gets at the very roots of teatro.

"Seeing this epic story in an old packing shed,"he says. "is poetic justice."
---
Zoot Suit
Plays through Jan. 11 at The Playhouse, 705 Fourth St., San Juan Bautista. Call 831.623.2512 for ticket information.
---
[ Santa Cruz | Metroactive Central | Archives ]