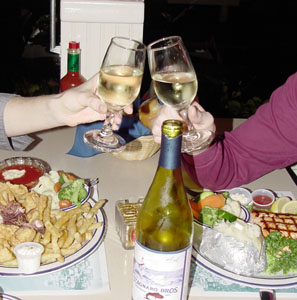 Photograph by Elizabeth Belfor

Land's End: Stagnaro's keeps the tradition of true seafood restaurants alive in a most-favored location on the Santa Cruz Wharf.





Winter on The Wharf

A landmark fish house delivers fresh catches of the day out on the ever-atmospheric Santa Cruz Wharf

By Christina Waters

AS WE SLID into one of those supercomfy booths with a view, I noticed that Di's jacket and eyes exactly matched the upholstery. Sky blue. More precisely, marine blue. We were, after all, at Stagnaro's at the end of the Santa Cruz Wharf.

The old wooden wainscoting, those polished brass portholes, the windows overlooking the Boardwalk, the waves and Steamers--Stagnaro's offered the same seafood restaurant atmosphere it had when I was a kid. My grandparents would take us to the wharf, where we'd feed the seagulls, squeal as the wind and spray blew our hair into glorious chaos and, of course, gawk at those huge silvery fish on their beds of crushed ice.

The big deal, when I was a kid, was swilling Stagnaro's clam chowder and shrimp cocktails. The clam chowder still carries its weight, we discovered happily as we struggled not to fill up on chewy sourdough rolls with butter.

Glasses of good wine--a Byron Chardonnay ($6.50) and a nicely structured Kenwood Merlot ($6)--helped take the chill off the evening. So did the warm service and gracious vibes. There's nothing designer or trendy about Stagnaro's, which for me is about as close to an authentic seafood house as this town has to offer.

Dozens of favorite seafoods are available, simply grilled or charbroiled, or orchestrated into a variety of cioppinos and pasta specialties. The fresh local halibut caught our eye ($13.95). "Fresh" and "local"--those are two magic and very important words when it comes to ordering fish. An order of broiled sea scallops--also fresh--tempted me ($15.95). And I took the bait. But first, we shared an order of moist Maryland crab cakes ($9.95) and enjoyed the soup and salads that we'd chosen to go with our entrees.

Those rolls were mighty fine, we both admitted, especially with a cup of thyme-intensive, very creamy clam chowder. Textbook actually, this fragrantly warming soup was loaded with tender, tasty clams. Not bland, gummy clams, but the satiny kind that give clam chowder's reputation its staying power.

My salad provided a pretty array of tender greens, including oak leaf and arugula, as well as julienned carrots and threads of brilliant purple cabbage. The oil and vinegar arrived, as requested, on the side, so I dressed the salad according to my own taste, as they do in Italy.

Next came two steaming plates swelling with aromatic entrees. A substantial wedge of alabaster halibut, crisscrossed from the grill, came with a baked potato and a colorful side of al dente broccoli, cauliflower (I love this underused vegetable) and carrots. Tiny pots of cocktail and tartar sauce were provided, as well as plenty of lemon wedges. The dish was exactly what was wanted--true flavors of the sea, consumed in a wraparound sanctuary suspended over the waves.

Talk about culinary poetry. My lavish portion of plump sea scallops, dusted with pepper and spices and broiled just to the point of medium rarity, was delicious. The mixed vegetables on my plate were joined by a field of better-than-average pilaf of mixed rices, some long grain, some wild--very seafood house and completely satisfying.

I thought of all the times I've looked out at those waves swirling under the wharf lights, catching glimpses of a sudden soaring gull. It is sustaining at some very deep psychic level to have continuity with a place. The wharf has that particular magic and repays our visits, no matter what our age or mood.

Desserts were appropriately baroque. A silken triangle of cappuccino cheesecake was thickly frosted with pure chocolate ganache. And three layers of plush, authentic German chocolate cake kept my fork busy and my taste buds in ecstasy (both $3.50). Fresh fish, beautiful desserts and the indigo rise and fall of the waves outside our huge windows--Stagnaro's lives up to its considerable reputation.
---
Stagnaro Bros. Seafood Restaurant
Address: Municipal Wharf, Santa Cruz
Phone: 423.2180
Hours: Serving daily from 11am
Ambience: ** Classic fish house
Extras: Full bar, panoramic lounge
Service: *** Right on target
Cuisine: **1/2 Well-made seafood classics
Overall: Stagnaro's delivers the well-priced goods; worth the trip to the wharf any time of year
---
[ Santa Cruz | Metroactive Home | Archives ]