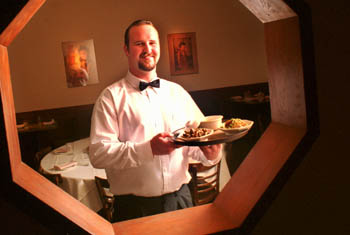 Photograph by George Sakkestad

Pungent Pleasures: O'mei service manager Adam George displays a plate of comforting yet wickedly hot specials.

Outstanding O'mei

One of the hot spots for locals and their out-of-town guests, O'mei owns the road leading to culinary enlightenment

By Christina Waters

EVERY SINGLE ONE of our out-of-town visitors has fallen under the spell of this remarkable culinary treasure. For roughly two decades, O'mei has been amazing our taste buds. Sometimes it's as simple as sampling the seasons filtered through the fresh local produce, seafood and imaginative spicings. Or maybe it's those little appetizer dishes that awaken your senses the minute you sit down--luscious wheat gluten, fiery carrot threads, addictive seaweed salad.

Two weeks ago, we discovered another favorite starter--a very spicy little number involving flash-wok'd red oil tofu laced with hot peppers, zucchini and peanuts. Just the week before, we'd brought friends visiting from Argentina, and they immediately succumbed to a dinner of three different fresh sea bass dishes. O'mei has no rival when it comes to accentuating the delicacy of this pliant seafood, while uncovering its depths via bold seasonings.

The rice-smoked sea bass ($15.95) is the sort of dish that might have tempted Buddha away from his rice bowl. Lightly smoky, yet somehow creamy, almost custardy, it triumphs on its abstract expressionist cushion of celery and red bell pepper strips.

An order of sliced sea bass with asparagus in the house's mighty garlic and black bean sauce ($11.75) knocked us out with its robust attitude. Another--the Yuxiang sea bass--loaded the bitter perfume of Sichuan peppercorns into a sweet-tart sauce over lightly battered slices of fish ($12.25).

Last week, my O'mei veteran companions and I worked our way from a crispy battered shrimp appetizer ($9.95)--moist, crunchy and served with a trio of outstanding sauces (especially the tamarind glaze)--all the way to all-star desserts, including the signature Apple Blossom with its warm pippin applesauce and vanilla ice cream embedded in ethereal pastry petals ($4.75).

In between, it went something like this: Positively bulging with a clientele engaged in various stages of conversational overload, O'mei simmered as we toasted the wisdom of owner Roger Grigsby with glasses of impeccable Ahlgren Semillon '98 ($23).

My chopsticks kept attacking the remains of the fiery gluten appetizer, even though our puffy shrimp had arrived. The batter had expanded into shapes weird enough to prompt reference to "mutant Pokéman." Dipped into one of the sauces--sweet chili, mustard or tamarind--the combo of crisp coating and succulent shrimp was superb.

Arriving swiftly, a second course included a generous tureen of Ma Po tofu ($8.95), heady with the pungency of freshly ground coriander. One of the classics of Szechuan cuisine, this braised tofu dish laced with minced pork, chiles and garlic is both comforting and wickedly hot. No night is so cold that it can't be electrified by these soothingly powerful flavors.

After a wait--this kitchen is always working on maximum--came a sauté of fresh mushrooms, garlic (garlic is an ubiquitous O'mei attitude) and wine, served on a bed of brilliant green spinach ($9.25), plus an order of beef with fresh asparagus, in my all-time favorite garlic and black bean sauce. The musky bite of the fermented black beans plays well off the innocence of whatever fresh green it's given. In 20 years, O'mei's garlic and black bean sauce has never been better.

Finally, we all dove into the fabled apple dessert, plus another of three scoops of black sesame ice cream (a grownup version of peanut butter ice cream) studded with thin sesame cookies ($3.75) and a tender crème brûlée creation filled with crystallized ginger ($4.50). Not enough ginger for my taste, but plenty to work up a synergy between barely sweetened creaminess and fiery root. About the only thing this amazing kitchen can't do is provide after-dinner espresso, though the café presse machines are entertaining.

If there is a heaven, O'mei chef Karl Cook must be in the kitchen.
---
O'mei
Address: 2316 Mission St., Santa Cruz
Phone: 831.425.8458
Hours: Lunch Mon-Fri 11:30-2pm; dinner Sun-Thu 5-9pm, Fri-Sat 5-10pm.
Ambience: *** Antique Chinese posters and one spectacular floral display highlight the minimalist décor
Service: *** Does a remarkable job of maintaining flow, given the labor-intensive cuisine. Knowledgeable, accommodating and almost always very pleasant.
Cuisine: ***1/2 From merely wonderful to off-the-scale celestial, this kitchen is gloriously consistent in delivering some of the finest flavors on the planet
Overall: O'mei--one of the top four reasons why we live here
---
[ Santa Cruz | MetroActive Central | Archives ]