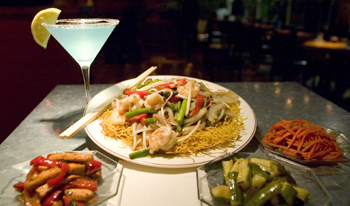 Photograph by Stephen Laufer

Drop Everything: From shrimp to veggies, a Shoju Lemon Drop cocktail makes any dish that much better.

Xin Hits the Spot

As a convenient neighborhood refuge, O'Mei's sibling restaurant Xin gets it right

By Selene Latigo

Every neighborhood needs a gathering place, a destination for the nearby community than can handle any occasion, from a simple weekday dinner to a celebratory meal with friends. For a restaurant to achieve this local status, a tricky balance of comfort, ambience, service and price must be maintained. Last Wednesday night Dave and I, along with our old neighbors Tim and Terry, enjoyed such a place.

Xin Asia Bistro, formerly Xin Noodles, is the "little sister" to our local favorite, O'Mei. Xin is the Chinese word for new, fresh or contemporary, and this little West Side cafe strives for that namesake in its extremely extensive menu by using a myriad of fresh meats and vegetables and interesting twists on classic dishes in an energetic and welcoming atmosphere.

After our short walk to the Almar shopping center, we entered the festively lit restaurant to find it bustling with people. I was taken with the bright posters depicting Santa Cruz landmarks and the warm convivial energy. In great O'Mei fashion, we were first presented with a selection of small plates to choose from as we decided on drinks and dinner items. Out of the five offered, we chose the green beans with bamboo shoots and tofu and the house-made kimchee, which was salty, spicy and tangy in perfect balance.

I ordered the West India Lime Gimlet ($5), one of the featured Shoju cocktails (Shoju being a Korean spirit similar to vodka). It was delicate, not too sweet and an appropriately cheerful shade of lime green. Tim got the hot Ozeki dry sake ($4.95) and Dave ordered a large Sapporo beer ($5.50). In addition to the alcohol selections, there is a wide array of tempting hot or cold sweet beverages, including Thai iced tea and pearl tapioca drinks.

Choosing from the large number of appetizers, soups, main dishes with chicken, pork, beef, tofu or seafood, and noodle dishes, we started with the double mushroom rolls ($6.95) with mixed mushrooms, glass noodles, tofu and veggies, wrapped up, fried and served with a rich, almost fishy tamarind sauce. The greasiness of these rolls was countered by the crispy Napa cabbage salad underneath.

Terry ordered the green curry chow fun ($7.95) with shrimp ($2 extra). The wide, slightly gummy rice noodles were mingled with sweet and tender shrimp, onion, broccoli and green beans, all coated with a spicy, more-coconut-than-curry-flavored sauce. The fresh colors of the veggies and shrimp stood out on the white noodles and sauce.

Tim chose another double mushroom item, the lo mein with tofu ($7.95). This savory and slightly smoky dish became a table favorite with hot noodles, plump shiitake and white mushrooms, scallions and toothsome tofu sticks, all in a classic sauté sauce.

Dave decided to sample one of the many noodle soup options, and went with the Szechuan spicy beef noodles ($7.50). The large bowl arrived steaming with noodles, bok choy and big cubes of beef in a deep red and oily chile, anise and cinnamon spiced broth. This was generously doused with cilantro and hot pepper flakes, creating a visually enticing soup.

I chose something that surprised everyone, including myself, but did not disappoint. My fond childhood memories of lemon chicken must have surfaced in my selection of the fresh lemon–sauced fish ($9.95 plus $2.50 for seafood). The thick and decadent chunks of tilapia and tender strips of red pepper satisfied my distant memories but it was brighter, more lemony and less cloying. It was served with white or brown jasmine rice. I chose the brown, which turned out to be dry and undercooked.

All of our selections arrived quickly, although staggered, and we soaked in the friendly environment and creative food. After we finished, I noticed a specials list by the register, including a dessert, and wished it had been shown to us. Next time I will ask first so as not to miss out on what looked like some very exciting items. We left feeling satisfied by our fun weeknight out, grateful to have local establishments ready to welcome our random celebrations.
---
Xin Asia Bistro
Address: 841A Almar Ave., Santa Cruz
Phone: 831.420.0114
Hours: 11:30am-9pm Tue-Sun, closed Mon
Price: $5-$13
---
[ Santa Cruz | Metroactive Central | Archives ]