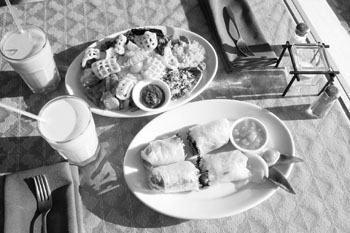 Photograph by Stephen Laufer

Lassi Moi: Some of the tantalizing options in Sri's flavorful arsenal.

'Tis the Sri-son

Latest Sri Lankan addition is a must for vegetarians and a great spot to sample a range of flavor

By Steve Billings

I've been meaning to check out Sri for some time now, and I'm glad that I finally did. Originally I was perplexed at the arrival of another Sri Lankan restaurant due to the existence of Asian Rose and Malabar, both of whose offerings lean heavily on Southwest Asian and Sri Lankan stylings. But the restaurant, owned by Indika, a Sri Lankan native who moved to Santa Cruz nine years ago, appears to be doing just fine, and should be on any vegan/vegetarian list as a spot to try.

The joint is set beside Comicopolis on Water Street and occupies the space formerly held by Joe's Pizza and Subs. It seems an unlikely spot for a restaurant, but the night I was in, the place was humming, full of conversation, life and good world-beat music.

The room itself is simple, cafelike. There are warm, earth-toned walls, scenic shots of lush Sri Lankan landscapes, a rectangular window to the kitchen allowing a view of busy cooks.

Though Sri Lanka is certainly a land of curries and rice, your plate need not be if your hunger is for something else. The menu offers a wide selection of lighter fare that could be culled from the appetizer and salad selections and combined as a meal. There are fresh Salad Rolls ($5), stuffed with tempeh and veggies and served with a mango chutney, and Sate Sticks ($6), skewers of tofu, tempeh and soy interspersed with seasonal veggies, basted with a tamarind sauce and grilled.

On a cold winter night you could satiate yourself on soup and salad Sri Lankan style (and sibilance), savoring a bowl of creamy Sri Lankan Lentil Soup ($3) served with spinach and vegetables along with one of four substantial salads ($5.50-$6.50). Add to this an order of freshly baked Paan ($3), a grilled round flat bread served with ghee and garlic, and you've eaten for the night.

The salad I grazed upon featured carrots, green apples and dried cranberries atop a bed of mixed greens ($6.50). The dressing, plied on the side, was a sweet apple and lemon mixture which, blended together with some of the puréed raw garlic and ginger, resulted in bright, pungent, racy flavors.

Entree choices can be divided into two main groups; stir-frys and curries. All are served on spacious oval plates with choice of white or ginger rice, dal, papadum and chutney. Monoflavorists may opt to get only one preparation, while polyflavorists will gravitate toward the Sri Lankan Platter ($9.50-$10) that allows you to choose a selection of three or four different curries. For maidens of spice, this is a great way to sample a diverse range of flavors and textures.

This is what I did, and the three I ordered delivered. Eggplant and moju was smoky, spicy underneath. Cashew and cauliflower was a study in melting richness and creeping coconut milk. Kale and coconut, shaved fine like grass clippings, lightened it all up, an homage to your inner bovine.

In addition to the diverse vegetarian (mostly vegan) offerings, Sri does prepare some substantial chicken dishes (curried, baked and Sri Deviled Chicken).

Weekends also feature a few specials including a fish curry, and a salmon fillet done with Sri Lankan spices and sautéed or steamed vegetables. Though I had no appetite for dessert, there is vanilla or mango ice cream, carmel pudding and a great selection of teas and coffee.

Most notable to me was the preparation of the vegetables in the various dishes. From what I tasted, nothing was overcooked, oversauced or out of balance. The veggies were lively, bright, still alive, and provided a great freshness against various sauce treatments.

Simply put, the food is good, the atmosphere comfortable, the service friendly. The only thing I would change in the whole place is the thick plastic covers over what are ostensibly attractive table cloths. Easy to clean? Yes. Odd to dine on? Yeah. A small detail, I know, but that's how I roll, and it's not usually on plastic.
---
Sri is located at 736 Water St. in Santa Cruz, and open for lunch and dinner; 831.457.2350.
---
[ Santa Cruz | Metroactive Central | Archives ]