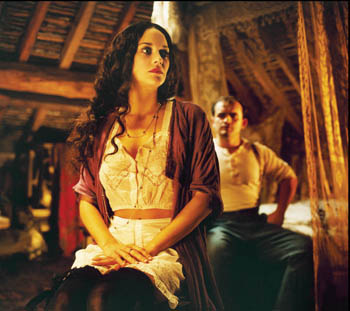 Bead For Me: Marion Cotillard is out for vengeance in Jeunet's World War I fantasy 'A Very Long Engagement.'

A Farewell to Amélie

Jean-Pierre Jeunet and Audrey Tautou remember World War I, try to forget their farcical ways, in 'A Very Long Engagement'

By Richard von Busack

Last Veterans Day, one of the networks showed a scene from Verdun--a hobbling, ancient figure trying to steady himself long enough to drop a wreath on the stones of a war monument. Here, said the announcer, was a surviving veteran of the first Veterans Day. It's half-forgotten today that Nov. 11 originally marked the Armistice that ended the War to End All Wars.

How old such a veteran must have been can be quickly figured out. 1918 was the end of the war. Very few men live longer than 110 years. Despite cutting a generous margin for such contingencies as 10-year-old powder monkeys and old men who live to be 115, World War I should be extinct from living memory by the middle of the next decade.

The changing of the war from fact to fancy is part of what makes the new Jeneut film A Very Long Engagement disquieting, despite its engrossing charm and quaintness. In some respects, ex-animators make the most cold-hearted films. Flesh and blood never seems to be able to bounce back like cartoon characters can.

Jeunet's dark-eyed little muse Audrey Tautou (the star of his hit Amélie) plays a silent-movie-style figure of innocence. Mathilde is the crippled, orphaned niece of a lighthouse keeper. The love of her life, Manech (Gaspard Ulliel), is one of a group of soldiers in the trenches near the Somme. He and some of his fellows are under sentence of death for mutilation voluntaire--injuring themselves to get out of the war. In a montage, Jeunet shows us the grisly methods they use. One clasps the red-hot barrel of a machine gun. Another draws enemy fire by lifting a cigarette-holding hand over the rim of a trench. Yet another soldier helps a buddy shoot himself in the palm. After three years of unimaginable war, the soldiers are starting to mutiny (see Stanley Kubrick's Paths of Glory). The civilian government has authorized a trouble-free method of execution for malingerers. They push them into No Man's Land without a gun.

After this treatment, Manech is certainly dead, but Mathilde feels it can't be true. She'd know it if her man were gone. (He's the same way; feeling the wound he made throb in his hand, he declares that it's the heartbeat of his lover.) And so the intrepid girl begins a quest of many years to try to find her man. She hires a droll Hercule Poirot-style detective named Pire (Ticky Holgado), given to rhyme and mustache cultivation. She interviews men who knew Manech. And she unearths the official records, stuffed and forgotten in an archive.

Jeunet re-creates the mud of Flanders with the same care as he rebuilds the famous "belly of Paris," the farmers market at Les Halles. He runs trains back into the Gare d'Orsay, and unearths the plaster-of-Paris quarries at Montmartre. All are illusions far more satisfying than anything in Moulin Rouge.

It's always moving to hear a woman narrate a story of war. There's a subplot I would have happily followed in favor of the search by our sweet, forlorn, limping heroine. A lethal Italian prostitute called Tina Lombardi (Marion Cotillard, from Love Me If You Dare) decides to avenge the death of her own man, using the weapons a woman has at hand. A similar subplot has Jodie Foster, showing off her very accomplished Lycée Française French. Foster plays Elodie, another Army wife who participates in a desperate plan to rescue her own husband from the German guns.

But the brutal and the fulsome are never as far apart as they seem. A sucker punch can have plenty of impact, but it's a contemptible thing to use--such as a tear-jerking line of a woman looking at the grave of her soldier and murmuring, "You used to brag about being a year older. Now I'm a year older than you." Jeunet's ambitious, visionary filmmaking is the most sizable film of the winter. It's rich in detail--and unfortunately, that means it's rich in extraneous detail. However, it should revive memory of the First World War the way Saving Private Ryan did the second. No addict for history could ask for more. Still, underneath the absolutely frilly romance, the archaic tints, the iris shots and 24-karat nostalgia of this wartime epic, there may be a sensibility that wanted to turn World War I into one of the slapstick gadgets Jeunet loves so much.
---
A Very Long Engagement (R; 134 min.), directed by Jean-Pierre Jeunet, written by Jeunet and Guillaume Laurant, based on the book by Sebastien Japrisot and starring Audrey Tautou, Gaspard Ulliel, Jean-Pierre Becker and Jodie Foster, opens Friday at the Del Mar in Santa Cruz.
---
[ Santa Cruz | Metroactive Central | Archives ]