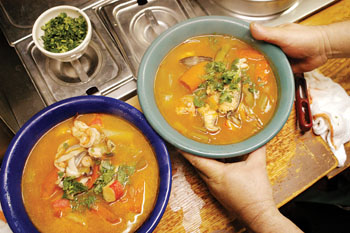 Photograph by Stephen Laufer

Inhaling the Seven Seas: The '7 Meres' is just one of the specialties of El Palomar's newest cafe.

Long May It Huevos

With its new West Side cafe, El Palomar adds to its empire of top-notch eateries

By Christina Waters

When El Palomar opened two decades ago inside the graceful Palomar Hotel, I was one of the first on my block to give thanks for its abundant menu of fine Mexican specialties. Now the Espinoza family brings us the El Palomar Cafe in that jewel box of a strip on Mission that also houses Sukeroku and Avanti. Life is good.

And it got better once I sampled the Mission Street El Palomar's breakfasts last week. I'd already sampled a voluptuous shredded chicken tostada a few weeks earlier. And Jack has pioneered at least two El Palomar lunches featuring bravura fish tacos smothered with cabbage and salsa. But it was a big breakfast we needed after an early morning hike at Wilder, and El Palomar Cafe serves breakfast every day, every way you want it.

We wanted it Mexican-style. The simple fact is that after many winter getaways to Oaxaca and Zihua, I've formed a sacred conclusion: beans, eggs and melted cheese are a ménage à trois fit for the gods. These comforting substances exponentially enhance each other's voluptuary quotient. OK, so I can't prove this. But the mouth knows what it knows.

About 8am, we occupy a window table in the spare but attractive main dining room. Coffee arrives--very good coffee I might add--in brightly glazed mugs. Festive and colorful, they aren't hurting the flavor one bit. But when our main dishes arrive, the light bulb goes on in my head. How brilliant is this? A Mexican restaurant is serving Mexican food on ... Fiestaware! Bright and sturdy, it makes the perfect frame for our enormous
egg specialties. Now the deal is this: you can order every sort of norteamericano breakfast item on record at El Palomar Cafe. Eggs with potatoes and toast, pancakes, oatmeal, omelettes, French toast, you get the picture. But when you can have Huevos a la Mexicana, or Huevos Rancheros (both bargain- priced at $6.95), why wander into the milder domain of waffles? Both Jack and I are presented with platters that could substitute as longboards, or canoes, if they weren't piled high with serious Mexican breakfast items. We grin as we watch the steam rise from our eggs. Jack reaches for the salsa fresca, while I open the cover on a pile of soft, warm flour tortillas. More steam, more subtle aromas. We grin and dig in.

Jack's egg entree provides him with a great glorious pile of eggs that have been scrambled generously with cilantro, onions, tomatoes, serrano chiles and cheese. Somehow they race past all of
my rather tepid stereotypes of scrambled eggs--they are mighty and full-flavored. They hold down one end of the 14-inch platter, so help me God, and the other end is fully loaded with excellent rice and satiny refried pink beans. The eggs, the beans, the cheese, all making love to each other. Another nice touch is the crunchy contrast supplied by a mound of fresh shredded green cabbage topped with salsa fresca. The crisp cabbage makes a nice edge against the soft beans. Is it too early for a Bohemia, I wonder? It is.

Meanwhile, back on my platter (his is a deep azure blue, mine is a zippy yellow), a dynamite version of my all-time favorite huevos rancheros is being inhaled--by me. Two eggs done perfectly "over medium" sit under a blanket of red salsa, on top of a very crisp (this is crucial) tortilla which has been covered with melted cheese. All of this is on top of a landscape of those great beans. Each bite goes through layers of thick yolk, cheese, tortilla and beans. I am moaning as I write this. You probably are, too. And if you order this dish at El Palomar Cafe, you will be moaning in public.
---
El Palomar Cafe
Address: 1719 Mission St., Santa Cruz
Phone: 831.426.3564
Hours: Breakfast 7-11am; lunch and dinner daily
Ambience: ** Your basic, no-nonsense cafe
Service: *** Thorough and helpful
Cuisine: *** Well-made Mexican classics; killer breakfast
Overall: A great breakfast spot hits the West Side. Yea!
---
[ Santa Cruz | Metroactive Central | Archives ]