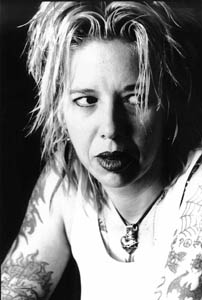 Cheri Bomb: Cheri Lovedog, who turned her years fronting an all-girl punk group into the basis for 'Prey for Rock & Roll,' is gettin' the band back together for a show at the Aptos Club.

Every Dog Has Its Day

Cheri Lovedog returns from the Hollywood wasteland to bring her namesake band to the Aptos Club

By Mike Connor

Everyone's heard the old airy-fairy adage that instructs people to "follow your bliss." It's sweet and all, but it's always struck us as being a bit vague, given that some people's idea of a good time is picking fights and tipping cows--or much, much worse. Just look what happened to Michael Jackson.

But in the case of a compassionate punk-rock girl turned tattoo artist and writer, who also happens to believe in world peace and the transformative power of rock & roll, we're glad it's been working out for Cheri Lovedog. Her original play, Prey for Rock & Roll, based mostly on her experiences in an L.A.-based all-girl punk-rock band, enjoyed a successful run at CBGB in New York, and was subsequently made into a film starring Gina Gershon and happily received at the Sundance, Toronto and, yes, Santa Cruz film festivals.

Lovedog says the experience has been amazing in many ways, but has four words to succinctly describe the movie business: "Morally and ethically bankrupt," she says emphatically, making sure I write it down. But with the movie now set for release on DVD early next year, Lovedog is moving on and has already begun work on a new project--a play called The Jesus Factor.

No, she hasn't suddenly gone all Christian rock. It's simply based on a concept elucidated by director David Mamet, who basically said that something can look good on paper, but when you get it on its feet and out into the world, "it gets all fucked up," says Lovedog. Kinda like the Bible?

God Save the Queen

And then there's punk rock--something that couldn't have possibly looked good on paper, and yet it works cathartic miracles for the bands and audiences who revel in its mess of poetry and loud, angry music. The first Sex Pistols album turned Lovedog onto the genre while she was in the Coast Guard, stationed in Stockton. She moved to L.A. in the early '80s and immersed herself in the punk scene when bands like X and Fear ruled, starting her own band and writing a music column for Hollywood Trash and Tinsel. Lovedog kept at it for 15 years, all the while writing down her experiences as a bartender and struggling musician.

And now, finally, comes the ironic twist.

"All my years I devoted to rock & roll never paid off," says Lovedog. "But then I write about being unsuccessful, and that's successful."

Not that she's made millions or anything, but her work is out in the world now.

"As a writer, I feel like I'm getting my props. And my music's out in the world, so I'm really happy about that," she says.

She's also happy about the doors her film has opened for her. Lovedog has her sights set on Austin, Texas, where she and her band Lovedog hope to play at the South by Southwest music festival.

"I keep thinking if I can just get a tour out of this ... that's why I sent my stuff to South by Southwest. They haven't said we're accepted at all, but we're in the running, and I think the film helped." She chuckles a bit and then continues: "If I can whore out my movie to get some good gigs, that's cool. At the end of the day, all I wanna do is play rock & roll."

Lovedog and her band will be playing at the revamped, spiffed-up Aptos Club with local blues guitarist Sean Kennedy playing lead guitar. She says they'll be playing all the songs from the movie, and even some from the play that didn't make it into the film. Just don't expect any modern heavy metal, rap/rock surprises, because Lovedog sticks to her roots.

"I don't even know what punk rock is anymore. I'm 45 now, but 20 years ago ... that's where I'm still at as far as being a writer. It was very honest, it wasn't clever and tricky and it didn't use sex to sell. It was poetry set to music--there was an audience for that and it was great, it was beautiful. And music goes through crazy changes, but at the end of the day it always comes back to bass, drums, guitar and a story. I've been lucky to keep doing the same old thing that I've always done--I've never been like, 'Oh my god, heavy metal's in, I gotta do heavy metal.' Just keep doin' what you do and you'll be all right, that's what I think."

Unless you're Michael Jackson--in which case, leave those kids alone!
---
Lovedog. Saturday, Dec. 20, at 9:30pm at the Aptos Club. Tickets are $6. Call 831.688.9888 for more info.
---
[ Santa Cruz | Metroactive Central | Archives ]