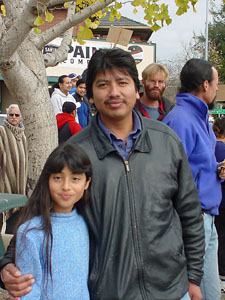 Photograph by Sarah Phelan

Driven: Miguel Zafra and his 9-year-old daughter Jasmine protested the suspension of SB 60, which would have allowed undocumented immigrants to drive legally, at the Clock Tower Friday.

Nüz

Driving Force

"World peace begins with human dignity." So says the plaque that greets travelers at the central bus station in downtown Santa Cruz, which undocumented workers will surely be frequenting more, now that Arnie (with the help of the Legislature) has suspended SB 60, the Senate bill that would have let them drive legally.

Still, Arnie's supposedly hard-nosed stance on this issue has been undermined by rumors he'll soon sign a revamped measure, allowing said workers to apply for licenses after a background check.

Which sounds like a more dignified way to treat people who pick strawberries, bus tables and clean bathrooms--and thus contribute in myriad ways to our economy, which as we all know is geared to cars.

All of which is why undocumented workers and their supporters took time out Dec. 12, which was also the feast of the Virgin of Guadaloupe, a brown-skinned Mary apparition, who, as legend has it, showed up (conveniently where the Aztecs used to worship their mother-figure goddess Tonantzin) with a message of ... compassion.

A flier announcing the day of action said, "Don't go to work, don't send your kids to school, don't make long-distance phone calls, don't shop ... let's show the impact the suspension of SB 60 will cause the state of California and how important the safety of all people is."

Here in Santa Cruz, Taco Morenos, Taqueria Vallarta and Charlie Hong Kong closed for the day, while Staff of Lifers were allowed to take time off to attend the action, which took the form of hollering, hooting and accordion-playing at the Town Clock as some sang, "El pueblo unido hamas cerra vencido" (which means, as anyone who's been to their share of protests around here knows, "The people united will never be defeated"), while others pointed out the wisdom of ensuring that all drivers have been trained and tested and can obtain insurance.

"We need people to drive; it's part of our economy," said one American demonstrator, touting a sign in support of "Prop. 65," which Nüz presumes was actually a reference to SB 60. That kind of confusion may explain why state Sen. Gil Cedillo, who authored SB 60, was also instrumental in repealing it in favor of a revamped version, rather than let the issue end up on the March ballot, which would have tested the waters of our collective indifference/ignorance about Prop. 65 ... er, we mean SB 60.

Staff of Lifer Roger Bournique said he showed up "to support people being able to get licenses when they come here and support the economy by working and paying taxes. People need to be able to get to the hospital, to work, to school and to store in a dignified manner. The Latino community does many of the jobs Californians won't do. They deserve our support."

Bournique also noted that the issue of people driving without a license is not a race or class issue.

"For whatever reason, a lot of unlicensed white drivers can't get a license either, but they, too, drive anyway. But with the whole knee-jerk reaction to Sept. 11, we've also become paranoid about our neighbors in Mexico. But that notion makes me want to reach out more. We've got to stop the game that these people are 'illegal' and instead embrace them and admit we want them here. A lot of people who say these people have no right to be here still have these so-called 'illegals' cleaning their houses, landscaping their yards, cooking meals."

Charlie Hong Kong owner Darryl "Rudy" Rudolph said that "the over 2 million undocumented workers in California, who underpin our economy and support business throughout the state, deserve the dignity of being able to drive to their jobs--which we all want them to do--not as criminals violating the law. Their labor is creating wealth, and the economy needs them. At this stage, Latino workers are not a luxury; they are a necessity. There aren't too many people in business who don't understand that."

Or as former undocumented worker Miguel Zafra put it, "The minimum we're asking it to be allowed to drive legally and make roads safer for everyone. Having a driver license allows us to perform better at the workplace. I know how it feels to be undocumented, because I've been in that situation. It's no crime to ask for a license, but a minimum requirement to contribute and participate in this society. It's a question of dignity."

Nüz gives the last word on this to Zafra's 9-year-old daughter, Jasmine, who said, "California would be very different if we didn't have any immigrants."

Human What Now?

Speaking of world peace beginning with human dignity, U.S. Rep. Sam Farr took a minute this week to put some perspective on the capture of a grizzled Saddam Hussein.

"I hope the president will take this opportunity to bring more international involvement and aid into Iraq," said Farr. "Now is the time for us to reach out to organizations like the U.N. and NATO to help lead Iraq toward a safe and secure future."

Thank God someone in the U.S. government hasn't forgotten that no amount of back-slapping and proclamations of "Mission REALLY Accomplished Now!" will change the fact that Saddam still didn't orchestrate Sept. 11 or that his supposed WMDs have yet to be found. Nor will it cover for the fact that countless Iraqi civilians have died, and all coverage of the remains of U.S. soldiers returning in body bags has been censored.

Not that Nüz is worked up about all this or anything.

Double Oh Four Resolutions

Those of us who braved downtown last New Year's Eve know the streets felt strangely anticlimactic, what with First Night being virtually nonexistent and cops outnumbering people 5-to-1.

Happily, Blake Smith has stepped up to the plate by becoming Executive Director of First Night 2004, an event to which he hopes to draw 30,000 revelers downtown.

To achieve his goal, Edwards has two requests:

First, volunteer your time, especially if you have managerial and organizational skills.

Second, buy your First Night button as soon as possible from Bookshop Santa Cruz, Paper Vision, Cotton Tales, Streetlight Records, Coast Commercial Bank, Palace Arts, Longs Drugs, Bay Federal, New Leaf and Book Works.

Cost is $15 for adults, $6 for children 6-8 (free for 5 and under).

For information, call 425.7222 or visit www.firstnightsc.com.
---
Nüz just loves juicy tips: Drop a line to 115 Cooper St, Santa Cruz, 95060, email us at , or call our hotline at 457.9000, ext 214.
---
[ Santa Cruz | Metroactive Central | Archives ]