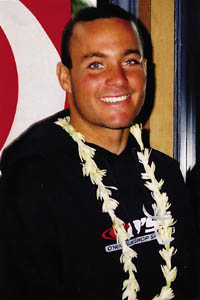 Rolling With Jay: An upcoming benefit show remembers Jay Moriarty and Jeff Plucy.





Be Stoked Now

Acoustic benefit dedicated to the late, great surfer Jay Moriarty is embracing the positive

By Mike Connor

At the end of 36th Avenue, where it runs into East Cliff, there's a small shrine for big wave surfer Jay Moriarty. A white, wooden fence--installed to keep people safely away from the eroding cliff--is covered with heartfelt messages to the surfing legend, who lost his life in a diving accident last year. One block away at the end of 37th Avenue, Jeff "Govy" Plucy used to preside over the Dirt Farmers surfing club, before he died at a surfing contest in October.

Now, local producer and the Expendables' manager Donovan Haney, in conjunction with the Jay Moriarty Foundation, is staging a special acoustic concert in honor of the two men, who were both known for their generous spirits and sunny dispositions. Slightly Stoopid, the Expendables, Ribsy's Nickel, Dub Congress, Bargain Music and the Floppy Rods will all perform at the Vets Hall on Dec. 22, in a combination of rock, reggae and ska to soothe the soul.

"I'm glad that they asked us to do it," says Kyle McDonald of Slightly Stoopid. "I'm ready to come up there and get my rock on. I'm pretty much stoked about anything I can do for the guy, to be involved in that."

Moriarty's widow Kim keeps herself aligned with his spirit these days running the Jay Moriarty Foundation, which she founded to carry on his legacy of youth mentoring, and to keep his good vibes flowing. "With the amount of support that came worldwide, the foundation manifested itself. In his last six years he'd taught surf schools around the world and touched so many people, and all those hundreds of thousands of people came back to me," she says.

Kim began working on the foundation a month-and-a-half after Jay died, and is utterly stoked about how well the project has been going. "About two months before Jay passed away, I remember him asking me what I want to do for a living. I had already volunteered as a surf team coach, and I wanted to volunteer for a living. I love working for Pack Your Trash and Ride a Wave, I love being there when a person is having that experience of stoke in their life, having that feeling of gliding. I wasn't sure how I was going to do it, but then reality did this whole upside-down flip."

What Would Jay Do?

Slogans like "Jay Would Go" and "Live Like Jay" have popped up around town in remembrance of the die-hard, spiritually minded surfer, a testament to the impact he had on the community.

"'Live Like Jay' came out of nowhere," says Kim. "It was his integrity, his demeanor, how he carried himself with respect for himself, for others, and for the environment. Living like Jay is pretty much living from your heart--give the pizza guy five bucks, not three, you know? Keep it real. The foundation logo is just a slap of light, it has integrity, it's positive, it's from the heart. Live like Jay, love like Jay. I just wanted to use it as a tool to help people ease suffering. When people lose fear, they're going to love each other. That's what the foundation is about. And the universe has been supporting it since day one."

Haney originally envisioned the benefit to be a small acoustic show with two or three local bands, but the idea quickly snowballed, with bands flying up from Long Beach and L.A. to do the show. Pack Your Trash and Santa Cruz Surf Shop will have booths there, and Pleasure Pizza will be slinging pies. Towards the end of the evening, the JMF will raffle off a 9-foot-8-inch Jay Moriarty board, followed by a special video presentation of Jay and Jeff footage.

"Jeff was a cool cat, he was a lot like Jay," Kim recalls. "He was this stocky, heavy athlete and he had this big old gnarly dog named Ruppert, but the two of them were really the opposite of intimidating. The dog would lick you to death, and Jeff would just hug you really hard.

"Jay always had a smile for everyone. And the best thing about Jeff was, he was always smiling, too. People can improve their looks 100 percent by smiling," Kim says, practicing what she preaches. Then, with a sheepish grin, she gives credit where credit is due: "I read that in a Hallmark card yesterday, but it's true."
---
Slightly Stoopid, The Expendables, Ribsy's Nickel, Dub Congress, Bargain Music and The Floppy Rods perform an acoustic, all-ages show at the Vets Hall, 846 Front St., Santa Cruz, on Dec. 22 at 5pm. Tickets are $8 in advance, available at Streetlight Records and Santa Cruz Surf Shop, or $10 at the door. All proceeds will be donated to the Jay Moriarty Foundation.
---
[ Santa Cruz | Metroactive Central | Archives ]