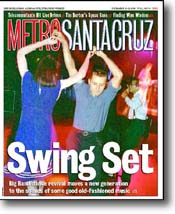 For the Week of
December 19-25
Cover: Swing Set
Big Band dance revival moves a new generation to the sounds of some good old-fashioned music.
News: Telecommutants Hit Line Drives
An insider explains all about the joys, temptations and future of working wired to a boss from home, and dispels a few fantasies, too.



Notes From the Underground: A couple more rags out there produced for and by local kidz are the local music scene's latest deliveries.



Holiday Hops: Metro's libation queen, Christina Waters, explores a handful of fine emporia that offer the tastiest in holiday spirits, wine and beer at bargain prices. Plus, the Guidelines for Sensible Wine Drinking promotes healthy drinking through education.



Eye Candy: Tim Burton looks back in wonder at '50s science fiction in 'Mars Attacks!'