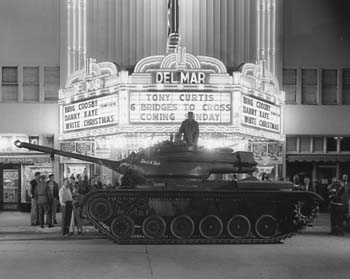 Covello & Covello Historical Photo Collection

Note White Christmas on Marquee: Also note the stupendous marquee itself. That marquee, with some funding support, could be resurrected as part of the new Del Mar project. In spite of how it looks, this photo was taken in March of 1955. The war-toy tank was there as part of the parade saluting the opening of the new National Guard armory.

Bruce Bratton

THE OBLATES OF ST. JOSEPH VS. THE BUTTERFLIES. What's amazing about this issue is that just about everybody feels bad about the loss of grizzlies to development in Alaska and the countless stories of animals losing their homes to clear-cutting in forests that are far away from here. But when we have a very local case (Lighthouse Field) where folks don't see the proposed parking lot the Oblates of St. Joseph are fighting for as a very real threat to one of our last monarch butterflies habitats, and as a very important issue of development vs. nature and the environment, then something's wrong. Sure, the Oblates' hired experts say "no problem" about destroying the monarchs, but experts also said that the new industries out at Natural Bridges wouldn't bother the monarchs either--and they're almost gone from there. We need to realize that the Oblates have what they call a "meditative space" they don't want to give up. It's far away from the monarch area and would hold the parking spaces. Remember, too, that monarchs don't go back to Pacific Grove anymore because of development, and we're just about at that same point. Having a monarch butterfly wintering site near your land is like having heritage trees on your property. It's a responsibility not just to the butterflies or the neighborhood but to the entire ecosystem--it's not just a local matter. Environmentalists know that this proposed Oblate parking lot will have another heavy impact on an already very saturated area, and surfers, the Coastal Commission, and lots of state officials are watching this threat very closely.

NEW DARK PLEASURES. I saw Mel Gibson in the cinema masterpiece Gallipoli on cable last week. To see him doing Gallipoli (1981) and What Women Want (2000) in the same week is a sad commentary on the decline of an actor's skills--or increase in his greed or something like that. This tired old plot, which was done better by Doris Day and Rock Hudson, doesn't work, and Helen Hunt should be ashamed too; don't go. If you haven't been to the movies lately, and you've got company, go see in this order: Billy Elliott, You Can Count on Me, maybe 102 Dalmatians, Two Family House, Quills and Best in Show. I guess you sort of have to see Grinch and probably Men of Honor--they'll go over pretty well with tourists.

TERRIBLE RUMOR. They haven't filed a permit yet, so it can't be official, but it appears that Home Depot is planning on opening another store in Watsonville! I hadn't heard about it when I ran into Mike Wallace, Home Depot's PR guy last week. Mike just said that it would probably be 2002 before we had the results of the EIR and anything started happening at the 41st and Soquel site. It'll be interesting to see how far Watsonville will bend to welcome Home Depot to the Green Valley and Loma Prieta site. The Watsonville Chamber of Commerce tells me that at present there's a big empty lot at that corner. Will this get the Wetlands Watch involved? At some point, sometime, somebody's just got to stop these megastores from taking over everyplace. For what --some low prices in the first few months they open and some "entry level jobs"?

NEIGHBORS TO THE NORTH. I just got this tip Monday and haven't finished checking it out yet, but you should know that Yahoo, as in yahoo.com, has apparently just bought a significant amount of property from Lockheed up at the end of Empire Grade in Bonny Doon. Another rumor is that the Juniper high-tech people also bought property from Lockheed. Apparently, Yahoo will create a retreat or a corporate getaway on that land. Just guessing ahead, I'd imagine that soon they'll want a small landing strip for the private jets. Maybe they're planning on widening Highway 9 or just building a better route 236 through Big Basin. Wait until Lockheed and Juniper face the wrath of the Rural Bonny Doon Association, and probably the Open Space Alliance will care about this move, too. Stay tuned.

FIRST NIGHT NEWS. If you act quickly, you and a bunch of friends can all volunteer and work together on First Night 2001. They need folks to work on performing-arts sites, to assist on the procession and especially to be part of the late-night clean-up crew. I always thought that a bunch of AA groups could work (even anonymously) and contribute a lot to the community. There's a special kids' show at the Santa Cruz Civic Auditorium starting at 3pm, and 11 businesses on South Pacific Avenue are doing a happening titled Mannequin Madness. There will be special pedal cab rides around the perimeter, and inside word has it that the Town Clock midnight experience will be huge. Boardmember Marty Ackerman thinks it would be great if everybody recycled their Halloween costumes, especially the spacey ones, and got into the procession, which is about 2001. Don't ask, and don't even think about what's under the black marks on page 57 of the First Night program. You can get all the necessary details to volunteer or find out anything at www.firstnightsc.com.

THE LATE HENRY MOSS. With a deep bow to Kate Minnott, I went to see the closing performance of Sam Shepard's play The Late Henry Moss, presented by San Francisco's Magic Theatre. If you didn't hear about it, it starred Sean Penn, Nick Nolte, Woody Harrelson, Cheech Marin and James Gammon. Not only that, but Shepard directed it. First of all, it is a bit staggering to see this many Hollywood stars on stage in one play at one time. At the beginning, fans and devotees laughed, applauded and fell all over themselves every time a star winked, moved or said a line. Later, it became apparent that only Marin and Gammon had a sense or feel for stage acting. Being a play instead of a film meant that there were no close-ups--you couldn't see Sean's expressions and twitches, and each star's eye movements, which are so important in films. Harrelson turned his role into a Jerry Lewis character because he'd get laughs with every seizure. Nolte started his part at full volume and never did deliver a subtle line. The play itself needs tightening, and as Kate said, it'll be a long time before we see this made into a movie. What made the performance extremely valuable and a collectible experience was its near textbook lesson in stage acting. (Full disclosure: I was involved with the beginning of the Magic Theatre around 1966-67 along with Simon Kelly and many friends such as Ben and Rain Jacopetti. We did a premiere of Michael McClure's The Beard and a play called God Box, and I don't remember who wrote God Box. Obviously, with Shepard's help, the Magic Theatre is doing much better now.)

THE CHRISTMAS HOUSE. There needs to be some kind of permanent award or official notice made of the magnificent Christmas decorations on the home at National and Gharkey streets. After touring several of the homes in Scotts Valley and Highland Avenue, we had to check back to see if Lou Marenghi came through again, and he did. This home is more than decorated; it's a special kind of naive art form. Get out of your car, walk up and look in the windows, check out the handmade tree hangings, look at the animated scenes inside--completely amazing. Beyond that, Lou was outside handing out candy canes and thanking folks for stopping. Having created Christmas lights for more than 30 years, such spirit as the Marenghi home deserves special recognition. It makes Christmas almost like it used to be when we were little.

GOOD OLD BUMPER STICKERS. Come on folks, we've fallen behind. Nobody's sent me any stickers for weeks. Not those supersuave ones from the Internet, just the real ones you see around town. I saw this one: "Nice Guys Finish Last ... and They Serve You Breakfast in Bed." Sort of a holiday spirit thing, don't you think?
---
Bruce critiques films every other Thursday on KUSP-FM (88.9) at 12:50pm. Reach Bruce at [email protected] or call 457.5814, ext, 400.
---
[ Santa Cruz | MetroActive Central | Archives ]