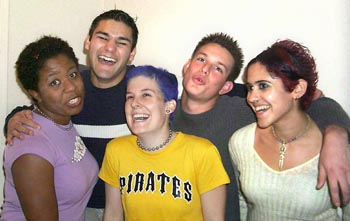 Photograph by George Sakkestad

Party Favors: Qianya Martin, Cory Rapanut, Danielle Lazzarini, TC Sorenson and Ariane Resnick are youth co-coordinators of Dance 2001.

A Gay Gala

A New Year's Eve party for queer youth promises to be a night to remember

By Kiet Tran

THANKS TO three nonprofit organizations, a $1,500 grant from the Adams Foundation and a whirlwind of volunteers, the queer youth of Santa Cruz County are going to get their own New Year's Eve dance party. Dance 2001: A Queer Youth Odyssey, will be a smoke-, alcohol- and drug-free gala for local queer youth between the ages of 14 and 20 (and their guests under 23) that boasts a live DJ, free refreshments and free rides to and from the event.

The need to give the county's queer youth community a place to go on New Year's Eve might just be the beginning of bigger things to come. An initial effort on the part of three local queer adult organizations--the Radical Faeries, STRANGE and the Diversity Center--sparked the interest of six additional nonprofits (some coming onboard as recently as last week): Equinox; The Gay, Lesbian and Education Network; Salud Para La Gente; UCSC GLBT Resource Center; Barrios Unidos; and Holy Cross Church.

In some ways, this dance party is a first for Santa Cruz. The collaborative effort between queer youths and adults is youth-led, explains Bart Church, adult co-coordinator of the event.

Each adult volunteer was paired with a youth volunteer to mentor them in an aspect of event planning, from budgeting and marketing to public relations.

Church believes such collaborations empower youth by giving them the self-confidence and the skills required to deal with the larger community. It also gives adults an opportunity to listen to the needs of youth.

Eventually, Church would like to see the project blossom into a full program that will give queer youth a bigger political and economic voice in the community, emulating programs like LYRIC (Lavender Youth Recreation and Information Center), San Francisco's premier queer youth agency, which provides peer support, social and recreational activities and leadership training for queer youth.

Although planning and organizing Dance 2001 has been a positive experience for all involved, Church laments the absence of other queer adult-youth collaborative efforts in Santa Cruz County.

"There is still a phobia in the queer community about adults working with youth--the fear of being perceived as child molesters and pederasts often causes adults to shy away from working with kids," Church says.

FOR THIS REASON, the needs of youth often go ignored. In addition, Santa Cruz County has no way to track statistics on depression, unsafe sex or violence among and against queer youth. And funding, or the lack of it, has always been a big issue. STRANGE, a social and educational queer youth organization targeting kids 23 and under, ran out of funding this summer and as a result was unable to provide adequate staffing and programming.

The need for programming for a group that makes up such a significant portion of the population is not lost on kids like T.C. Sorenson. The Harbor High junior and youth co-coordinator of Dance 2001 combats disparaging remarks from fellow high school students with quips like "What would we have to wear if there were no queer people?"

Although Sorenson had a relatively painless experience coming out this summer, he feels that not enough queer youth know about programs offered by groups like STRANGE or the queer youth support group, Proud Voices, offered by Equinox.

Qianya Simone, a 25-year-old UCSC student who often works with queer programming at the university, got involved in publicity for Dance 2001 by word of mouth. She doesn't remember having a queer event like this available to her as a teenager--or even if her parents would have allowed her to attend one.

The general feeling is that queer youth are coming out at a younger age these days and they lack a support system that can help them combat bigotry and become empowered.

Megan Rappa, a 16-year-old, self-identified queer, says the youngest girl she knew "came out at 12 or 13."

For youth co-coordinators T.C. Sorenson and Megan Rappa, the opportunity to collaborate on Dance 2001 with adults has given them a chance to develop real-world skills and a sense of empowerment and community. If nothing else, Megan predicts the dance is going to be "fun--a chance for queer youth to get together and boogie down."

With more than nine groups participating, Dance 2001 promises to be the biggest if not the best event of the year for homosexual, bisexual, transgendered and other queer youth who might not otherwise have a place to go on New Year's Eve.
---
Dance 2001: A Queer Youth Odyssey, Dec. 31, 8pm-1am; Equinox, 755 Cedar St., Santa Cruz; $0-$5 donation; 831.335.5861.
---
[ Santa Cruz | MetroActive Central | Archives ]