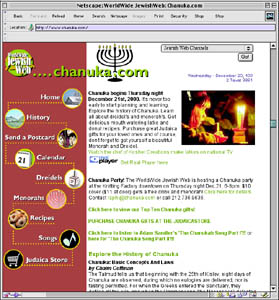 Oh, Chanukah
A holiday that bids us to eat doughnuts--what's not to love?
By Tai Moses
EVERY YEAR, the Jewish community patiently endures the wadding up of Chanukah and Christmas into one big generic cheeseball of commercialism. But far from being the "Jewish Christmas," Chanukah (which begins Dec. 21, at sunset) is a relatively minor holiday in the pantheon of the Jewish tradition.
As every Jewish child knows, and as you can learn on www.chanuka.com, the "festival of lights" celebrates the ancient miracle of a tiny shmutz of oil that burned in the Temple for eight days during the Maccabean war. That's why we light candles on the menorah over the course of eight days, and that's why we eat delicious foods fried in oil, such as latkes (potato pancakes), crepes and doughnuts.
Among the useful offerings on Chanuka.com are a short history of the holiday, recipes, lyrics to Chanukah songs, instructions for the children's game of dreidel and holiday E-cards to send to family and friends. There's also a link to a gift shop that sells Judaica such as menorahs and dreidels, as well as gelt, those addictive, gold-wrapped chocolate coins.
Imagine--a tradition that decrees the eating of doughnuts: it's enough to make Homer Simpson convert.
[ Santa Cruz | MetroActive Central | Archives ]