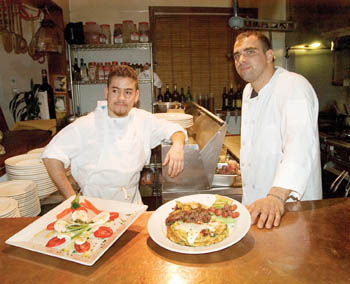 Photograph by Stephen Laufer

Hot, Organic and Satisfying: Chef Sebastian Nobile (right) and cook Jose Asuncion pose with insalata caprese and the beloved Italian omelette.

Breakfast of Champions

Felton's La Bruschetta offers a welcome respite from the bustle of local breakfast spots

By Selene Latigo

I'm always searching for a good Italian-style breakfast. Ever since our place up the street dropped their breakfast hours along with the poached eggs, polenta and pancetta, I've felt a yearning for that heart-warming and sophisticated morning nourishment. On our way over the hill last weekend, we decided to go the scenic route and stop in at La Bruschetta for a taste of their breakfast, Sicilian style.

If you haven't paid this woodsy restaurant on Highway 9 a visit, it's high time. The setting and rustic décor is reason enough to have a meal there. Couple that with a strong commitment to using "free range eggs and organic fruits, vegetables, grains and flours," as well as the pride they clearly take in their homemade Sicilian creations, and you've got a truly worthy destination spot.

Basking in the late morning sun, we pushed through the uniquely ornate front door to find several other patrons leisurely enjoying their weekend repast in the cozy, romantic and welcoming dining space.

A very attentive yet unobtrusive server greeted us and led us to a table of our choice, then proceeded to describe the three lunch specials, including a wonderful-sounding roasted beet salad. This being my first meal of the day, I was definitely focused on the breakfast items on the menu, served until 1pm on the weekends only. I didn't see as many classically Italian breakfast dishes as I had expected, but still managed to skip past the Denver omelette and curried tofu scramble in order to indulge my hankering for the Italian omelette ($7.25).

All of the egg dishes come with Sicilian potatoes as well as a choice of meat. I went with the bacon, which arrived heaped atop the crispy fried potatoes with onions and herbs. It was cooked so that every preference would be satisfied, half crunchy and dark and half softly chewy. The omelette was a large pillow encasing spinach and tomatoes, and oozing with fresh mozzarella that was golden brown and crisp where it had hit the pan, one of my absolute favorite things in the world.

Dave went with one of the lunch specials, the rib eye steak ($14) with salad or roasted potatoes. Other lunch items included several salads, panini, pastas and oven-baked dishes, as well as their signature bruschetta selections. The thin, grilled, quality cut of meat was tender and cooked skillfully to order with a zestily balanced green salad that was perfectly dressed and full of bright veggies. He also ordered a glass of the 2000 Montepulciano D'Abruzzo Riserva ($8), a generous pour of a full-bodied wine, rich with hints of dried black currants and violets.

We also had to try an order of the whole wheat pancakes ($5), which thankfully were ultrathin and modest in portion. Their crepelike texture, crisp and buttery edges and nutty flecks of wheat with real maple syrup brought a delicious sweet note to our varied meal.

Halfway into my hot omelette, I looked around and noticed that every other table had a basket and two extra little bowls on them. Realizing that we had missed out on something, I asked our server, who, in disbelief that we almost went without bread, hurried over with what instantly became a highlight of the day. Strips of house-made focaccia, freshly chewy and moist, arrived with one dish of fragrant roasted garlic cloves in olive oil and another with Kalamata olive tapenade.

Afterward, Dave read the paper while I scanned the dinner menu, already anticipating an evening opportunity to continue the La Bruschetta experience of quality and care. I get weary of the extreme breakfast wait we all endure at our local hot spots on weekend mornings. While we lingered in this pleasant sunny space, I realized that the winding but brief six-mile drive to Felton takes only a fraction of the time, with the reward of being seated right away and having a generous portion of hot, organic and satisfying food on the table. It's the same amount of time it would take for us to get halfway into our first waiting-line cup of coffee at a neighborhood breakfast favorite. Now we have one more name to add to the top of our breakfast list: La Bruschetta.
---
Sea Harvest
Address: 2420 Hwy 1, Moss Landing
Phone: 831.633.8300
Hours: Fish market 9am-8pm, restaurant 11am-8pm
Price: $4-$18
---
[ Santa Cruz | Metroactive Central | Archives ]