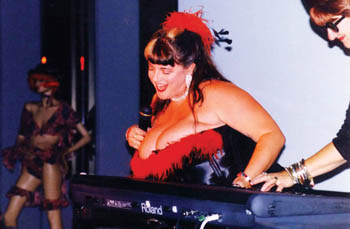 Photographs by David Steinberg

The New Hands-Free Piano: Candye Kane is known not just for her singing, but also for her unconventional work on the keyboard.

Let's Talk About Sex Work

Sex-art photographer David Steinberg talks to Candye Kane about her controversial past

The link between porn and rock music got trendy shortly after the alternative-rock trendiness of the mid-'90s, but Candye Kane has been talking about--and living--a far more authentic connection between sex work and music. What's even more remarkable is that she's been doing it in the far more button-down world of contemporary blues music, managing to blend her musical talent and passion with a full-on embrace of what she calls her "colorful, controversial past" as stripper, men's-mag model and adult-film star, to spectacular effect. You can see the results at all of her live shows, where she stimulates the ears, brain and naughty parts of her audience with outrageously funny and sexy banter and songs like "Let's Commit Adultery," "Seven Men a Week" and "Let's Put the X Back in Xmas." Her latest album, Whole Lotta Love, includes the teaser "Fit, Fat and Fine," another in a lineage of Kane's odes to big-girl sexuality that stretches back through "You Need A Great Big Woman" and "200 Lbs. of Fun."

Kane's past is always mentioned in her media write-ups, but with so much constantly going on with her music career, she rarely gets to talk about it in any depth. So we asked local photographer David Steinberg, whose book Photo Sex is discussed on page 33, to interview Kane about her sex-worker past and how it's influenced her career and her politics today.
---
David Steinberg: I know that before you became a singer, you had done stripping and modeling and so on. Would you say there was anything from that experience that you took away that was positive for you in terms of your decision to become a professional singer?
Candye Kane: By being on the cover of magazines like Hefty Mamas and Whoppers, I suddenly found out there was a market for a woman my size. So even though, later in life, looking back at the sex industry I think that they sort of fetishize large-size women and older women, I still felt included. And that was the first time ever that I felt like, hey, maybe my big body's OK, and maybe there are people who think my big body is attractive. Up until that time, I thought that my career in music was hopeless because I would never be thin. And I had dieted and dieted; I was very active and I still am. So that was extremely powerful for me, not only from a self-image standpoint, but also from a financial standpoint. For a chubby girl from Los Angeles, a chubby teenage mom, those were very powerful experiences.
Did your work in the sex industry directly inspire you to pursue a music career?
Well, I've wanted to be a singer all my life. But I would say that the sex industry directly encouraged my transition into music, because there was one time in particular when I picked up my guitar at Market Street Cinema onstage and sang to the audience while I was talking to them. The audience was really into it, but the management came over the loudspeaker like the voice of God and said, "PUT DOWN THE GUITAR AND SHOW US YOUR G-STRING." So it became very clear to me that the management was not supportive of strippers expressing themselves in creative ways. That was a real eye-opener, and that was the last time I ever stripped onstage.
You mentioned that you had just done a vigil for a murdered sex worker in San Diego?
Yes, I just did a vigil Wednesday night. It was the International Day to End Violence Against Sex Workers and personally I lost a friend here in San Diego who was a great person. His name was Robert Gibson. "Tiny," as we all called him, was a transgendered sex worker who was turning tricks on the side. I wasn't aware that he was turning tricks on the side at the time. He had dropped a few hints, but I didn't really ask him too much about that part of his life, because to me he was a performer and my friend and unless he wanted to share that part with me, I didn't really ask him. He was stabbed 25 times by a guy named Sean Wilson, who's now serving 16 years to life in prison. Sean stabbed him to death when he found out that Tiny was a man. It was a horrible, horrible loss. So when I heard that internationally many of my sex-worker friends were organizing memorials for the Green River women and other women who had been killed in the line of sex work, it really struck a chord with me, and I was very happy I was not on tour and able to organize this vigil. The vigil was really wonderful. It was very emotional.
It also got some coverage in the mainstream media as well.
Yeah, they put me on the news. It's funny, though, the way they described me in the news just goes to show how ignorant the mainstream media is about sex work. I told the newsman that I had been a sex worker 20 years ago, and that I had been in many situations where I felt my safety was compromised, and that because of that I really felt strongly for these women who had been brutalized and murdered--it could have been me. So I felt a need to do this vigil, not only for my friend Tiny, but also just for the fact that it could have been me. So he went on the news and said, "Candye Kane hasn't turned a trick in 20 years, but tonight in Balboa Park she held this vigil blah, blah, blah." Well, I never said to this man that I had turned a trick, nor that I'd been a streetwalker. I said that I'd been a sex worker, but if you say you're a sex worker, everyone assumes that you're a streetwalker, at least in mainstream media. And that's proof that people need to be educated about this issue. I'm not going to sit here and give all the definitions of what sex work can be, but my dad was a layout artist for Adam's Film World, which is a porn magazine, years ago, and I think my dad qualifies as a sex worker. I think anyone that has worked in sex work or is an educator or a sex therapist or any other kind of sex advocate, including strippers and prostitutes, we're all in this together.
Are you nervous about publicly supporting sex workers the way you do? How has your connection to sex work affected your music career?
I think it's a double-edged sword. Being a sex worker and being vocal about my background has forged an audience for me that is a very wonderful kind of disenfranchised audience, an audience that appreciates my candor and honesty on the subject, and understands that it takes a certain amount of courage to speak out about this issue because there are people who are prejudiced, and stereotype sex workers. But I'm not just vocal about my sex work background, I'm also vocal about sizeism, and how it's impacted my life, and I think that big women and large-size people or just women who have body issues also come out to my shows and appreciate that level of honesty. It has impacted my career in some ways. I get to play blues festivals--I've played the San Francisco Blues Festival, the Santa Cruz Blues Festival and Monterey. I think that in cities that tend to be progressive, open-minded cities, I'm very popular and have a great following. But I still fight to be acknowledged by the mainstream blues community, and I'm not sure if one of the reasons I'm not being acknowledged by them is because I'm vocal about sex work. It could be because I'm vocal about being a bisexual, or it could be because I make a point of doing songs about big women, like "Fit, Fat and Fine" or "You Need A Great Big Woman." It could be for a variety of reasons. I'm not really spending a lot of time worrying about it, I'm enjoying the audience I do have.
---
Candye Kane performs two nights, Friday (Dec. 26) and Saturday (Dec. 27), at 9:30pm at Moe's Alley, 1535 Commercial Way, Santa Cruz. Tickets are $12-$14 on Friday, $13 adv/$15 day of show on Saturday; call 831.479.1854. "Comes Naturally," David Steinberg's monthly column on sex and gender issues, is available from him (free and confidential), at [email protected]
---
[ Santa Cruz | Metroactive Central | Archives ]