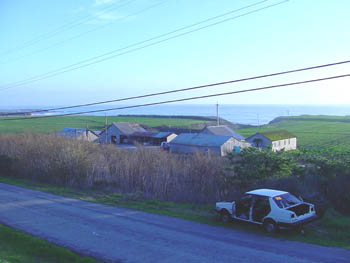 Photograph by Sarah Phelan

If You Hold It, They Will Come: The owners of the Sand Hill Bluff property say they're in no rush to sell the Trust For Public Land. They might want to get the abandoned car towed before the next appraisal.

Nüz

Double Trouble

News that things went wrong twice in two days for Cal-Am (California American Water Co.) can't exactly be helping the German multinational subsidiary's efforts to defeat a grassroots campaign to buy back Felton's water system, which Cal-Am handily snapped up two years ago. Chula Vista-based Cal-Am spokesperson Kevin Tilden took responsibility for the 62 residents affected by the Dec. 16 outage that left them having to boil their water until service was restored. But he blames the fact that Ada Street residents weren't notified ahead of time that their road would be ripped up Dec. 17 to replace aging mains on "a subcontractor who didn't notify us about the work."

Meanwhile, when one resident called the local Cal-Am office about the Dec. 16 outage, the company sent her some small drinking water containers--all of which carried the logo of RWE, which is of course the name of Cal-Am's multinational superparent.

Sounds like a well-intended gesture, but it was probably an ill-timed gift, given that the bottles also proclaimed, "Cal American: Making water work for our community"--and that the source of the water in the bottles was San Marino.

As one anonymity-requesting resident put it, "It would have been better for Cal-Am to say, 'If anyone needs to stock up with water, come by with a 5-gallon container,' instead of saying, 'Hey, we bottled some from San Marino, so come by and get theirs.' It gave me the feeling that in the future they could end up bottling and giving away

ours to someone else."

Also worth noting is that both foul-ups were caused by Cal-Am's attempts to revamp Felton's 80-year-old system, an effort that, beyond improving water pressure and fire protection, will doubtless increase the value of said system, too, thus making it that much harder for local residents to buy out the giant.

Sprouts 'R' Us

Speaking of hard buyouts, Nüz noted with interest a recent Senile pronouncement that "the 147 acres known as Sand Hill Bluff has been slated for purchase, but the pair who own the land are not in a rush to sell."

All of which sounds to Nüz like a thinly veiled attempt to inflate the value of this commercial ag land, currently rented to Brussels sprouts farmers, on behalf of its owner--developer Brian Sweeney and his silent minority partner, local lawyer David Mills.

And while the pair may claim not to be in a hurry to sell, maybe they should, given that the county Planning Commission denied their first request to build a proposed single high-end residence atop said Sand Hill Bluff, arguing that it would spike the property value beyond the reach of prospective farm operators, spoil vistas and interfere with access to Piggy Beach, which, as neighbors will tell you, the public has accessed for decades.

Indeed, Sweeney and Mills have already tried to restrict access to said beach by posting a First Alarm guard, a move that has the California Coastal Commission studying public access rights to the beach.

In addition, this cliff-top site--for which the pair paid $2.9 million three years ago--is crumbling into the sea (sand hill, hello!) in between being slammed by high winds in summer, sprayed with pesticides in fall and then soaked in the stench of rotting Brussels sprouts once the fields are harvested in time for the holiday season.

While Nüz agrees that securing these lands for the state parks system is a better idea than building a luxury home--especially since the Costanoans used to have a midden there--we can't help remembering that Sweeney pocketed a cool $43 million from selling the 7,500-acre Coast Dairies ranch to the Trust for Public Land. That's the same San Francisco-based conservation organization that has reportedly secured an agreement to buy said Brussels sprouts farm--and which also acquired the Bixby Ocean Ranch in Big Sur from Sweeney and his partners, who bought it for $9 million in 2001, then sold it to the trust for a sweet $26 mil.

And let us not forget that Mills is the guy whose name popped up in the Senile on election day 2002 in connection with the funneling of $25K in soft money to a political action committee supporting Mark Primack's ill-fated campaign for District 3 county supe. Which just happens to cover the remote North Coast ...

Mills and Sweeney probably aren't going to walk into the Jan. 28 county planning hearing expecting to sing "Kumbaya" with the commish, but Nüz hopes this isn't another attempt to juice up the price of a public land acquisition based on hypothetical construction plans, especially since the feds are expected to earmark $2 mil for its purchase a week earlier on Jan. 20.

Staying Focused

A year ago, Metro Santa Cruz covered the exploits of Santa Cruz's first ever Naked Peace Sign, in which 18 women, nine men and two dogs formed the international peace sign with their bodies on Bonny Doon Beach, an act that was repeated across the world in numerous variations and culminated in 10 million people across the world lighting candles for peace simultaneously.

As we all know, President Bush dismissed these actions as nothing more than a "focus group" and chose instead to invade Iraq in March.

Less well known is the fact that a small group of activists marked the first anniversary of the Naked Peace Sign on Dec. 14 by building an R.I.P. sign at the site of the original sign.

"Is it for Saddam?" asked a passerby on viewing the burgeoning R.I.P. sign--a question that seemed fair, given that news of Saddam Hussein's arrest had just hit the media and Bush was calling Saddam "a liar, torturer, murderer, killer and brutal dictator," if not calling for his outright execution.

But since Dec. 14 also marked the anniversary of the eve of the ratification of the Bill of Rights--and in light of the Bush administration's PATRIOT Act exploits--another observer suggested the sign referred to the death of civil rights.

And with an average of two U.S. soldiers and 46 Iraqi civilians dying each day in Iraq, a third witness saw the sign as representing all those who have died since Sept. 11.

Either way, conversations with those who participated in the first sign revealed a wide range of opinions as to what this year's sign should or could have looked like, including building statements such as "Don't Die for a Lie," "War is Terrorism" or "U.S. out, U.N. in."

Others, feeling that global security has been worsened by the war on Iraq, suggested a line of naked people bending over and touching their toes--as in "We're fucked."

"What we should be protesting is not this lost cause, but the wars that are forthcoming," suggested another.

In the end, so few people showed up that organizers were forced to use, er, kelp to spell their message. You decide what it all means.
---
Nüz just loves juicy tips: Drop a line to 115 Cooper St, Santa Cruz, 95060, email us at , or call our hotline at 457.9000, ext 214.
---
[ Santa Cruz | Metroactive Central | Archives ]