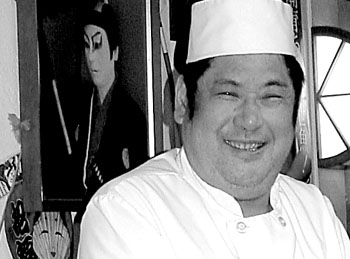 Photograph by Ute Bonn

Sake to Me: Isao Hamashi brings artistic flair to a full range of sushi classics.

Seasoned Sukeroku

For 20 years this tiny sushi bar has offered the delicious comforts of fresh fish and hot sake

By Christina Waters

SOMEHOW SUKEROKU feels coziest, at its most welcoming, on chilly evenings. Those are the times a hot sake and a bowl full of edamame cater most to the inner foodie.

Jack, who'd never been to this tiny sushi shop at the edge of the West Side, was smitten the moment he checked it out. Sushi maestro Isao Hamashi boomed his approval as we took a seat next to the square "group" table, which that evening was filled with chatty film buffs. The pace here is both soothing and gregarious and the specials menu always tempts me with some fresh news from the sea. Abalone ($4.95) looked good, as did seaweed salad ($3.75). The thought of hamachi tartare ($5.50) made Jack grin. A plan was shaping up, helped by a bottle of icy Sapporo draft and a vial of hot sake.

After the soybean appetizer came a bowl of crunchy, marinated lotus root ($3.75) and the delightful salad of glistening, transparent seaweeds sprinkled with toasted sesame seeds.

The rhythm of the place works a certain magic. Isao's taste in background music can range from Japanese pop to vintage Elvis. His own comments, at the gemlike fish, at incoming patrons, provide a soundtrack for the stream of glazed plates bearing sushi as well as a full dance card of teriyakis, sukiyakis and udon noodle dishes.

The finely minced hamachi (yellowtail) proved to be a huge hit. Served in a glass bowl, the sweet, mild fish was topped with a quail egg--my idea of true dining decadence--plus bits of scallion, toasted nori and sesame seeds. We mixed up soy and wasabi, dressed the tartare and inhaled every last trace. Light and rich all at once, it was the major discovery of the evening. A spicy tuna hand roll was tasty, if a bit long on mayo, and the very moist San Francisco roll was a classic of its Anglo-Japanese genre. Avocado meets prawn in this pretty bit of sushi, to which we added lavish dredgings in the fiery soy and wasabi mixture.

It has crossed our minds more than once that the point of sushi altogether might just be as a delivery system for that potent, sinus-clearing blend of green horseradish and soy sauce. Purists would disagree. (They always do.) For the record, we found the alabaster slices of abalone (awabi) to be of firm, appealing texture and richer than expected. It was an elegant experience, but somehow never caught fire, flavorwise, the way the hamachi tartare did. Abalone devotees would swoon, however, and we consumed this delicacy with the reverence it deserved.

Jack's pristine nigiri rice oval topped with silvery mackerel (saba) was a perfect example of its kind. This intensely flavored fish, packed with omega-3 oils, has never made it onto my personal shortlist. But sushi chef Hamashi presents it with classic simplicity. Our final courses that evening were an iron cauldron filled with my all-time Sukeroku favorite--nabeyaki udon--and a simple tekka maki with shiso leaf ($3.75). What's the point in resisting enormous, plump, soft noodles in chicken broth ($8.50)? Add to it mushrooms, carrots and scallions, some bits of chicken and top it off with a layer of tempura prawns and vegetables. I love the slice of hard-boiled egg that lies in its hammock of noodles--the whole creation is fun to eat and leaves you feeling utterly restored. Besides, all those long noodles give you an excuse to make a big mess.

Under my tutelage, Jack has made a full conversion to the glories of tekka maki sushi, tightly rolled into coins of sticky rice studded with a crimson heart of maguro (ahi tuna). The addition of an emerald shiso leaf, pungent and peppery, powers the sweet tuna to spectacular heights. Arigato, Isao. It's a perfect finish to any meal at Sukeroku.
---
Sukeroku
Address: 1701 Mission St., Santa Cruz
Phone: 831.426.6660
Hours: Lunch Tue-Fri; dinner Tue-Sun from 5:30
Ambience: *** Intimate, uncluttered sushi bar getaway
Service: *** Toshiko Hamashi has eyes in the back of her head
Cuisine: *** Well-made, sparkling fresh sushi, delicious entrees
Overall: Sukeroku is integral to the dining ecology of the West Side
---
[ Santa Cruz | Metroactive Central | Archives ]