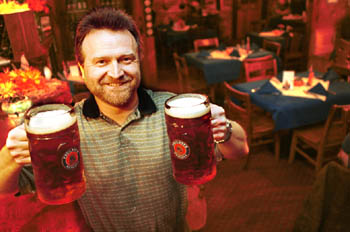 Unforgettable: Tyrolean Inn owner Dieter Seider lofts a pair of ales.

The Year's Tastiest Hits

The most memorable meals of 2000 form an eclectic showcase for style, flavor and the right companion

By Christina Waters

LOOKING BACK, I have to chuckle over my two memorable dinners at the ultraquaint Tyrolean Inn in Ben Lomond. One was with my parents, visiting from San Diego. Bratwurst transported us all, as did my father's attempts to speak faux German to a waitress, an obvious auslander from Fresno. The other was with my aunt and uncle when the discussion meandered from family gossip to the questionable joys of authentic sauerkraut.

The combination of hearty comfort food and people you've known all your life just can't be touched. But then neither can my historic New Year's Day meal--the first dinner of the millennium--in a motel room in Paso Robles. (I do get around.) We woke at dawn on Jan. 1 freezing in our sleeping bags at Death Valley. Grateful for sunrise, we started driving. And kept on driving.

Paso Robles showed up around sunset so we made a pit stop at the local Ralph's. Armed with an apple, bagels, a brick of cheddar cheese and a passable zinfandel, we headed for the round Formica table in our favorite Travelodge, and immediately consumed everything in sight.

It tasted, well, like the new millennium itself. Faintly generic but somehow hopeful. We hit the hay and immediately fell asleep to the Y2K sounds of CNN.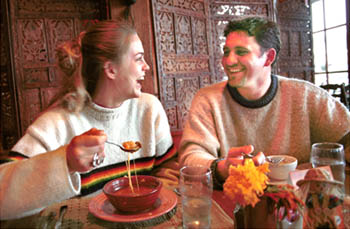 Food Fun: Diners at the New Davenport Cash Store enjoy an innovative meal.
EASILY ONE of the finest meals I've ever had during any year was a lunch last spring at Willie's Wine Bar, around the corner from the Louvre, in Paris. Filled with locals, this serious gastronomic landmark specializes in affordable luxury.
For a $25 prix fixe, I swooned over a salad of grilled quail and fresh baby favas on frisée. Next came an archetypal filet mignon, brimming with flavor and accompanied by impeccable scalloped potatoes.
Along with a glass of excellent Côte-Rotie, I ended the meal--slowly--with a slice of ripe Roquefort. Every element contributed to a harmonious whole. That I was sitting in the middle of the world's loveliest city didn't hurt.
In Philadelphia last spring, we spent an amazing dinner with good friends at Brasserie Perrier, where food is sacred and service a religion. An entree of crispy black sea bass was sauced with ginger and Vouvray.
We sighed over a dish of Moroccan spiced ahi that shattered all clichés. Squares of coriander- and pepper-encrusted tuna sat on a pillow of baby fava beans in a spicy basil jus. My entrée of wild striped bass was heightened by a rich veal reduction and festooned with various wild mushrooms. Accompanied by an excellent Byron Pinot Noir, it was one of the top five meals of the year.
My buddy Laurel and I breakfasted like postmodern divas at Parkhouse in the boho University Heights district of San Diego. Hearty "American ethnic grub" is the specialty there, and our dishes were easily the top eye-openers of the year.
Laurel feasted on her fave, the fried pasta scrambled with eggs, feta, fresh basil and roma tomatoes--plus a side of the house-made chicken herb sausage.
Meanwhile, I worked my way through a deep-dish creation of poached eggs, melted fontina, grilled ham and fresh asparagus atop grilled focaccia slathered with pesto hollandaise. Yeow!
There was a certain soup, at San Jose's Habana Cuba, filled with white beans, ham, escarole and peas. In a fine broth, it proved the perfect antidote to the gloomy afternoon.
And the appetizer of the year was a marinated albacore creation, tossed with green olives, lemon and fennel at Theo's in Soquel.
The finest dessert I tasted was an ecstatic finale from Oswald's pastry chef Lecage. A compact, confident frozen citrus soufflé studded with pistachios was joined by a warm Meyer lemon and tangerine custard, sandwiched between feather-light pastry squares.
In Los Gatos, Green Papaya's signature salad knocked me out. Interwoven threads of green papaya, ripe mango and carrots had been tossed together with some pungent sweet/hot spicings, spiked with rice vinegar and strewn lavishly with mint and cilantro.
A salad at New Davenport Cash Store of local goat cheese and tender field greens was the essence of freshness, accented by roasted onions and roasted walnuts.
Those Niman Ranch short ribs with polenta at Tra Vigne in St. Helena, that sumptuous veal chop at Valentino's in Morristown, New Jersey. A perfect bowl of yellow pea soup, with crusty francese and a glass of Secret House Pinot Noir from Oregon, at Avanti. So many fine flavors, and so little time.
[ Santa Cruz | MetroActive Central | Archives ]