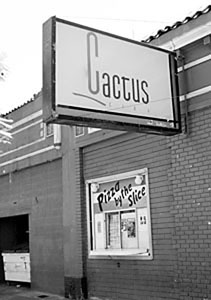 When the Cactus Club closed, everything changed.

Transition Times

A look back at an eventful year in local music

By Sarah Quelland

IS THIS THE PART where I get to say, "I told you so"? There were those who griped about the nasty bathrooms and the sticky floors and said, "Good riddance!" when the Cactus Club shut its doors in June, but they didn't see the bigger picture. When the Cactus Club closed, San Jose lost its best and most consistent venue for live rock & roll. Plant 51 and Kleidon's Lounge stepped up to fill the void and gave local bands a place to play. Then Kleidon's shut down, leaving Plant 51 as the only legitimate rock club left in San Jose.

Last year was a year of transition for the local music community. The Usual became spy and switched its format from dance nights and live rock to DJs and occasional rap, hip-hop and reggae shows. The Icon Nightclub also switched formats, bringing back its rock & roll edge. It ditched the Mas Sake freestyle sushi concept, introduced a whole new menu and renamed its restaurant the Edge Bar & Grill. A look at the club's print ads says don't be surprised if it reverts back to the Edge completely.

Meanwhile, new clubs are pushing to open, but only Drew Adelman's themed dance club Cabana will open by New Year's Eve with a sneak preview party on Dec. 31. Coming up on South First Street, look for Jacek Rosicki's restaurant and double nightclub Zöe and Backbar and Johnny Van Wyk and Pete Janssen's restaurant and nightclub Sideways (the name may change) to open in 2003. Van Wyk is also opening a club called Johnny V's at 31 E. Santa Clara St., San Jose. Johnny V's may open by the end of January. Stikmon was forced to scrap his plans for the Burbank International Youth Center for the Performing Arts. He's scouting new locations. Comedy club and restaurant the Improv did open on South Second Street and has been bringing top-notch comics to town.

In other club news, Plant 51 booker Scott Long took a sweet position as the general manager of the Knitting Factory in New York. Upon his departure, Zero magazine editor and co-publisher Larry Trujillo took over the club's booking duties. When Kleidon's closed, Trujillo brought the promoters of the thriving Rockstars and Bitches night onboard, dedicating Mondays (in addition to "Locals Only" Thursdays) to local and regional bands. Cheers to KSJO, too, for finally giving locals airtime with Sunday night's Home Grown, hosted by Sloppy Joe.

In band news, Papa Roach released lovehatetragedy, its second album on DreamWorks Records; parted ways with longtime manager Bret Bair; appeared in a Pepsi Blue commercial backed by its single "Time and Time Again"; and renamed its New Noize imprint El Tonal. The long-awaited DVD was never released, but the band did bring much love to the Bay Area with explosive performances on the Anger Management tour and LIVE 105's BFD and Not So Silent Night. Papa Roach headlines the Warfield on Jan. 19.

Los Gatos' dredg released the beautiful El Cielo on Interscope Records. Unfortunately, dredg is flying so far under the media radar, it hasn't received much attention on a national level. The band may need to change its marketing strategy to get the recognition it deserves. On Jan. 4, dredg plays Plant 51. Trapt, also from Los Gatos, released its self-titled debut on Warner Bros. Taking a more commercial approach, the band saw its single "Headstrong" take off nicely. The Donnas relocated from Lookout! Records to Atlantic Records to release Spend the Night. The girls headline the Icon on Jan. 24 and play the Fillmore on Feb. 26. San Jose stalwarts Insolence recruited new drummer Kevin Higuchi, parted ways with Maverick Records and are preparing to shop their sunny new hard-reggae material to other major labels. The band is lining up a couple local dates before heading to Japan for a tour with Dubcat sponsored by Seedless Clothing. It's also about to launch a new website: www.insolence1.com. Billy Rosenthal, half of Insolence's vocal team, is seeing success with his side project, Drunken Starfighter, and Insolence bassist Paul Perry recently started jamming with members of his former band, LEVEL, which may start playing out under the name Pontius Pilate.

CORRECTION: The Odd Numbers' NYE show at Plant 51 is $10, not $15.
---
Send a letter to the editor about this story to letters@metronews.com.
---
[ Silicon Valley | Metroactive Home | Archives ]