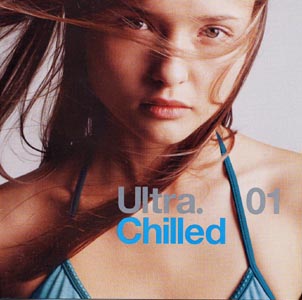 Dance But Don't Touch: The covers of the 'Ultra' series are filled with a distinct color palette and hot babes.

Push Play and Record

Ultra Records blows the lid off of celebrity-curated mixtapes

By Yoshi Kato

FOR THE COVER story of the February 1992 issue of the British music magazine Select, Primal Scream's Bobby Gillespie compiled a 24-song homemade mixtape. The compilation featured artists like Chuck Berry, Dion and the MC5.

The kicker was that one lucky soul could win the actual cassette. The downside was the rest of us couldn't. Yes, we could use the article as a playlist and reproduce the tape at home (provided you at least had access to all those particular songs), but who has the time and motivation except for the most hard-core Primal fans? And who knows what techniques Gillespie employed? Did he go old school and push "pause" between each song or did he crossfade and beat mix?

Today, a new series of celebrity-curated and label-sanctioned (i.e., all samples have been cleared) mixtapes has hit the shelves after gaining steam in recent years. It's interesting to hear what tracks our favorite artists vibe out to while waiting in airport lounges.

The Urban Theory label allowed artists like Joe Claussell, Joey Negro and Sean P to piece together their own personal mixes. The Roots' drummer ?uestlove has added to the Urban Theory pile on Babies Making Babies, a set of romantic groove tracks by artists like Smokey Robinson, Heatwave, Denise Williams, Roy Ayers and Stanley Cowell. Fatboy Slim's triumphant Brighton Beach homecoming sets were captured for posterity on Live on Brighton Beach (which gave second wind to the Basement Jaxx single "Where's Your Head At?") and Big Beach Boutique II.

On the dance-music front, a British series called Back to Mine peeks into the dusty crates of tastemakers like Orbital, Everything but the Girl, New Order, Faithless, Morcheeba and Groove Armada. On New Order's offering, a Velvet Underground cut is preceded by Missy Elliott's "The Rain (Supa Dupa Fly)" and followed by doves' "M62 Song." Everything but the Girl, in turn, places Mary Margaret O'Hara's completely beatless "To Cry About" in between Carl Craig's "A Wonderful Life" and the Roots' "Silent Treatment."

David Waxman is senior director of A&R for the New York-based Ultra Records, which has licensed six Back to Mine titles from the British DMC label. "When the first of the series [Nick Warren's] came out, I thought it was brilliant," writes Waxman, via email. "This type of compilation had never been done before, and it gave a new light to these DJs who were only known for a specific style. The DJs went out of their way to build an eclectic repertoire, sometimes using rare down-tempo mixes of club anthems, then went into the studio and did a lot of unconventional mixing, instead of the typical two-deck mix. In my opinion, it was the start of the 'chill-out' craze."

Waxman is also the force behind the popular Ultra Dance, Ultra Chilled, Ultra Trance and Ultra '80s vs. Electro mix series. What distinguishes the Ultra line is an unapologetic willingness to pair familiar artists with credibility-laden lesser-known ones. So listeners can find Norah Jones, Coldplay and Bebel Gilberto among the likes of Sondre Lechre, Chin Chillaz and Bertrand Burgalat.

The tracks, he explains, "can basically be categorized into two different styles--one being more upfront and familiar, the other being deeper and a little more eclectic. My reasoning partly comes from my DJing. When I am working in the clubs, I think it is just as important to mix some of the biggest crowd pleasers in between the coolest up-and-comers, so the newcomers don't get lost, and the educated don't get bored."

Another factor in the series' success is probably its trademark covers. Like the cool-jazz and pop instrumental covers of the '50s and '60s, the titles feature an attractive model as well as a distinct, bright color palette.

"Well then I guess it is true when they say sex sells," Waxman replies, when asked about the various covers. "Just try not to stare too much at the girl of Ultra Dance 01--that's my fiancee."
---
Send a letter to the editor about this story to letters@metronews.com.
---
[ Silicon Valley | Metroactive Home | Archives ]