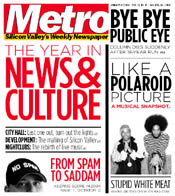 For the Week of
January 1-7, 2004
Cover Story: The Year in News and Culture

News: Who's in Charge?
San Jose's department heads are facing tough times by getting out of Dodge. Should we be sorry to see them go?
Public Eye: After 18 years of squeezing the political underbelly until it hacks up what other newspapers neglect to report, Public Eye is placing pennies on its own lids.
Arrested Development: One year closer to the mallification of Silicon Valley.



Biter: Biter previews the midseason replacements on the new American-backed Al-Iraqiya TV network.
Notes From the Underbelly: Piano technician Howard Frederic chats about keeping pianos in tune.
Techsploits: Reverse social engineering is sort of like social engineering crossed with reverse psychology.



Breast in Show: The new art show 'Got Breast Milk' takes a confident look at a subject that society often turns away from in embarrassment.



Kicking Ass: 2003 was really the year to lose it at the movies.
Sink or Swim: Tim Burton's new film, 'Big Fish,' flips between magic and maturity.
Dead Girl Walking: The selling of a serial killer: Charlize Theron dresses down to play Aileen Wournos.
'One From the Heart' Redux: The film that almost ruined Francis Ford Coppola returns to the screen and arrives on DVD.



Get Low: Shake it like a Polaroid picture! A musical snapshot of 2003.
Lost in Transition: In 2003, San Jose's rock scene staged a quiet comeback with new clubs opening and bands signing deals.
Aural Fixation: Nadine Condon wrote the Cliffs Notes to making it in the music industry.



Paging Through Oz: A few good books add depth to a shallow year.



Together Forever: Chef Yung Le's creations combine the best of two worlds.
Knife, Fork, Cocktail: Trends of the year in food.



Please don't forget to write! Metro welcomes letters. Like any great work of art, they should be originals -- not copies of letters sent elsewhere. Include address and daytime phone (for verification purposes only). Letters may be edited for length and clarity or to correct factual inaccuracies known to us. Postal: Metro Letters, 550 S. First. St., San Jose, CA 95111. Fax: 408/298-0602. . Emailers, please include name, city of residence and phone number. Letters printed will list email address unless otherwise specified. Letters to the editor are not currently published in the online version of this paper.