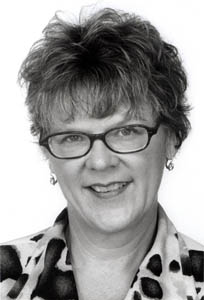 Nadine Condon offers godmotherly advice.

Hot Tips

Nadine Condon wrote the Cliffs Notes to making it in the music industry

By Sarah Quelland

SSUCCESS IS MADE UP of very simple little things: writing a good song, having a productive rehearsal, making an effective demo, getting the right gig, writing an engaging press release, finding a talented producer. Stringing together simple successes gives you larger successes" (page 20). Sure, it sounds like common sense but, as the old adage goes, common sense is not always so common. That's where Nadine Condon's new book, Hot Hits, Cheap Demos: The Real-World Guide to Music Success (Backbeat Books; $17.95), comes in handy for any aspiring career musician.

Broken down into nine fast-reading chapters and seasoned with "Nadine Sez" and "Real-World Success Story" boxes, Condon's book maps out the steps and strategies required to get out of the garage and onto a major label. It's ideal both for new bands trying to figure out how to get started and for more established bands that could use a few pointers.

Often referred to as the godmother of the music industry, Condon has some 20-plus years in the music biz working with the likes of Melissa Etheridge, Third Eye Blind and Jefferson Starship/Starship. Regionally, she's well known as the founder of Nadine's
Wild Weekend, a semiannual multivenue music festival held in San Francisco that has included performances by Krenshaw, Ones and Zeros, Rivals, Dexter Danger and the Phenomenauts. Because she lives in the Bay Area, her book boasts a lot of local flavor and a familiar feel as she uses Bay Area groups like Counting Crows, Smash Mouth, Train, Luce, Stroke 9 and the Matches to illustrate her various points.

Condon's writing style is conversational and provokes thought. Discussing how bands can make people want to go to their shows, she writes, "A highly original and entertaining performance is one draw. Creating a social ambience that feels special is another. Most people go to live shows to be entertained, to socialize or to be part of a scene." Then she asks her reader, "Are you hitting these marks with your shows? Or are you just another derivative band on another boring three- to four-band bill, going through the paces?"

She's blunt, and she doesn't mince words. But she's also supportive and encouraging. She shows legitimate interest in new bands and local talent. As she notes, "No one starts out great." It takes time for bands to develop. In Chapter 3, "Write a Time Line," she lays out a working model for Year One (putting a band together) to Year Eight (release an album on a major label). Eight years may seem like an eternity, but it's a pretty average rate to fame these days. Her advice on self-promotion (Chapter 4), band websites (Chapter 5) and working with a manager (Chapter 7) is also particularly valuable.

Though Nadine's Wild Weekend took a hiatus in 2003 while Condon was finishing her book, the event is in the planning stages for 2004, and band submissions open on Jan. 15. Condon also offers band mentoring sessions and conducts Real World Music Business seminars throughout the year. The next seminar takes place Jan. 10, noon-3pm, at the downtown campus of San Francisco State University. Visit www.nadinecondon.com for more info.

CALL FOR DONATIONS: A trust has been set up to raise money for the rising medical bills of acclaimed singer/songwriter and playwright Alejandro Escovedo (the Nuns, Rank & File, the True Believers), who was hospitalized in April due to complications resulting from Hepatitis C and is currently undergoing treatment in Texas. Visit www.alejandrofund.com to find out how to make a donation.

PLAN AHEAD: Los Gatos Vatos, Jan. 1 at the Caravan; Delta Activity, Jan. 2 at the Gaslighter Theater in Campbell; ArnoCorps, Jan. 2 at the Caravan; Seventh Season, Jan. 2 at the Quarter Note in Sunnyvale; Suburban Legends, Tragedy Andy, Minus Vince, Normal Like You, Issue 10 and So Called Life, Jan. 3 at the Gaslighter Theater; Horizon of Fire, Jan. 3 at the Quarter Note; Stuck in Tomorrow, Printed Blanks, In Perfect Silence and Stereo Course, Jan. 4 at the Gaslighter Theater; Purgatory's Gate, Jan. 4 at Gaslighter's Music Hall in Gilroy; dredg, A Burning Water and Sleepytime Gorilla Museum, Jan. 5 at the Catalyst in Santa Cruz.
---
Send a letter to the editor about this story to letters@metronews.com.
---
[ Silicon Valley | Metroactive Home | Archives ]