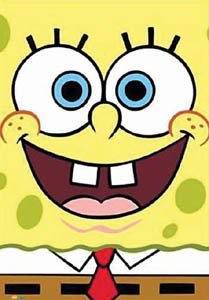 Biter

Don't Touch That Dial

By Michael S. Gant
---
"U.S.-backed TV channel earns poor ratings in Iraq"
--Associated Press, Nov. 29, 2003
---
WELL, IT'S NO WONDER that our efforts to win the hearts and minds of Iraqi TV viewers (at least when the power is on) aren't working. According to reports from the front, the new American-backed Al-Iraqiya channel is losing badly to traditional prime-time Arab powerhouses like Al-Jazeera and Al-Arabiya. Even the big sweeps-week special, Captured! Live From Tikrit, came in second behind a rerun of Trading Mosques.
Sure, our military has perfected "shock and awe," but what it knows about Nielsen ratings could fit inside a Kevlar vest (if one had been approved in the last budget). We simply haven't drawn on the vast pool of volunteer talent just waiting to be drafted from the boardrooms of the major networks. With a few artistic meetings and some focus groups, it should soon be possible to roll out a midseason lineup of exciting shows that will give a whole new meaning to the term "ratings war."
10AM. Everybody Loves Rummy. Now in its third hilarious year, the hit sitcom features a cuddly secretary of defense who can't seem to get along with his wife, Condi, and his obnoxious brother, Colin. In today's episode, Rummy is having trouble balancing the procurement budget and puts his foot down when Condi and Colin ask for more troop deployments.
10:30AM. SpongeBush SquarePants. The beloved cartoon character is all wet--again! The kids will roar their heads off as Cheney Crab attempts to extract SpongeBush from yet another impossible predicament.
11:30AM. Beat the Press. Selected members of the elite media are led into a public square to have their typing fingers amputated by the Ayatollah O'Reilly.
Noon. This Old Homeland Security. A nice new coat of orange paint should freshen up this drab airport waiting room. With guest host Tom Ridge.
3PM. Antiquities Roadshow. Our crack appraisers evaluate rare treasures brought to us by average viewers. "That's an impressive cuneiform tablet you've got there. It should bring at least a quarter of a million dollars at a well-advertised garage sale. However, I hate to be the bearer of bad news, but your alabaster Uruk vase is really a Pier 1 knockoff. Better luck next time." Remember, at Antiquities Roadshow, we'll never ask where you got it.
5PM. John of Arcadia. God appears in the form of Torquemada and orders the attorney general to reinstate the Iron Maiden as a viable form of corporal punishment in our nation's elementary schools.
6PM. That '60s Show. It's a laugh a minute as the wacky throw-back peace gang protests the quagmire in Vietnam. (Repeat)
8:30PM. The Simpleton Life. You've seen her on the Internet, now she's busting the burka barrier on a new Fox hit. Yes, Paris Hilton and Jenna Bush are moving in with an Iraqi family in a recently vacated one-room Tikrit spider hole. Hilarity ensues as the two high-strung heiresses attempt to buy diesel fuel on the black market at inflated Halliburton prices.
9:30PM. Pledge Break. This kind of fine programming costs money. That's why we urge any allies who might be watching to call 1-800-REBUILD and make a donation now. If you pledge at the $100 million level, you'll receive this three-CD folk-hits collection, This Land Is Our Land, Now, and a road-construction contract absolutely free. Please, no francs or marks accepted.
---
Send a letter to the editor about this story to letters@metronews.com.
---
[ Silicon Valley | Metroactive Home | Archives ]