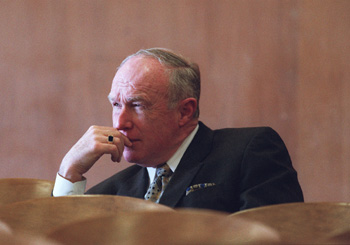 Tan and rested San Diegan Bill Lansdowne.

Who's in Charge?

San Jose's department heads are facing tough times by getting out of Dodge. Should we be sorry to see them go?

By Allie Gottlieb

TWO-THOUSAND THREE WAS a year of leave-taking for the city's top brass. First, Fire Chief Manny Alarcon decided to quit San Jose in January. His announcement came in the wake of criticism over Alarcon's department's handling of the August 2002 blaze that torched homes at and near the city's new mixed-use darling, Santana Row. Alarcon exited his position after a mere three-year tenure that followed a substantial string of predecessors in the fairly literal hot seat.

Police Chief Bill Lansdowne left for San Diego, a California border town, in July. That was the same month that the death of a vegetable peeler-wielding young mom, Bich Cau Thi Tran, at the hands of a San Jose policeman enraged the Vietnamese community and launched a grand jury investigation. The controversy didn't really touch Lansdowne, whose department the grand jury ultimately vindicated, and who retains a solid reputation as a model cop. (Lansdowne devoted 33 years to San Jose's force. Don't feel sorry about the fact that he took the lower-paying job in San Diego; now he can double-dip by collecting a fat retirement pension from San Jose as well as his San Diego salary.)

Susan Shick announced in October she would leave the Redevelopment Agency at the end of the year to go sailing with her husband in Florida. Her permanent vacation has been dubbed "the best thing for everyone" by collective onlookers. If she hadn't resigned, San Jose City Council members would probably have unappointed her after only four years at her post.

Also in October, City Clerk Pat O'Hearn announced her plans to retire as of January 2004. O'Hearn's move seems above speculation. She's spent 17 years in the subtle department, 12 in her position. (A decade-plus is certainly long enough to play the demanding and undervalued role of overseeing City Hall's paper trail.)

Furthermore, Independent Police Auditor Teresa Guerrero-Daley, who along with Shick and O'Hearn occupies one of the six council-appointed positions, signaled her desire to move on by throwing her hat in the race for a Superior Court judge position.

None of these managers officially got canned. However, the first three left truncated terms amid departmental chaos and landed their names in headlines. What does this mean for the city?

Glum and Glummer

"Everybody can be replaced," outspoken consultant Rich Robinson announces, unequivocally. "One of the great myths in life is that there are outstanding people who can't be replaced. Everybody can be replaced."

There's apparently no better time than now to test that theory. Despite desperate business-sector reports promising economic recovery, hope doesn't float. In the middle of January, city officials intend to wrap their heads around an update on the sad state of the budget.

At last count, the cash void expected for the next budget year came to $85 million, and it could grow to $120 million with the governor's vehicle-license-fee throwback. That means impending bottom-scraping cuts that set daily op/ed pages aflutter with apocalyptic predictions and unsolicited political advice.

"Obviously, there'll have to be some layoffs," says Robinson. "But unfortunately, in our society, the layoffs never start at the top. They start with the service-level employees, like beat cops [who] actually provide the services. Normally, what they do is cut those people, and it never reaches the top. The dead wood is in the middle and at the top. The people they can most afford to fire are department heads. When was the last time a pothole wasn't fixed because a city manager didn't show up?"

Meanwhile, others eyeing the recent exits--those of Shick, Lansdowne and Alarcon--find other reasons to celebrate. As City Council member Chuck Reed notes, the outgoing RDA director is leaving at a time when the agency begins its descent.

"To me, it's saying, in the next couple of years it's going to be bad," Reed says, referring specifically to inevitable firings and budget cuts. Shick's departure signals opportunity. "I think we'll get a different person in that job," Reed says. "The nature of the agency is changing. It's winding down." Although Reed "gave [Shick] high marks, probably higher than others did" when the City Council last evaluated her performance, he fails to lament her fleeing the crumbling agency.

"When we're trying to change [our] ways," he says, "having new people in office is often helpful. ... What we get with people when we hire them is people who are with the program."

In fact, explains San Jose State University professor Terry Christensen, it's precisely that hands-on attitude that has altered boss/underling relations at the city.

It's harder to be a department head these days. Christensen says that the 10 City Council members and the mayor involve themselves more in the process of managing department heads than did former administrations. At the same time, he adds, actual City Manager Del Borgsdorf "stands back a bit." That makes for 11 bosses, rather than just the traditional one too many.

With that in mind, the high-profile big-cheese turnover rate in San Jose this year doesn't look so big. The real news is that leaders are both expendable and replaceable. Change is sometimes good, certainly necessary and can't be achieved without the rolling of a few heads. Why not start at the top?
---
Send a letter to the editor about this story to letters@metronews.com.
---
[ Silicon Valley | Metroactive Home | Archives ]