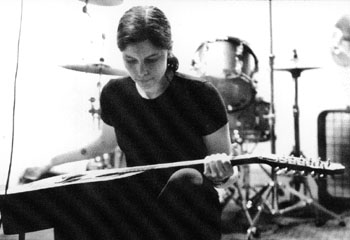 Lisa Dewey was hard to please but plugged Invention and Lift to Experience.

Sounding Off

Local musicians pick their top albums of 2001

By Sarah Quelland

I WOULDN'T EXACTLY call 2001 a red-letter year for music. Sure, there were plenty of perfectly respectable new releases, but only a small handful dominated my CD player (Rufus Wainwright's Poses and Sin in Space's Asteroid Band among them). Out of curiosity, I turned to local musicians to get their Top 5 picks for 2001. For some it wasn't easy.

Jimmy Arceneaux, frontman for Los Bastardos de Amor, griped, "Top five albums? Did anybody release anything this year?! I hadn't noticed. I'm still getting over The Fragile [Nine Inch Nails], which was released in 1999, which is sad, really." Still, he did feel warmly toward Train's Drops of Jupiter, which he said had "great lyrics."

Local singer/songwriter Lisa Dewey averred, "There were only a few releases that I liked," naming Hope Sandoval & Warm Invention's Bavarian Fruit Bread and Lift to Experience's Texas-Jerusalem Crossroads.

Remoter frontman Andrew Fleig confessed, "The only albums I actually heard this year were Amnesiac by Radiohead and the Coldplay record [Parachutes, which was actually released in 2000], both of which I loved."

Fortunately, not everyone had difficulty coming up with highlights.

Outtaline's Matt Ramirez enthused, "It's hard to limit it to five," before handing over his list: 5.) One Time Angels--Tricks & Dreams ("picking up where Jawbreaker left off"); 4.) SOmething Corporate--Audio Boxer ("It makes me wish I took piano lessons"); 3.) Rise Against--The Unraveling ("If you like Good Riddance, you'll love Rise Against"); 2.) No Use for a Name--Live in a Dive ("You get your own kick-ass No Use show every time you listen"); 1.) Tenacious D--self-titled ("This is the greatest band in the world").

JEssica Zumwalt, keyboardist and vocalist for Lords of the Manor, was also quick to come up with her favorite albums of the year. She rattled off Amon Amarth's The Crusher, Emperor's Prometheus: Discipline of Fire, Radiohead's Amnesiac, Dimmu Borgir's Puritanical Euphoric Misanthropia and Weezer's self-titled album.

Checking in from Russia, Moodfrye bassist Jenya Meydbray gave his rundown with Rx Bandits' Progress topping the list, followed by Sum 41's All Killer, No Filler; Jimmy Eat World's Bleed American and System of a Down's Toxicity.

Stunt Monkey bassist Michael Rossi mused, "2001 was a surreal year. It's difficult to reflect back on it and not acknowledge its tragedies. While music may seem trivial to some in light of all this, for me, personally, it's an escape, a series of moments and notes that muffles everything external and reminds me of the good that the human mind can do. If I had to select five albums that helped me escape this year, they'd be 5.) All--Live Plus One, 4.) Manic Notion--Manic Notion, 3.) the Posies--Nice Cheekbones and a Ph.D., 2.) System of a Down--Toxicity, 1.) Idlewild-100 Broken Windows."

Though multitalented local musician and sax player Ken Schick jumped on his soapbox, venting, "Commercial radio, becoming an ever-expanding abysmal, vapid wasteland of mindless fashion victims has been forbidden to come into contact with my eardrums. I rarely find anything worth purchasing floating about on commercial airwaves these days," he also conceded, "This does not mean that good music is not being made, it just means that one must dig a little to find it." Schick had four picks for the top albums of 2001: Gillian Welch's Time (The Revelator), David Byrne's Look Into the Eyeball, Michael Franti & Spearhead's Stay Human and Sparklehorse's It's a Wonderful Life, with honorable mentions going out to Tricky's Blowback, Roland Orzabal's Tomcats Screaming Outside, Suzanne Vega's Songs in Red and Gray, Tindersticks' Can Our Love ... and Tool's Laturalus.

ALL THE NEWS: Limp Bizkit's Put Your Guitar Where Your Mouth Is 22-city search for a new guitarist stops at the Guitar Center in San Francisco on Jan. 11. The news section at www.limpbizkit.com has more info. ... KSJO's morning instigators Lamont & Tonelli hold their annual calendar-release party next Friday (Jan. 11) at the Usual.

PLAN AHEAD: Code: 47, Jan. 3 at the Cactus Club; Insolence, Jan. 4 at the Cactus; Tenfold, Element of Surprise and Setacide, Jan. 4 at the Aptos Club.