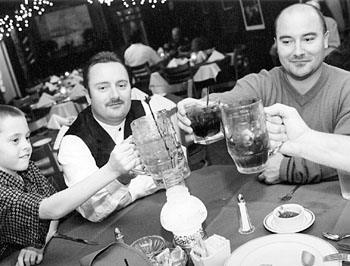 Photograph by Erika Pino

Drink Up: Teske's Germania will put a little 'herr' on your chest.

Ja-Dropping

The hearty German fare at Teske's makes winter a little warmer

By Joseph Izzo Jr.

A TRIP TO Teske's Germania Restaurant for pork and beer and sauerkraut draws fork and knife against the nasty cold of winter. This place serves big, big food--and not the kind I can eat every day. So before going, I like to get myself ready by eating light three days prior to my visit. This way, I can go the distance for a bout of hearty dining at San Jose's landmark German eatery.

Some of my favorite memories of Teske's, however, do not spring from the wasteland of winter. I remember sitting in the beer garden--with Big Norm Clark--under a warm spring afternoon, surrounded by grilled sausages ($16.25, Wurst Platte) and pitchers of amber Spaten. We discussed recipes from the north and south of Germany with the original owners, the Teskes. Before leaving, we had shots of schnapps at the long wooden bar, contemplating the vicissitudes of life, then walked out with a smile and a sunburn on our cheeks.

This visit, we came pretty close to the darkest day of the year. It was cold, and we were glad to get inside where it was warm. From the silent street, we entered a bustling and noisy bar insulated with timber and jammed with people hoisting voluminous mugs. Aromas of roasting meat and sauerkraut beckoned to us from the dining room, decked out like a chalet with Teutonic trappings throughout.

First to the table were the German breads tucked in linen and a pitcher of Spaten Octoberfest. We toasted the season--hoping for the best--and settled in for our meal. Though the menu is quite extensive, we decided to order the most classic recipes, the ones that always spring to mind when German restaurants are considered.

Because we wanted to taste a variety of dishes, the kitchen put them together on a decorative family-style platter with sauerkraut, red cabbage, buttery spatzle and an average German potato salad. Some people jealously guard what they order, but I like tasting, so this kind of service makes perfect sense. All dinners come with homemade soup--ours full of flavor and based on chicken stock--and an ordinary salad.

Pork hock (about $17), on special that night, anchored the platter. The fist-sized knuckle was packed with fork-tender meat encased in golden roasted fat. I don't recommend this one for people struggling with cholesterol, but for those who are not, it's a rare delight. The fat keeps the pork succulent. It also imparts a unique rich quality that works like ballet with alternating forkfuls of sauerkraut, which was served in ample portions on the platter.

Also from the pork category, we had the traditional Kassler Rippon ($16.50), my personal favorite. A smoked and cured cutlet--about two and a half fingers thick--was roasted pink and so juicy the meat ran with each draw of the knife.

A German meal would not be complete without Sauerbraten ($16.95), beef marinated dark in spicy vinegar, then served in multiple slices with gingersnap gravy. At platter's center was the celebrated cutlet of breaded and fried veal called Wiener Schnitzel ($18.50). The breading was a little less crispy than I like, yet it wasn't heavy or laden with oil and worked efficiently to seal in the natural juices of the young beef.

We finished with homemade apple strudel topped with whipped cream--also included with the dinner--and cups of coffee.

On the way out, I stopped at the bar for a schnapps while my guests used the restroom. I looked around, remembering past meals, all the discussions over beer and wurst, and then realized: Teske's has been open since the '80s, pushing 20 years, I'd imagine. That's a long time. And with time, it's become a part of the local history, with stories to tell and friends who keep coming back. It's a landmark.
---
Teske's Germania Restaurant, Bar & Beer Garden
Address: 255 N. First St., San Jose
Phone: 408.292.0291
Hours: Lunch from 11am Tue-Fri; dinner 5pm-9pm Tue-Sat
Cuisine: German
Price Range: $16.25-$20
---