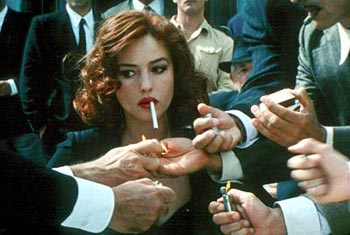 Photograph by Fabian Cevellos

Light Brigade: The men of Siracusa vie for the right to light the cigarette of the lovely Malena (Monica Bellucci) in Giuseppe Tornatore's new film.

Sicilian Pie

Alternately teasing and brutal, 'Malena' is Giuseppe Tornatore's answer to 'Summer of '42'

By Richard von Busack

IT'S EASY TO UNDERSTAND why Giuseppe Tornatore is the last man standing in the Italian film industry; his films have the American pace, the cartoonishness and the coarseness to survive in today's market. The director of the hit Cinema Paradiso even has an American producer (Harvey Weinstein), and he is a Spielbergian movie geek who can toss off quick visual references, for example, to Gentlemen Prefer Blondes. His newest film, Malena, lasts around 90 minutes, and gives a U.S. audience what it wants: postcardy views of Siracusa, an Italian babe in a sheer, clinging dress and a group of frenzied foreigners whapping each other around like the Three Stooges.

In Sicily during the war, Malena (Monica Bellucci) is as much a cause for talk as the North African campaign. She's a too-pretty soldier's wife left alone and unescorted. It's not just that she has "the finest ass in Sicily," as one kid says; she seems to be the only woman on the island who isn't a mother of five. A group of snippy young boys follows her every move; among them, only Renato Amoroso (Giuseppe Sulfaro) is enamored enough to follow her home and spy on her through her window. It isn't quite courtly love. Renato masturbates himself raw over the woman, fantasizes about her daily in Ally McBeal-style sequences and steals her underwear from a clothesline.

When her husband is reported dead, hard times hit Malena; she's denounced as a whore and ends up becoming one to survive. I knew about the fate of collaborationist prostitutes from Hiroshima, Mon Amour, so it was no surprise that Tornatore took his heroine to that lowly state. However, if this punishment scene repels you straight out of the theater, you'll miss an actual point to Malena in the coda. It's a moral from an old saying, "You can only find your dignity in the place where you lost it." Malena reminds us of how a traditional, island-bound society gets along by a superficial show of forgetting.

Malena suffers from insufficient steaminess, though. It teases us with too-few views of Bellucci, a statuesque, big-breasted woman with a lush mouth, whose tight face resembles that of the young Faye Dunaway. And tease, Malena does. Even when she's mourning, our heroine shows us her stockings. It's hard to believe that Tornatore really thinks he's presenting anything but postcards and cheesecake. The comedy is on the usual subjects: anti-clericalism, adolescent horniness, a few insults to the ghost of Mussolini and the contrast between a buxom young woman and scowling housewives. This film presumes it's a love story, complete with the pious promise that our narrator has never forgotten his love for Malena. Tornatore may mistake this sex comedy for a love story, but it's hard to make the same mistake yourself.
---
Malena (R; 90 min.), directed and written by Giuseppe Tornatore, based on a story by Luciano Vincenzoni, photographed by Lajos Koltai and starring Monica Bellucci and Giuseppe Sulfaro, plays at the Guild in Menlo Park and opens Jan. 19 at the Camera Cinemas in San Jose.
---
[ San Jose | Metroactive Central | Archives ]