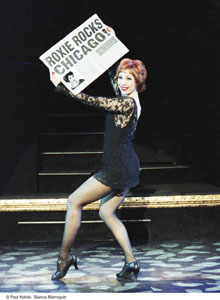 Photograph by Paul Kolnik

Hart of the Matter: Bianca Marroquín stars as dancer and headline-grabber Roxie Hart in 'Chicago.'

Roxie Music And Dance

Bianca Marroquín travels from Mexico City to San Jose via 'Chicago'

By Marianne Messina

THOUGH BARELY into her 20s when chosen to play Roxie Hart in the Mexico City production of Chicago, the then unknown Bianca Marroquín had won the part over well-known Mexican soap opera stars and famous stage actresses—and for a part that called for a woman over 35. Based on a true character from Chicago's Roaring Twenties, Roxie is a sensual, fiery vaudeville hopeful, a married lady jailed for the murder of her lover. This world-wise Roxie seems a far cry from the young Marroquín, whose strict Catholic upbringing made her uncomfortable with phrases like "son of a bitch." And in a way, Marroquín has grown up with the role.

"In the beginning, my approach to Roxie was very funny, almost caricature ... and I would 'cute-ify' everything," Marroquín admits. "And every time I would say a bad word or kill somebody or whatever, I would be very apologetic." But Marroquín, who had been primarily a dancer before the part of Roxie came along, had a rather quick learning curve. "Little by little, I started growing up and maturing and saying, 'No, this is a lady who killed somebody; this is a lady who's more complicated than that.'"

After Mexico City, Marroquín played the role on Broadway and then returned to Mexico City to spend eight months doing The Vagina Monologues. "Well, those eight months really changed me a lot, too," Marroquín recalls. "I don't think I grew up only as an actress, but also as a woman because of all these things that we were talking about—they were a big taboo." But at that point, Marroquín had assumed her Roxie days were over. When Chicago the movie came out, and Marroquín was invited to one special screening after another, she found the movie painful to watch because of the things that went through her mind: "... that I wasn't finished with her; that I could have done things differently."

When Marroquín got the chance to be in the touring production, which makes its way to American Musical Theatre of San Jose this week, her whole history with the character fit into place. Marroquín says that playing Roxie from city to city has been "a big school." She's also grateful for lessons learned from the string of leading men playing Billy Flynn, Roxie's razzle-dazzle lawyer. "I've had a bunch of Billys," Marroquín says cheerily. "My first Billy was George Hamilton. ... His approach to me was very paternal, both offstage and onstage." And then there was Patrick Swayze, who elicited screams from women in the audience when he came onstage. "He thought he needed to have some sort of chemistry or some sort of love history with his clients," Marroquín remembers. "I loved what he brought out of me, too, because he really took those dramatic scenes really serious. So, when it was time to scream at me, he would scream at me, and he would leave me in a place that, you know, I was in a sea of tears. So he helped me to go places I didn't dare to go to before."

Also drawing the girl-scream energy from fans, Backstreet Boy Kevin Richardson gave Marroquín a much younger Billy to play against during his three weeks in the role. When the current Billy, Gregory Harrison, took a two-month break, "Tom Wolpat from The Dukes of Hazzard came on," Marroquín recalls. "And now, for instance, he is fun, fun, fun. He doesn't care. So that's a different Billy. He's really sleazy and he's ah-la, la, la."

According to Marroquín, Harrison (most known for his role in the TV series Trapper John, M.D.) "is a little bit more classy, a little bit more elegant." Marroquín enjoys the relationship of mentorship between her and Harrison, and she is delighted that, between shows, she and Harrison can freely hash over what worked and what didn't work, something theater protocol rarely affords. Marroquín gobbles up these opportunities to learn and expand. And so three years, three runs and many acting partners later, Marroquín feels she offers audiences a rich and dramatically complex Roxie Hart.

"I've made her more human," she says. "And having people to go through a big ride full of emotions, not only cuteness and laughter and not only comic, but see her through all her moments ... and when it's time to be mean, I'll be mean—because it's her."
---
Chicago, presented by American Musical Theatre of San Jose, plays Tuesday-Friday at 8pm, Saturday at 2 and 8pm and Sunday at 1 and 6:30pm, Jan. 11-23 at the San Jose Center for Performing Arts, 255 Almaden Blvd., San Jose. Tickets are $45-$72. (408.453.1523)
---
---
Send a letter to the editor about this story to letters@metronews.com.
---
[ Silicon Valley | Metroactive Home | Archives ]