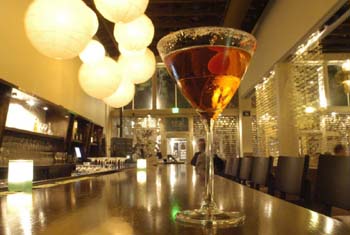 Swimmingly: Stoa goes upmarket with its new digs—including space for jazz and a cocktail.

Now With Fish

Stoa Restaurant shines with new location, new menu

By Stett Holbrook

I WAS saddened but not surprised to learn that fish feel pain. In 2003, British researchers proved fish have pain receptors just like us. No more guilt-free spicy tuna rolls. As a restaurant critic, I'm omnivorous but well aware of the cruel conditions in which most livestock live and die. That's why I'm pleased when I find a restaurant that offers humanely raised meat. I feel better knowing the hamburger I'm eating was once a relatively happy cow munching grass in a meadow instead of suffering in a muddy feedlot somewhere.

I thought fish offered a respite for ambivalent carnivores like myself, but deep down I knew I couldn't get off that easy. As any Buddhist will tell you, all creatures feel pain. So I'm back to seeking out restaurants that treat the fish and the other animals they serve with respect.

These were some of my thoughts when I ate at Stoa Restaurant and Wine Bar recently. The restaurant reopened in October after moving from its bunkerlike location off Highway 101 to upmarket digs in downtown Palo Alto. Stoa used to be one of the peninsula's few fine vegetarian restaurants, but now it has added seafood to the menu. Stalwart herbivores will lament Stoa's transformation, but I welcome it.

Chef Brandon Paige, who cooked at the old Stoa location and at Aqua and the Village Pub, heads the kitchen. Although the kitchen made a few missteps, from green bean to salmon Paige shows a reverence for the food he puts on the table. The restaurant's stylish dining room, long (and often empty) bar and splashy art set the stage for simple but elegant dining. There's also live jazz on Tuesday, Friday and Saturday nights. While not fully versed in the menu, servers are friendly and professional.

Dinner and lunch start with slices of thick wheat-and-rosemary bread served with a bright green dip I couldn't get enough of. It's a purée of peas, walnuts and tofu. Although it's easy to run up a big tab at Stoa, the restaurant's two- or three-course "business lunches," $14.95 and $19.95, respectively, are good values.

I started with the Caesar salad. Everyone makes a Caesar, but few make it well. The hearts of romaine were stacked like cordwood and dressed with just enough dressing, but the salad needed another squirt of lemon. The crispy, battered anchovy served alongside was a novel idea, but I missed the fish in the salad. Next up was the wonderful mushroom and leek ragu. This was simply one of the best dishes I've had all year. Creamy, almost white polenta was topped with plump and luscious hedgehog mushrooms, tender leeks and sparkling pearl onions. A tangle of chervil, tarragon, parsley and microgreens crowned the plate. If you're looking for the consummate winter dish, I think this is it. Then came a clever riff on a niçoise salad. An ingot of wonderfully fresh seared ahi rested atop a nest of hash brown-like potatoes surrounded by a silken but light hollandaise sauce and artichoke relish. What caught my eye, though, were the tiny haricots verts sprinkled about. This could have been a throwaway detail, but each slender green bean was cooked perfectly al dente, some tenderly split lengthwise. Someone in the kitchen loves his vegetables.

On a dinner visit, we swooned over the seared sea scallops with truffle essence and delicate lemon cream ($12) but tripped over the cloying green-apple fritters with roasted pumpkin fondue ($7). The appetizer was too heavy and sweet for a starter. As one of my table mates said, "Throw a scoop of ice cream on it and call it dessert." But we loved the delicately composed crab and fennel salad ($9); the two ingredients are wonderfully complementary. Like the Caesar, though, it needed a shot of lemon juice to really make it pop.

On a cold night, the peppers stuffed with Spanish stewed potatoes and eggplant and the accompanying poached-egg-topped wilted spinach made me warm and happy. But the gnocchi with sweet Alfredo sauce ($17) was a certified dud. The dumplings were leaden and goopy, and the dulcet sauce made it another candidate for dessert. All was forgiven, though, when I tasted the grilled salmon ($21). Accompanied by a rustic root vegetable ragu, it was buttery and fresh, a simple but clear expression of the noble fish.

Desserts end on a high note, especially the almond "financière" ($6) and seasonal sorbets ($5).

A good restaurant makes you slow down and contemplate the quality of what you're eating. Stoa is like that, too. A fish or green bean could do worse than end up here. And so could you.
---
Stoa Restaurant & Wine Bar
Address: 632 Emerson St., Palo Alto.
Phone: 650.328.2600.
Hours: Dinner nightly; lunch Mon-Fri; brunch Sun 10am-2pm.
Price range: $6-$21.
---
---
Send a letter to the editor about this story to letters@metronews.com.
---
[ Silicon Valley | Metroactive Home | Archives ]