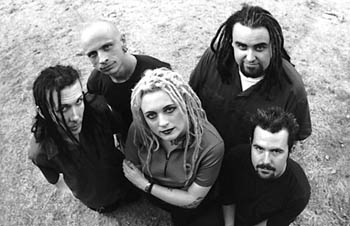 Luxt looks up

Beastly Luxt

Sacramento rock industrialists unleash 'American Beast'

By Sarah Quelland

IT'S BEEN more than two years since Sacramento electronic-metal band Luxt released Chromasex Monkeydrive. After some delay, the group's latest effort, American Beast, finally drops Tuesday (Jan. 14) on Blackliner Records (home to Phallucy, Daycare and the Skirts). American Beast serves as a stylized industrial attack--and this monster has teeth. Luxt frontwoman Anna Christine and keyboardist and secondary vocalist Erie Loch roam their dark musical landscapes together, often sharing equal vocal time. Aggressive tracks like "American Beast," "Suck It Down" and "Life Is Pain" have been part of Luxt's live set for so long, they'll be immediately familiar to fans.

Still, on this album, beneath the persistent currents of Luxt's chilly anger and rage flows a desperate quest for an explanation of the human condition and a need to come to terms with what the band seems to perceive as the futility of human existence. "Cease" is a relatively quiet duet between Christine and Loch that asks, "Where do you hide the beast as your end draws near? / Where do you find love? In books and priests? In gods above? / Or in your fear that it will cease?" Evoking the vibrant spirit of a rock musical and bringing to mind both David Bowie and The Rocky Horror Picture Show, the murky and dramatic "Death" follows suit as Christine asks, "Sifting down through all this mess, will Jesus find us cheating on his test?" Similarly, on the despairing "Infinite," she confesses, "I don't want to fade to nothing / Am I dried to dust and blowing away? / I just need to believe in something before I lose one more day."

But that's not to say Luxt has gone all melancholy on us. "How Lovely" sounds like the plotting and scheming soundtrack to an action-packed video game set inside cold castle walls, and Christine sweetly dishes out such ill wishes as "How lovely it would be to smash your head against the pavement" and "How lovely it would be to pull you limb from limb in public."

Sharp and penetrating, "Mary Megaladon," "Archangel," "Folding" and "Nerve" are at once sexy and severe, while the roiling "Jitter" makes for a likely single. Relying heavily on electronics, Luxt enhances its music by adding sounds like chains rattling and whale calls in lingering song outros scattered throughout the disc.

Bonus tracks include the writhing and hypnotic "Perpetusex: Live Acoustic Version," an exotic and seductive number with Middle Eastern influences on which Christine casts spells like a dominatrix with lines like "I'm here to feed you endlessly things you don't know that you need," and the tingling "Wet Cookie Mix" of "Suck It Down," which closes out the album.

With the album comes a series of CD-release dates, starting with a free show at Dimple Records in Sacramento on Jan. 14. Locally, the band hits the all-ages Gaslighter's Music Hall in Gilroy on Jan. 18 with Reaction 31, Rivals, Sora and Sky is a Wall. Shows are also scheduled at the Phoenix Theater in Petaluma (Jan. 24), the Colonial Theatre in Sacramento (Jan. 25), the Anywhere Cafe in Stockton (Jan. 25) and Roosters in Alameda (Feb. 1). Visit www.luxt.com for details.

SOFA, SO GOOD: After a special sneak preview on New Year's Eve, SoFA's newest club, the Manhattan-meets-Las Vegas dance club Cabana, is officially celebrating its grand opening this weekend (Jan. 10-11) with a huge party featuring Bay Area house and hip-hop DJs. Doors are at 9pm, and there's a $10 cover. See the club box on p. 59 to get the full scoop, and visit www.cabanasanjose.com.

HOT TOPIC: Friday (Jan. 10) the Los Gatos Outhouse hosts Vic Ruggiero (of the Slackers), Daniel Brummel (of Ozma) and Rhoner (of Division Day), plus Brandon Wiard and Dexter Danger. Ozma is scheduled to play the Outhouse on Feb. 8.

PLAN AHEAD: Great White, Jan. 9 at the Icon Nightclub; Holy Zoo, Jan. 10 at the Quarter Note in Sunnyvale; Atomic Mint, Jan. 10 at the Stork Club in Oakland; Desa, Love Hope and Fear and Daycare, Jan. 11 at the Mitchell Park Center in Palo Alto; Godstomper, Arachnids and the 11th Hour, Jan. 11 at Plant 51; Dub FX, Jan. 11 at Agenda; Hippie Aggression, downside, the Restitution and a Bad Brains tribute featuring members of Skinlab and Insolence, Jan. 13 at Plant 51; the Used, Jan. 15 at Slim's in San Francisco; the Dwarves, Jan. 17 at Plant 51; Papa Roach, Jan. 19 at the Warfield in San Francisco.
---
Send a letter to the editor about this story to letters@metronews.com.
---
[ Silicon Valley | Metroactive Home | Archives ]