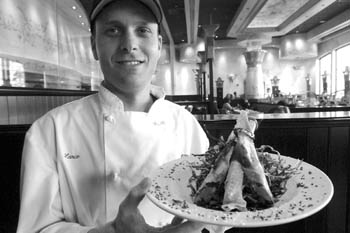 Photograph by Paul Myers

Snap, Crackle, Pop: Lance Scheiner, executive kitchen manager, shows off the Cheesecake Factory's Firecracker salmon rolls.

Upper Crust

Life's not just cherries and graham crackers at Santa Clara's Cheesecake Factory

By Aaron Robinson

IF YOU ARE as much of a cheesecake fanatic as I am, you will be pleased to hear that the famous Cheesecake Factory chain has finally linked its way to San Jose. What started in Los Angeles in 1978 has now spread to 59 locations throughout the country.

Forty varieties of cheesecake bid you welcome as you enter the dramatically renovated pyramidlike interior that used to be Fresh Choice, next door to Men's Macy's in Westfield Shopping Town Valley Fair. A hand-painted mural covers the 25-foot-high pillar-supported atrium ceiling, making for a marvelous theme-park-like spectacle. The restaurant's concept: upscale atmosphere meets casual dining.

Not willing to endure the hour wait for the dining room, we opted to sit in the bar. Exhausted already by the spiral-bound 17-page, 200-item menu, I called upon the Factory's French Martini ($7.50) for encouragement--Grey Goose vodka, Chambord, crème de cassis and pineapple juice shaken into a lip-puckering aperitif. Though several selections resembled dishes I've seen on the menus of TGI Friday's and the Elephant Bar, others tread the line of "fine fusion" and American classics.

After a delightful duo of warm baguettes arrived (sourdough and whole wheat speckled with oats), I was nudged into making a quick decision: avocado egg rolls with a tamarind-cashew dipping sauce ($7.95) and sweet-corn tamale cakes strewn with sour cream, salsa, avocado and salsa verde ($7.95).

The egg rolls were the unanimous favorite, though the wrapping fell short of crispy (very knishlike), and the dipping sauce was excessively sweet. The generous portion and dramatic presentation of the multicolored tamales, which were cradled in a corn husk that twisted 6 inches vertically off the plate on both sides, also won accolades among my friends.

I was impressed by the knowledge of our server (considering how much she had to memorize) as she convinced us to sample the Luau Salad ($10.95), a crispy macadamia nut and sesame seed wonton napoleon layered with vinaigrette-drenched mounds of mixed greens, tender grilled chicken breast, chopped cucumbers, green onions, red and yellow peppers, mango and crunchy green beans. Let's just say, I felt like throwing on a grass skirt right there.

After a few bites of the salad, we had it removed in hopes of salvaging the last corner of our stomachs. On recommendation, I ordered a glass of the house cab ($5.95), a vintage bottled exclusively for the Cheesecake Factory by Robert Mondavi Vineyards. It proved unappealingly jammy and flat, and I exchanged it for a more balanced 2000 Merryvale Cabernet ($10.50). This made a much better companion to the Cajun rib-eye ($21.95)--16 ounces of beef marinated for 36 hours, then seasoned with a spicy Cajun rub and served up Paul Bunyan-style with crunchy fries and light-battered onion rings. The incredible tenderness of this steak made my knife obsolete.

Equally impressive was the miso salmon ($16.95)--a 10-ounce fillet so remarkably moist that had it not been for the crispy exterior I would have sworn it was poached. The surrounding buerre blanc worked as a flavor aid for the white rice. The miso glaze, though a suitable blend of cream, butter and sake, maintained the familiar theme of exaggerated sugar. The sweet and buttery flavors became less tolerable halfway through consumption, but it was enjoyable up until then.

For dessert, I thought I'd go out on a limb and have some cheesecake. The dolce de leche, a smooth caramel cream bound to a vanilla pastry crust ($6.25), and the white chocolate raspberry truffle, a chocolate cookie crust with tangy raspberry swirl and white chocolate shavings ($6.25), proved to be everything I had hoped for. The Factory's cheesecake hype is justified by the extraordinary textures and consistencies, which vary between recipes but always keep you wanting more. I only wish there was as much cheesecake as there was whipped cream.
---
The Cheesecake Factory
Address: 3041 Stevens Creek Blvd., Space L1, Santa Clara
Phone: 408.246.0092
Hours: 11am-11:30pm Mon-Thu; 11am-12:30am Fri-Sat; 10am-11pm Sun
Full bar
---
---
Send a letter to the editor about this story to letters@metronews.com.
---
[ Silicon Valley | Metroactive Home | Archives ]