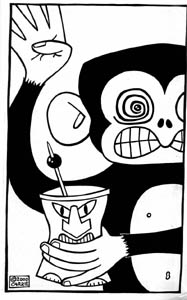 Pressed Logic: Over 350 zines will be on display at Gallery A.D. including Carrie McNinch's 'Assassin and the Whiner.'

Glue It Yourself

Anno Domini's 'Zines' exhibit documents the cheap, self-producing world of zines from across the country

By

FOR THE THIRD year in a row, the independent gallery Anno Domini is celebrating zines, those do-it-yourself, small-circulation self-publications whose creators manufacture and distribute the works themselves. Those who think the zine era is dead and gone will be refreshed to see more than 350 zines from all over the country .

The zines on display this year showcase a wide variety of curious delights, everything from tiki bars to zombie kisses, from hip-hop cartoonery to punk-rock defiance. There are horror-movie zines, rants by psychopaths, punk-rock pamphlets, political diatribes, lesbo-anarchist tracts, poetry and even one zine titled Hair Under There, a one-off publication for men who worship women with hairy armpits. Some are one-offs and some are more widely distributed, but they're all inspired by the purity of self-expression and personal communication, as well as a thorough disregard for mainstream media-saturated culture. They constitute an alternative forum written by and intended for the ignored and the misbegotten.

The "Art of Zines" exhibit, which runs through Jan. 31, turns Anno Domini into a groovy reading library of ignored culture. The public is invited to walk in, grab one of the zines off the wall, take a seat and peruse these cultural artifacts. Some are glossy and in color, and some are 10th-generation Xeroxed copies. Some were obviously printed on sheet-fed presses, while some appear to be midnight copies, run off at work, on the manager's dime.

"What makes many of these interesting," says Anno Domini's Cherri Lakey, "is that they aren't done by designers. They're done from the gut by some kid who just wants to get his voice out there. It's a hermit existence. It inspires people to have their own voice and do something about it, even if it's just making 50 copies at Kinko's and leaving them in a cafe. And it's a great chance to see what other people are ranting and raving about."

Granted, the subject matter of some of these zines might be hard to stomach for some readers, and in fact, many of them are a waste of time. Which is fine. This judgment is offset by fragments of the First Amendment, which are stenciled on the gallery walls of Anno Domini.

Some hard-line zinesters will argue that any commodification or exploitation of zines--i.e., pinning them to the wall in an art gallery--is a dangerous thing, but all the zines in the show were voluntarily submitted. By displaying their work at Anno Domini, the zine writers are not "selling out" by any stretch.

Perhaps the most puzzling--and most depressing--aspect of the exhibit is that only one zine in the entire show is actually from San Jose: Mick Trackside's Faded Glory Magazine, a documentation of old-school train car graffiti currently in its seventh issue. There were more zines in San Jose years ago, but most have fallen by the wayside. It can be argued that this town's adventurous alternative culture is being eradicated in systematic fashion, but have we actually reached the point where even zine publishers--folks on the last frontier of do-it-yourself alternative expression--are starting to give up?

Trackside, who also prints a zine called Suck My Ass, says that most of the San Jose zines he remembers were done by people passing through town, and they all just gave up after a while. But, he says with conviction, "I'm still doing it. It's in my blood."

Zines are important because in this current age of information overload they represent true communication, not the pseudobabble of corporate media conglomerates. They are do-it-yourself communiqués with a rabid noncommercial ethos. V. Vale of RE/Search, who published Zines! Volumes One and Two, said it best when he recycled an old Situationist maxim to explain: "In a society that abolishes adventure, the only adventure is in abolishing that society. The best zines participate in that adventure."
---
The Third Annual Art of Zines runs through Jan. 31 at Anno Domini, 150 S. Montgomery St., Unit B, San Jose. (408.271.5151)
---
---
Send a letter to the editor about this story to letters@metronews.com.
---
[ Silicon Valley | Metroactive Home | Archives ]