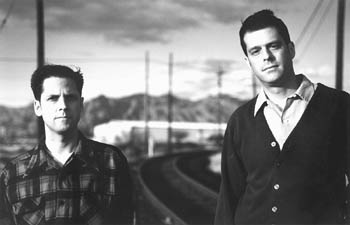 Riding the Crystal Frontier: John Convertino (left) and Joey Burns mix mariachi and alt-country on their new album.

Orchestrated Roundup

Calexico mixes indie and mariachi influences for a sound that could tame a bull

By Traci Vogel

CALEXICO IS ONE of those side projects that makes a person reconsider the size of the side. If John Convertino and Joey Burns, Calexico's frontmen, have time to put together their seventh album in seven years, plus add a few visuals to the CD--like, say, three beautifully produced short videos--all while maintaining their careers as members of Giant Sand (which has a new album due in March), and produce a few singles, then what I'm thinkin' is, that side is supersized. Which means a drive-through bonus for fans of Calexico's alt-country indie-mariachi balladeering.

The Tucson, Ariz.-based group takes its name from a small Mexican city--and it's a name that just happens to perfectly combine the band's California/Mexican sentimental predilections. The wordplay must have been pleasing to Convertino and Burns, who attributed lyrics on early albums to such literary influences as Carlos Fuentes and Cormac McCarthy. Those early songs were close-range vignettes of intimate subjects, punctuated with accordion, vibes, mandolin--and whatever odd instruments Convertino hauled back from visits to the local junk shop.

Calexico's latest album, Aerocalexico, is available only at the band's shows, but their near-simultaneous release, Even My Sure Things Fall Through (Quarterstick), can be found in stores and offers an epic-feeling tour of Calexico's sound.

Sure Things draws more on Burns' and Convertino's affinity for soundtracks than from literary influences (both recently worked on the music for the movie Committed, directed by Lisa Krueger and starring Heather Graham and Casey Affleck). The opening song, for example--later reprised as an acoustical version--is titled "Crystal Frontier (Widescreen Version)."

It's a minor-key ballad that features a lineup of Convertino on drums, Burns on acoustic and electric guitar, John Contreras on acoustic guitar and guest band members on vihuela, three trumpets, guitarron, violin and contrabass. The song swells with orchestrated longing, with lyrics loosely hinged around a plot involving cross-border smugglers and maquiladoras. The key thing that prevents "Crystal Frontier" from sliding into the realm of rock schmaltz is the amazing range of musicianship and Burns' voice--a thin indie tenor that lends a nice cowboy edge to the textured background.

That Convertino and Burns have played together for over a decade, in Giant Sand and Friends of Dean Martinez, may explain Calexico's cinematic smoothness. The world of Calexico is fine-honed, a Sam Peckinpah Western noir in which a woman in red dances at the edge of town. There is a romantic refraction to the album, as if the golden sound of the trumpet section has cast a certain light over the entire band.

Sure Things, like most of Calexico's albums, mixes ballads with purely instrumental songs--one of which, "Untitled III," is remixed with a hip-hop flare by Burns under the moniker Two Loneswordsmen. Another cinematic quality is Calexico's affinity for the shape of an album.

In interviews, Burns has described how the band likes to alternate songs with voice with instrumental songs, in a pattern he likens to the rounds in bullfighting. This theatricality lends suspense to the album and draws attention to the songs' roots in the folksy live performance of mariachi.

Track number four, written by San Francisco's indie-music legend Mark Eitzel, is the most narrative of the songs on Sure Things, and it is telling that the narrative centers around the scent of a perfume. Calexico is a band that relies on sensual appreciation, a kind of languorous glamour that gleams through Calexico's sound like starlight.
---
Calexico performs Saturday (Jan. 12) at 9pm at the Great American Music Hall, San Francisco. Tickets are $15. (866.468.3399)
---
[ San Jose | Metroactive Central | Archives ]