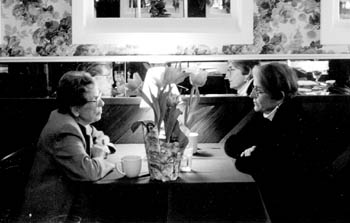 Photograph by Erika Pino

Natural Setting: Flea Street Cafe's décor hints at the naturally produced treats on its menu.

Fresh and Cool

Durable Flea Street Cafe continues to showcase founder Jesse Cool's devotion to the freshest flavors of the season

By Christina Waters

CAREFULLY crafted, impeccably chosen foods have always formed the bedrock of Flea Street's reputation. Last week, we found those culinary commitments still intact, highlighted by irresistible atmosphere and emphasis on naturally produced ingredients. A tireless patron of the organic revolution, Flea Street owner Jesse Cool championed the natural glories of Niman Ranch meats early and often, and we were treated to yet another example of Bill Niman's expertise in the form of an unforgettable rack of lamb.

But first came bread and wine. Our server brought out a plate of opulent olives and a linen-lined basket overflowing with fresh-baked biscuits--actual old-fashioned, feather-light and ultrarich biscuits that arrived warm and tender at our table. Pairing these with a burgundian-style Morgan Chardonnay 1999 ($8.50), free of overbearing butter and tropical fruit, and a rollicking big Raffanelli Zinfandel 1999 ($10), we were well on our way to a memorable dinner.

"I wouldn't throw this out the window," Katie admitted, slathering butter on her second biscuit. The fragrant bread echoed the homey elegance of the central dining room, with its wood wainscoting and Victorian mirrors. An order of the evening's soup ($7), a luxurious creation of sweet potato adorned with a float of crème fraîche, impressed us both. In the center of the rich but subtle purée rose an outcropping of prosciutto-wrapped pear. Great flavor concept, if a bit hard to approach without actually taking a knife and fork to the bowl of soup.

Another starter of pistachio-crusted Harley Farms goat cheese ($9) was piled high with multicolored baby beets on a hill of citrus-dressed arugula. The beets were sweet and earthy enough to salvage the Titanic. Terrific though it was, the crusty brown cheese ball lacked visual appeal.

After a lengthy pause, our entrees were produced. My evening special of rare Niman Ranch rack of lamb delivered exactly what the fabled "naturally raised" label promises. Three generous lamb chops sat astride a gorgeous array of winter vegetables--perfect tiny Brussels sprouts, pink beets, Romanesque broccoli--and everything sank voluptuously onto a cloud of seriously comforting mashed potatoes ($35).

"Yes," Katie smiled, "but my potatoes are purple." Indeed they were--and coarsely mashed and spiked with buttermilk, they were also sumptuous. The purple potatoes formed the backdrop for the grilled catch of the day--plump Maine day-boat scallops--and more of the wonderful seasonal veggies, including baby bok choy, all encircled by a thick beurre blanc ($24). Had the scallops been less salty, the dish might have been perfect. The lamb--buttery, tender and exceptionally flavored--was nothing short of celestial. Given the price tag, that was as it should be.

Flea Street Cafe organizes its attractive dishes on equally lovely chinaware, often of eclectic size, shape and pattern. The effect is distinctive and convincingly nontrendy. I especially liked the huge square dinner plate, adorned with a turn-of-the-century floral motif, which held the purple potatoes topped by soft, white scallops. Throughout the courses, the vegetables of the season shone brightly. As always, Flea Street Cafe continues to lead the way in giving local seasonal produce its fair place in the sun.

Dessert choices loomed--always a daunting prospect--and we decided to share an order of vanilla panna cotta, created that evening with an accent of blood oranges and biscotti ($7). I have always had a weakness for Flea Street's biscotti and wished for more than the single biscotto provided with the smooth, alabaster pyramid of Italian baked cream.

Panna cotta, possibly the smoothest legal substance that can be consumed, is best barely sweetened, and this version was right on target. The bright, bold tanginess of the blood oranges mixed with tangerines made a terrific foil for the mild cream, and the biscotto was as good as I'd remembered. We left the restaurant nurtured by the wintery highlights of its artisanal cuisine--and the finest lamb this side of Provence.
---
Flea Street Cafe
Address: 3607 Alameda de las Pulgas, Menlo Park
Phone: 650.854.1226
Cuisine: New American
Chef: Patrick Roney
Full bar
---
[ San Jose | Metroactive Central | Archives ]