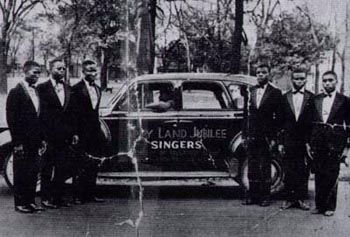 Mighty Messengers: The Five Blind Boys of Alabama got started as the Happy Land Jubilee Singers.

Blind Faith

Gospel greats set their sound to deep blues

By Greg Cahill

THIS IS THE DEAL, gospel singer Clarence Fountain once said. "You don't play with God, because there's no straddling the fence. He doesn't want someone who could go over to the devil's side. He doesn't want you to play to God today and to the devil tonight. He put us here so we could give him praise."

For more than 60 years, Fountain and the Blind Boys of Alabama have been singing the praises of the Lord, issuing forth a mighty message of old-time religion in a holy-roller style that is known as "hard gospel."

The celebrated group had plenty of chances over the years to cash in for fame and glory on the pop charts, but Fountain, 71, would have no part of it. "I knew there was more money in rock & roll than there was in gospel--I knew that," says Fountain. "But me and the Lord made a pact, and I promised that if he did certain things for me I would never, ever turn my back. I meant that."

So Fountain understandably was wary when record producer John Chelew approached the group last year about recording an album exploring the connection between gospel and blues through such nontraditional fare as the dark "Just Wanna See His Face" from the Rolling Stones' Exile on Main Street and "Amazing Grace" set to the music of the whorehouse lament "House of the Rising Sun."

The resulting album, Spirit of the Century (Real World), puts gospel standards and songs by Tom Waits, Ben Harper and the Stones to a swampy Delta-blues beat. It brings together the Five Blind Boys of Alabama, known for glorious harmonies and soaring vocal solos, with blues guitarists John Hammond Jr. and David Lindley, harmonica ace Charlie Musselwhite and Richard Thompson's crack rhythm section of bassist Danny Thompson and drummer Michel Jerome.

The project grew out of a 1998 collaboration between Hammond and the Blind Boys, who performed a showstopping rendition of "Motherless Child" while on tour together. And Chelew had cast the Blind Boys in an unconventional role in 1994's Beat the Retreat, a star-studded tribute to Richard Thompson on which the group contributed the stunning a cappella version of "Dimming of the Day."

"At first I didn't agree with the way [Chelew] was going about it," Fountain says of the Spirit of the Century project. "But I was wrong, and they were right. I didn't really like the songs that he came up with, because he wanted to try to mix something that sounded different using rock & roll musicians. But that's all right--no matter where you go all over the world, music is music."

Since age 10, music has played a central role in the lives of Fountain and original Blind Boys Jimmy Carter and George Scott. As students at the Talladega Institute for the Deaf and Blind in Alabama, the trio--taught to read music in Braille--were standouts in a school glee club.

The singers turned professional in 1944, even replacing the sophisticated jubilee-style harmonies with a more raw, emotional style favored by evangelical audiences.

Then, in 1983, composer Bob Telson and director Lee Breuer approached Fountain about participating in Gospel at Colonus, a stage production that would recast Sophocles' Greek tragedy Oedipus at Colonus as a black Pentecostal church service with key roles performed by gospel singers. The Five Blind Boys of Alabama would star as a collective Oedipus. Gospel at Colonus brought the Blind Boys to a mainstream audience.

These days, the Blind Boys are playing a half dozen shows with the Spirit of the Century band and recording a follow-up album together.

"We've got this one more record to do, I think, and then we'll be winding down," says Fountain with a quiet sense of resignation."If I sat down tomorrow, I wouldn't have any regrets because I think I've done what the Lord wanted me to do," he concludes with a slight laugh, "and I'm ssssssatisfied!"
---
The Five Blind Boys of Alabama with the Spirit of the Century Band perform Friday (Jan. 11) at 9pm at the Fillmore Auditorium in San Francisco. Tickets are $28.50. (408.998.TIXS)
---
[ San Jose | Metroactive Central | Archives ]