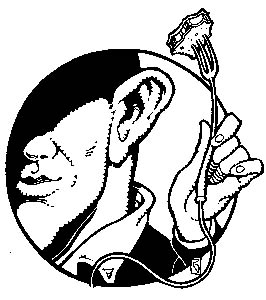 Live Feed

Streets of Eats: East Santa Clara St.

By Stett Holbrook

STAFFERS at San Jose's new City Hall will have a pretty good thing when they move in this summer. Not only will they get to work in a cool rotunda, but EAST SANTA CLARA STREET's culinary delights will stretch out before them.

Right about when the street changes from west to east is where things get interesting. From the single digits to the high teens, East Santa Clara Street is dominated by a variety of excellent Vietnamese restaurants. MY CAHN, a restaurant that looks like it could have been a Denny's years ago, serves a great bowl of pho. I loved the aromatic house special pho, sliced beef and beef tendon. A few steps down is TOFOO COM CHAY, a tiny cafe that serves tofu and seitan versions of Vietnamese standards. The faux meat dishes look just like the real thing. Even if you're not a vegetarian it's worth going to sample some of this tiny restaurant's good food. Nearby and back toward the new City Hall, I can't wait for LEE'S SANDWICHES to open. It's a locally based chain that specializes in bahn mi, Vietnamese baguette sandwiches loaded with chiles, cilantro, pickled carrots and various meats.

A few blocks up is VUNG TAO, one of the first high-end Vietnamese restaurants in the Bay Area. The place recently reopened after an extensive remodel. Breaking slightly from its surroundings, the stout, white-bricked TON THO TUONG has been serving excellent Cantonese-style barbecue and prepared dishes for 20 years. The barbecued pork and duck is marinated in a salty, sugary brine, seasoned with five spice and roasted to produce a glistening mahogany color. The restaurant bills itself as Chinese and Vietnamese and serves several Vietnamese dishes like the Vietnamese-style roast pork ribs and duck.

As you continue east into the 20s on East Santa Clara, the number of Mexican restaurants and shops increases. The trio of SJPD motorcycles parked in front of LINDA'S restaurant caught my eye. Cops are often a bellwether for good food. Linda's looks like the kind of diner you might find on a lonely stretch of highway between El Paso and Las Cruces, New Mexico. The restaurant serves American breakfasts but is mainly a Mexican joint. Inside, there are cheery yellow walls, comfortable booths and a stool-fronted Formica counter. I tried the ham-and-cheese torta. While the sandwich wasn't made on a classic telera roll, it was swiped with mayo and piled high with griddled ham, scrambled eggs, avocado, lettuce and beans.

Traveling further east offers a lesson in the changing demographics of East Santa Clara. KUMAR'S ISLAND MARKET specializes in food and products from Fiji, Samoa and Tonga. Inside, the dimly lit windowless market is packed with innumerable jars and cans of Pacific Island specialties like coconut oil, mangoes and ghee, clarified butter popular among Fiji's Indian minority. The heady aroma of Fijian masala perfumes the store. Kumar's also sells produce you'll never find at Safeway such as whole cocoa nuts and taro leaves. You'll also find a huge variety of Hawaiian-style shirts hanging above the cash register.

Next to Kumar's is L&F FISH MARKET but here, as East Santa Clara approaches 101 and turns into Alum Rock, we enter LITTLE PORTUGAL. I'll save the trip down that street of eats for another time.
---
Send a letter to the editor about this story to letters@metronews.com.
---
[ Silicon Valley | Metroactive Home | Archives ]