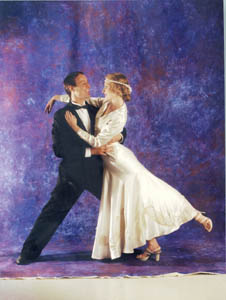 Photograph by Dave Lepori

Jay and Daisy: Zuri Goldman and Alexsandra Meijer dance the iconic roles in Margaret Wingrove's take on 'The Great Gatsby.'

Storied Steps

The Margaret Wingrove Dance Company puts some of the greatness back in 'Gatsby'

By Marianne Messina

F. SCOTT FITZGERALD'S The Great Gatsby has been in serious need of an update since Robert Redford tried and died in the lead role. Although the Margaret Wingrove Dance Company doesn't exactly update the story, Wingrove's choreography for her new full-length work of the same title certainly breathed some new life into it at its premiere performances over the weekend at the Stage in San Jose. Stripping away the ironic posturing that makes such books so dusty, Wingrove's choreography heaps lavish attention on the personalities and the multifarious textures of their relationships.

As the story goes, Gatsby dreams of winning the iconic Daisy Buchanan (married to a bullying Tom Buchanan) and is inspired to build a mansion for his dream future with her. While Gatsby (Zuri Goldman) pursues Daisy (Alexsandra Meijer), Daisy's husband, Tom (Matt Kovac), is having an affair with the wife (a sinewy Catharine Grow dances the sultry Myrtle Wilson) of garage owner George Wilson (Travis Walker). (Where do you think soap opera came from?) In the book, Gatsby and Daisy maintain their film-star mystique through the distance created by the story's narrator, Gatsby apologist Nick Carraway (Michael Howerton with a Randall King voice-over).

Wingrove re-creates this aura in her dance. Her choreography for Jay Gatsby is almost butterfly light—he's a refreshingly hopeful Gatsby with silky movements and lines rounded in loose-fitting suits (Karen McWilliams' costumes adorn the movements as much as the wearers). Gatsby's fluidity offsets the more staunch movements of Nick Carraway and makes Wilson seem almost hobbled or robotic by comparison. In fact, watching the three men's styles it's hard not to get the feeling that the larger one dreams the more fluidly he streams through the world.

The entire show is danced to rich, exciting music by Gatsby contemporary George Gershwin. The drawback (one Wingrove flirts with often in her musical choices) is that Gershwin's lush music makes repeated power plays to narrate the dance, and repeatedly the dance opts to be narrated by the Fitzgerald story. The effect is quite noticeable in Act 1, set to a rendition of Rhapsody in Blue full of nuance and caprice—languorous glissandos, saucy muted trumpets, vaudevillian sound bites, extremely crisp piano. Meanwhile, the dancers dance on, almost deaf to the rhythmical carnage going on around them. Perhaps this is Wingrove's own nasty touch of irony.

The program's three acts move swiftly and offer a smorgasbord of duets and solos, with many spellbinding moments. The later duets between Gatsby and Daisy are moving in their sweep and grace. Amid the strings that launched a thousand film classics, Meijer tucks for a lift as Goldman engulfs her in the crook of his chest. Or she falls backward toward the seated Goldman with total abandon to be caught by a lone out-reached hand (this move drew audience gasps like a high-tension act). The ensemble orchestration highlights the organic variety of relationships—in time, space, level. For example, at ground level, Gatsby and Daisy engage in slow, caring touches and embraces while Tom and Myrtle bound through the remaining space in tempestuous interplay.

Oddly (or characteristically), Wingrove has chosen to represent the two murders in much milder dance language than the arguments between lovers. Still, power and anger are not confined to amour lone. When Nick is lamenting the death of his admired friend Gatsby, Howerton's controlled heat comes into its own, especially those leaps into the air from toed squats (ouch). Matt Kovac's dance tantrum over his wife's death (or over Gatsby's scarf found at the scene) is formidable, and his dance with Walker, as Buchanan incites Wilson to avenge Myrtle's death, creaks and groans under the skewed kinship between them. Wingrove has expanded deeply into production territory for Gatsby with nice results.

The set design (John Dragonoff) captures both the class rift and the flavor of an era in elegant shorthand, so as to leave a wide-open dance space. And John Carney's lighting design helps to bring a world of moods out of a single white dress.
---
Send a letter to the editor about this story to letters@metronews.com.
---
[ Silicon Valley | Metroactive Home | Archives ]