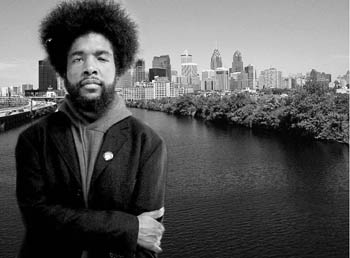 Chia Head: ?uestlove appeared in the Jay-Z documentary 'Fade to Black.'

?uest Is on Fire

Roots drummer Ahmir '?uestlove' Thompson takes a break from recording 'Game Theory' to spin in San Jose

By Todd Inoue

MUCH LIKE San Jose's redheaded stepchild relationship to San Francisco, Philadelphia has lived in the cultural shadow of New York for many years. But quiet as it's kept, the Illadelph is integral to hip-hop's growth—so much that the city should be awarded honorary "Sixth Borough" status. Its contribution to aerosol art, gangsta rap (SCHOOLLY D's "Gangster Boogie" way back in 1985) and turntable sports changed the game for the better. Names like STEADY B, THREE TIMES DOPE, POOR RIGHTEOUS TEACHERS, DJ MIZ, DJ JAZZY JEFF AND THE FRESH PRINCE, CASH MONEY AND MARVELOUS, DJ CHEESE, SPINBAD, CODE MONEY, TAT MONEY, KING BRITT, JILL SCOTT and DJ ROCKSTEADY are exemplary of Philly's lasting gifts to hip-hop, DJing, dance music and pop culture at large.

But one name sums up Philly and it's the Grammy-winning ROOTS crew. The core met at Philadelphia High School for the Creative Performing Arts and turned its love of jazz, funk and hip-hop into the world's most dangerous live hip-hop band. Its drummer and cornerstone, AHMIR '?UESTLOVE' THOMPSON, is a composite of Philly's strengths. He's a terrific drummer and band leader—known for production and session work with JAY-Z, ERYKAH BADU, D'ANGELO, COMMON, JOHN MAYER and the PHILADELPHIA EXPERIMENT. He's also the music director for The Chappelle Show and for Jay-Z's Unplugged.

?uestlove's knowledge of soul, funk and hip-hop has extended his vocation to include "celebrity DJ." He's been around the world (ay-yaya) spinning at parties, conferences and film festivals. Setlists run the gamut from his favorite slow jams (memorably collected on the 2002 BBE CD Babies Making Babies) to an extended Stevie Wonder appreciation set, to whatever is bumping in his laptop. He's manifested a love for the eclectic, shouting out the WHITE STRIPES, INCREDIBLE BONGO BAND and DAVID BOWIE. He spins rare hip-hop records and the ones used as a basis for samples.

He mans the wheels of steel this Saturday at Zoë Nightclub for an intimate evening inside the mind (and stately Afro) of one of pop music's most critical drummers, producers and tastemakers. You can take notes, sneak peeks at the labels through high-powered binoculars, or just dance if you want to. Whatever he spins--hopefully some demos from the Roots' forthcoming release Game Theory—will likely blow your mind. Tickets are $10 and $5 passes can be downloaded at Zoë's website: www.zoenightclub.com.

Bollywood Swinging

For those enchanted by the elaborate dancing in Bollywood movies, or who just want to get in shape, a group in San Jose is offering a special class. The NAACH COMPANY is teaching a "Structured Bollywood Dance Program" comprised of classes based on those surreal dance routines that seem to pop up whenever a simple yes/no answer won't do. Classes begin with a cardio warm-up and stretching routine, which leads into the dance choreography—a blend of salsa, bhangra, swing and fusion. Is the facility equipped with sprinklers for the inevitable rain shower? Get ahead of the cool curve when GURINDER CHADHA's Bride & Prejudice flick (starring India's national treasure AISHWARYA RAI) comes out next month. Classes are taught in San Jose and Mountain View and begin Feb. 13. Go to www.naach.com for more information.
---
Send a letter to the editor about this story to letters@metronews.com.
---
[ Silicon Valley | Metroactive Home | Archives ]